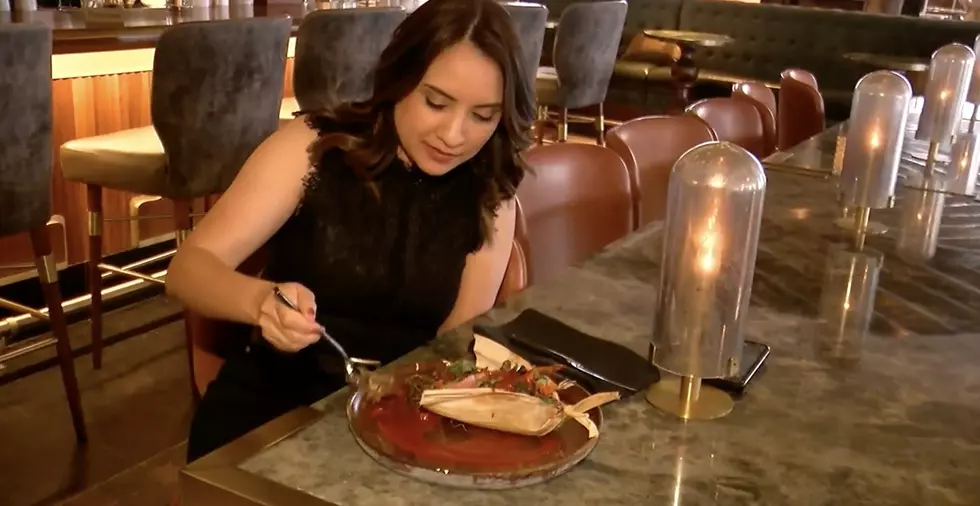 I Tried The World's Most Expensive Tamal: Here's My Take On This $150 Golden Tamal Creation
Courtesy: Iris Lopez
El Paso has a lot of little hidden gems and one of those hidden gems was introduced back in March and it's making its grand debut today, Cinco De Mayo. The gem in question: The World's Most Expensive Tamal.
Back in March on National Tamale Day, Ambar Restaurante introduced the latest addition to their menu: The Golden Tamal. A fancy take on a classic Mexican dish that many in the borderland love! 
However, The Golden Tamal isn't your regular everyday type of tamal. First off, the price tag for this Golden Tamal is $150 making it the world's most expensive Tamal!
Why Is It So Expensive, Girl:
I'm pretty sure that the first thing that popped into your head when you heard about this expensive Tamal was, A TAMAL FOR $150?! WHY? Well, there's a reason this tamal is so expensive.
"So we have six different types of caviars that we're getting from California," explained Executive Chef Lawrence Acosta, the creative mind behind The Golden Tamal. "We have a couple infused ones, we have a couple wasabi. You have grilled lobster claws that will be built into the actual top of the salad. Of course the gold flake which is the eye catcher. We have some heirloom greens that I'm actually getting from a local company here in El Paso."
According to Chef Lawrence, the actual Tamal itself is made of two different types of masa with two different types of corn. The Golden Tamal also has beef barbaocao but it also has beef wagyu inside which is a highly marbled type of steak and a main reason for the $150 price tag.
Who Created This Expensive Tamal:
Chef Lawrence Acosta is the Executive Chef for Ambar Restaurante + Bar which is located inside of the Plaza Hotel in Downtown El Paso.
His love for food began at a young age and he credits his mom and grandma for giving him that passion for cooking.
"Growing up, my mom would throw huge parties and prepare food for everyone so that's why food's always been a really big part of my life," said Chef Lawrence. 
After Chef Lawrence graduated from Riverside high school he would make the move to New York to get his associates and bachelors degrees from the Culinary Institute of America and shortly after, he would move back to El Paso to share his culinary ideas with the borderland including the creation of the world's most expensive Tamal.
"Tamales in general are just a big part of hispanics and our gatherings here in El Paso," said Chef Lawrence.
How Does The World's Most Expensive Tamal Taste?
To put it in one word, fresh. 
I had the chance to taste this expensive tamal creation when I went to interview Chef Lawrence back in March and I was not disappointed.
The presentation is what caught my attention first. The Golden Tamal is topped off with Golden Flakes and is placed on a plate that is surrounded by red salsa that you can dip the tamal in before you take a bite out of it.
The second you take your first bite you can taste all the unique ingredients that Chef Lawrence explained were inside of the tamal.
The heirloom greens that are on top of the tamal give that "fresh" taste to it. Fair warning though, If you're not a fan of seafood and caviar then this Golden Tamal is probably not the meal for you. 
I went in with an empty stomach and halfway through tasting this Golden Tamal I found myself full! The amount of ingredients inside of this Golden Tamal are enough to satisfy your appetite!
Why Would I Spend $150 on One Single Tamal:
I knew you would ask that. The answer is simple, because you're paying for an experience that you won't get anywhere else.
Chef Lawrence understands that this expensive tamal isn't for everyone, but he does hope that those who do have a chance to enjoy this Golden Tamal will remember the experience even after they leave the restaurant.
"I would tell them that it's about having a conversation and an experience because this is something that I would recommend for people to come and gather and let's try this together and let's enjoy this together," said Chef Lawrence.
The Golden Tamal makes its debut on Ambar's Spring Menu today, Cinco De Mayo. 50% of the costs will be donated to El Pasoans Fighting Hunger
Chef Lawrence plans on changing up the ingredients for the Tamal throughout the years.
The Golden Tamal