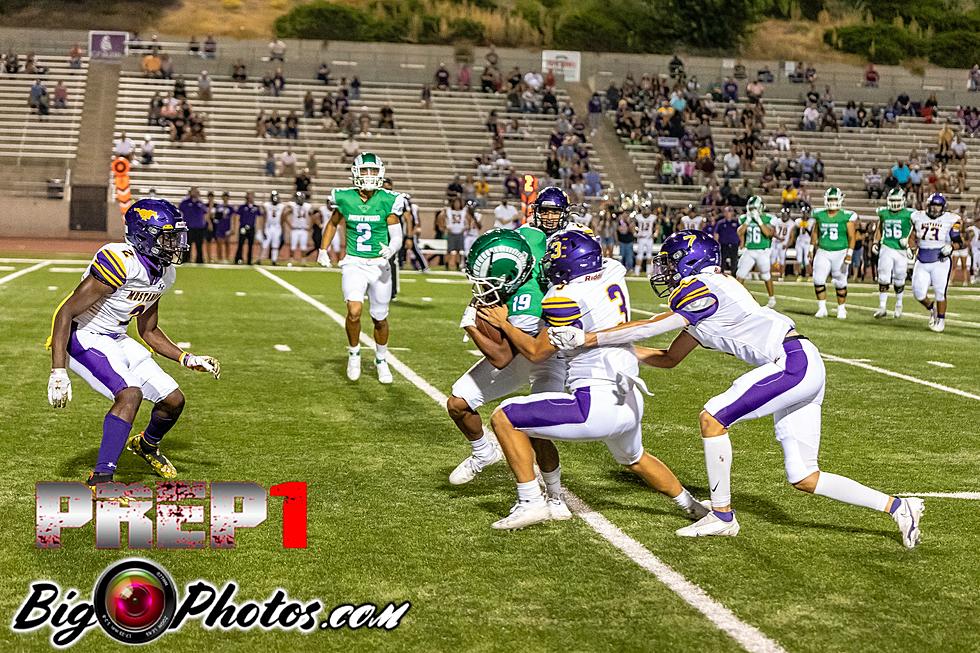 Football Friday Night: Five Points Before Week Three Kickoff
Big O Photos | Prep 1
High school football is in full swing and week three features some interesting rivalry matchups as we approach the final two weeks of non-district play.
Follow 600 ESPN El Paso all evening for live scoring updates of all the scheduled games via Scoresteam. Due to UTEP football playing on Friday, along with Chihuahaus baseball, Football Friday Night will not take place as scheduled. However, reporters from Football Friday Night will still be sent across town for coverage. Be sure to check back Saturday for postgame recaps and the final scoreboard. . All of the photos following the game are provided by Prep 1.
Here are Five Points before kickoff
Thursday Night Recap: 
Montwood stifles Burges 29-13
Self-inflicted wounds, missed opportunities, penalties and a physical Montwood defense were too much to overcome as the Burges Mustangs fell short Thursday night to the Montwood Rams in a non-district tilt.
The Rams defense held Burges to 255 total yards in the game, 90-plus coming on a late fourth quarter hook and lateral play with the game decided, as Montwood limited Burges to just eight total pass yards on the evening.
Montwood quarterback Kelvin Melendez was steady, leading a balanced and ball controlling attack with 178 yards through the air on 14-for-23 passing, throwing for two touchdowns.
Both teams played great defense in the opening half as the game went to the halftime break tied at 6-6, then it was Montwood's defense that took over early in the half which proved to be the difference.
Caleb Montes would come up with an interception on Burges third play of the second half setting up the Rams offense on the Burges 12-yard line.
That takeaway led to a Melendez three-yard touchdown pass to Nathaniel Carmona three plays later and almost three minutes into the second half giving Montwood a 13-6 lead.
From there, Burges would turn it over on downs on their next two possessions, the second would end up being a costly series.
Late in the third quarter Burges appeared to tie the game on a long run by Tavorus Jones that was called back due to a flag, that series was following a Burges interception by David Hernandez as Burges was just unable to capitalize on their chances all night.
Izyauh Claudio carried the ball 21 times for 65 yards, scoring a 5-yard touchdown run to cap off a Montwood nine play, 76-yard drive with 10:28 in the fourth quarter putting Montwood up 19-6.
Montwood led 26-6 midway through the fourth quarter as their physical defense and ball control offensive approach wore the Mustangs down.
Yamil Oaxaca caught nine passes for 105 yards and scored the Rams opening touchdown. Melendez completed a pass to four different receivers in the evening.
Missouri commit and Burges star Tavorus Jones ran for 182 yards on 17 carries with the long hook and lateral highlight reel touchdown when the game was in hand.
Montwood improves to 1-2 on the season, while Burges drops to 1-2.
Socorro 46 - El Paso High 23
Rejoice, Socorro football fans. The streak is over.
The Bulldogs were able to top El Paso High on Thursday, 46-23, for their first win on a football field in almost six years. Last year, Socorro saw their 51-game losing streak snap due to a forfeit. But an on-field victory was a priority for this team.
Their last win on the gridiron came on Sept. 11, 2015, against Cathedral. In the game, the Bulldogs led for the majority of the game, as they beat the Tigers in a swift fashion.
Game of the week: Riverside (2-0) vs. Ysleta (2-0)
The Battle of Texas 20 will take place Friday night as the Rangers clash against the Indians in what should be a thriller of a non-district matchup.
Ysleta enters Friday's game riding some momentum following close victories against Clovis (34-33) and Socorro (35-34). Senior quarterback Damian Contreras has thrown for 570 yards and tossed six touchdowns thus far.
Riverside has throttled opponents thus far by a combined score of 117-19 with wins against El Paso High and Cathedral. They are led by their standout junior running back Jose Guardado (523 rushing yards, six touchdowns).
Get ready for a back-and-forth game between two teams that have high expectations in their respective districts. This one should be a lot of fun to follow.
Troopers Get Mighty Out of Town Test: Eastwood (2-0) vs. Smithson Valley (2-0)
Julio Lopez and the Eastwood Troopers are off to a terrific start to the season. First, they dazzled in a come-from-behind win against Parkland in week one (35-20), and they took care of business last week in a rivalry game versus Hanks (75-27).
They will have their biggest test to date as Eastwood faces off against 6A power Smithson Valley. The Rangers are currently ranked No. 34 in 6A and No. 73 across Texas. They fended off Warren (32-13) and crushed Madison last week (28-0). Smithson Valley returns a heap of strong defensive players like linebacker Malachi Lane, defensive end Gavin Woods and defensive back David De Hoyos.
If the Troopers want to make a statement, not just in El Paso, but across the state, an upset over Smithson Valley would be a perfect opportunity to do so. Senior quarterback Andrew Martinez is off to a strong start, throwing for 810 passing yards, six passing touchdowns and totaling four rushing scores.
Dark Horse Game Tonight: Franklin (0-2) vs. Andress (2-0)
What first-year head coach Chris Taylor has done thus far with Andress has been impressive to watch. He harbors a physical offensive and defensive line and the Golden Eagles' skill players are lethal. Taylor, who once coached at Franklin as an assistant, has a balanced attack led by quarterback Elias Duncan (259 passing yards, three touchdowns), running back Malachi Do (243 rushing yards, three touchdowns) and Iowa State commit Jeremiah Cooper (117.5 total yards per game).
But Franklin is hungry for their first win of the season. They lost an emotional game to Rio Rancho Cleveland (35-32) in week one, and fell to Midland Christian last week (51-20). Still, the squad has gotten some noteworthy production from quarterback Cameron Byrd (528 passing yards, five touchdowns). As they await the return of their running back/linebacker Stephen Powers, the Cougars have relied on Miles McWhorter to lead the run game (282 rushing yards, three touchdowns).
Franklin desperately wants a win before they get started with district play, but Andress has proved they can handle their opposition. This serves as a great test for both squads ahead of district play.
Could Eastlake (2-0) Be the Best Team in El Paso?
The job head coach Ruben Rodriguez has done in retooling this Eastlake squad has been beyond commendable. They lost signidicant peieces last year like quarterback Orion Olivas and wide receiver Matthew Jones. No matter for the Falcons.
The Falcons have been led by their stud quarterback Sebastian Rendon (442 passing yards, six touchdowns) and their do-it-all star Elijah Uribe, who has thrown for three touchdowns, rushed for a pair of scores (242 rushing yards) and caught four passing touchdowns (175 receiving yards).
Through two games, Eastlake has outscored the opposition 85-28, including a 37-14 beat-down against a good Canutillo team last week.
This week, they have a struggling Parkland (0-2) team that is starving to get a win. The Matadors have some nice skill players like running back Isaiah Beasley (346 rushing yards, four touchdowns) and receiver Demarion Crest (276 yards, two touchdowns).
If the Falcons get another statement victory this week, it's time to start looking at this group as a serious district title contender in 1-6A.
All The Big Moments From UTEP Football's Win Over Bethune-Cookman
The UTEP Football team defeated Bethune-Cookman 38-28 last Saturday night to start the 2021 college football season with a 2-0 record for the first time in 16 years.