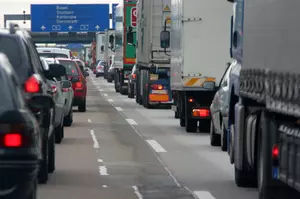 TxDOT Says 'Sorry/Not Sorry' For Unannounced Closure On I-10 Wednesday Morning
courtesy: Thinkstock
TxDOT said 'sorry/not sorry' for closing down the Executive Center offramp on I-10 West on Wednesday morning. Drivers had been alerted to the closure on I-10 East and Executive on Monday, but TxDOT says the contractor on the job didn't warn them that they would also be closing down the west offramp, as well.
Drivers who were expecting to be able to get off I-10 west at Executive between 9 a.m. and noon yesterday morning, were given a 100 yard warning via a sign flashing "RAMP CLOSED" before they were faced with orange barrels. The closure meant that drivers had to go a couple of miles up the road to the Sunland Park exit, turn around and go back down Mesa, adding time and hassle to an already time-consuming, hassle-filled westside commute.
TxDOT said they were not told by their contractors at a weekly meeting that both sides needed to be closed. When they found out, they should have put out an alert to the media. It could have been broadcast on our show and in social media to let commuters know what they would be coming up on.
Traffic is a problem because of road construction, so keep your radio tuned to 93.1 KISS FM throughout the day for updates on your commute.