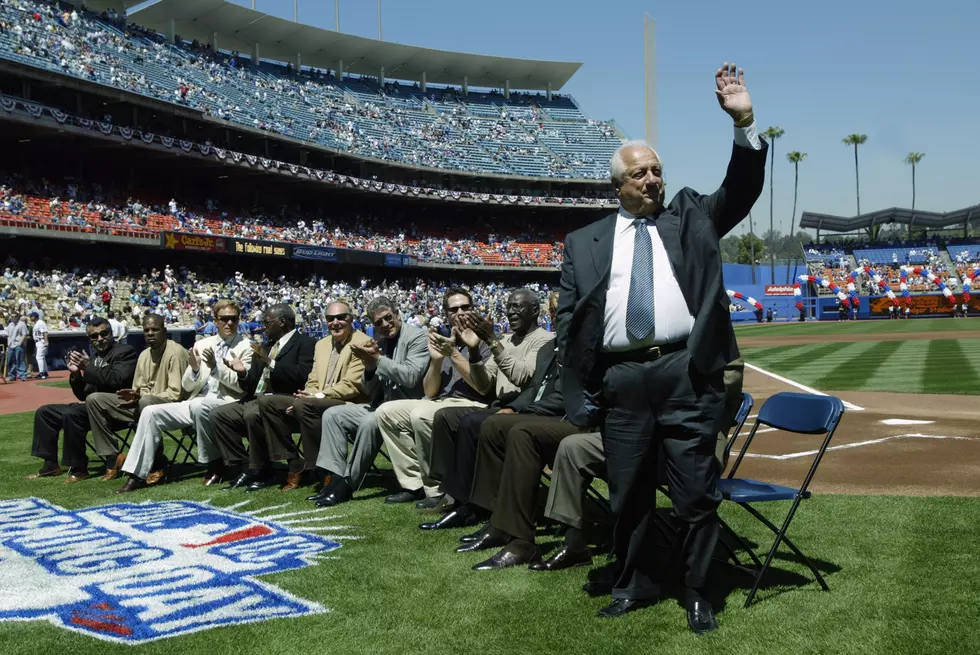 Tommy Lasorda Always Personified Dodgers Baseball
Getty Images
There has never been a better representative of Los Angeles Dodgers baseball than Tommy Lasorda. From his days pitching with the Brooklyn Dodgers in the mid 1950s to his 20-year run as manager in Los Angeles, Lasorda always bled Dodger blue. Late last night he died at the age of 93 after suffering sudden cardiopulmonary arrest at his home.
Although his big league career can be classified as a cup of coffee with The Boys of Summer, Lasorda stayed in the organization first as a scout and later as a Minor League manager. He returned to the big leagues in 1972 as a third base coach for Walter Alston and he took over the managerial position four years later when Alston retired. The Hall of Fame manager won a pair of World Series titles in 1981 and 1988 and he guided the Dodgers to 1,599 wins, four NL Pennants, and eight division titles from 1976 to 1996. Twice he was named National League Manager of the Year and his #2 was retired by the team in August 1997, the same year he was inducted into Cooperstown.
I had an opportunity to meet Lasorda first in September 2003 when he was in Las Vegas for the Oscar De La Hoya rematch with Shane Mosley. Unfortunately, he was looking to his left when we posed for a picture together. I was able to see him again years later at Dodger Stadium and numerous times in Glendale for Spring Training games. He was always gracious with fans and he never turned down an opportunity for a photo or autograph request. For a franchise that has such legendary players like Jackie Robinson, Sandy Koufax, Don Drysdale, Duke Snider, Don Sutton, Fernando Valenzuela, and modern stars like Clayton Kershaw, Lasorda is right up there with all of them. He was a part of the Dodgers family for seven decades and he always attended games long after his retirement.
There are so many great clips of Lasorda on YouTube (some of them NSFW), it is difficult to pick out the best ones. Here is a great argument between the Dodgers manager and the head umpire from the 1977 World Series which the Yankees won in six games.
There is the classic video of Lasorda and the Phillie Phanatic from the last 1980s.
Finally, here is Lasorda's 13-minute Hall of Fame speech from 1997.
CHECK IT OUT: 100 sports records and the stories behind them