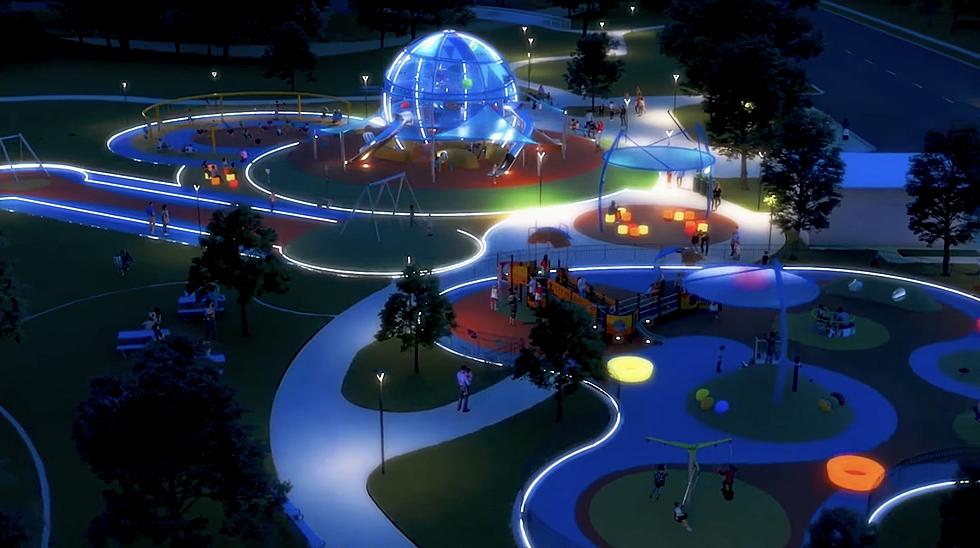 Texas Town Unveils Unique Glow-in-the-Dark Playground: Can El Paso Have One Too?
Courtesy: Farmers Branch Website
Everything is bigger in Texas whether it's during the day or night time and one Texas town will be putting that phrase to the test as they unveiled plans for a glow-in-the-dark playground.
Farmers Branch, Texas is a distance from El Paso, 9 hours to be exact, but the small town is just 20 minutes outside of Dallas, Texas. The town recently broke ground on a one-of-a-kind glow-in-the-dark playground that officials are calling, "Joya."
"Joya" means Jewel in English and city officials hope that the new park will become the "crown jewel" of playgrounds.
A groundbreaking event for the new park was held and Images and video renderings were shared online that showed what the 18,000-square-foot park would look like and honestly, CAN EL PASO GET ONE, TOO?!
The playground will be an-accessible glow-in-the-dark playground that people can of course enjoy during the day, but it will come alive at night with interactive features that glow in the dark!
According to city officials, the playground will also include a 27-foot climbing sphere, slides, swings, an obstacle course, zip lines, and It will also have a toddler playground and signature LED lights throughout.
As if this park couldn't get any cooler, according to officials it will also feature a sound system that plays nature sounds or, get this, Christmas music during the holidays!!!
BRB moving to Farmers Branch just to live at this park!
Kids these days are always stuck on their phones or inside playing video games so it's great to see how cities are getting more creative with outdoor spaces for kids to encourage them to put down the tablet and enjoy their youth outdoors!
Officials are hoping to open the new one-of-a-kind park by fall of 2023 and I am manifesting that El Paso will one day get a park like this, too!
JOYA Park