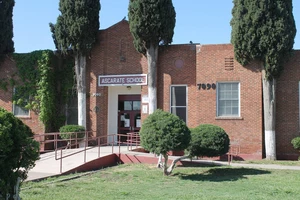 Learn About The History Of Trost Designed Ascarate School At Panel Discussion
courtesy: EP County Historical Commission via Facebook
Ascarate School was designed by Gustavus Trost and built in 1934, and now you can learn the history of the iconic school at a panel discussion next week.
The event is part of the 2016 El Paso Preservation Month Celebration and is a collaboration of the Ysleta Historic District Committee, the Ysleta Independent School District, District 19 Retired Teachers, and the El Paso County Historical Commission.
The panel for the discussion of the historic school will include City Rep. Emma Acosta, Nellie Morales, Ellen Ramsey, Ed Fifer, and a representative from Sun Metro/Brio. You will be able to see displays of school memorabilia, an orientation show of Ysleta Schools and the Alameda Corridor, and ask questions of the panel. Nellie Morales is one of two Ascarate Elementary School principals who served more than a quarter century. It will be amazing to hear her stories about the school.
We sometimes forget that not all of El Paso's history is centered in downtown. This is a great way to learn about the history of the Lower Valley, and get insight into another one of El Paso's treasures, a Trost designed school.
WHAT: Discussion about Trost-designed Ascarate School
WHEN: May 26, 6:00 - 8:00 p.m.
WHERE: 7090 Alameda (east of Ascarate park) in the Ascarate gym.
COST: Free
MORE INFO: Ron Leiman (ronleiman2@gmail.com) and Bonny Schulenburg (bschulenburg@yisd.net).