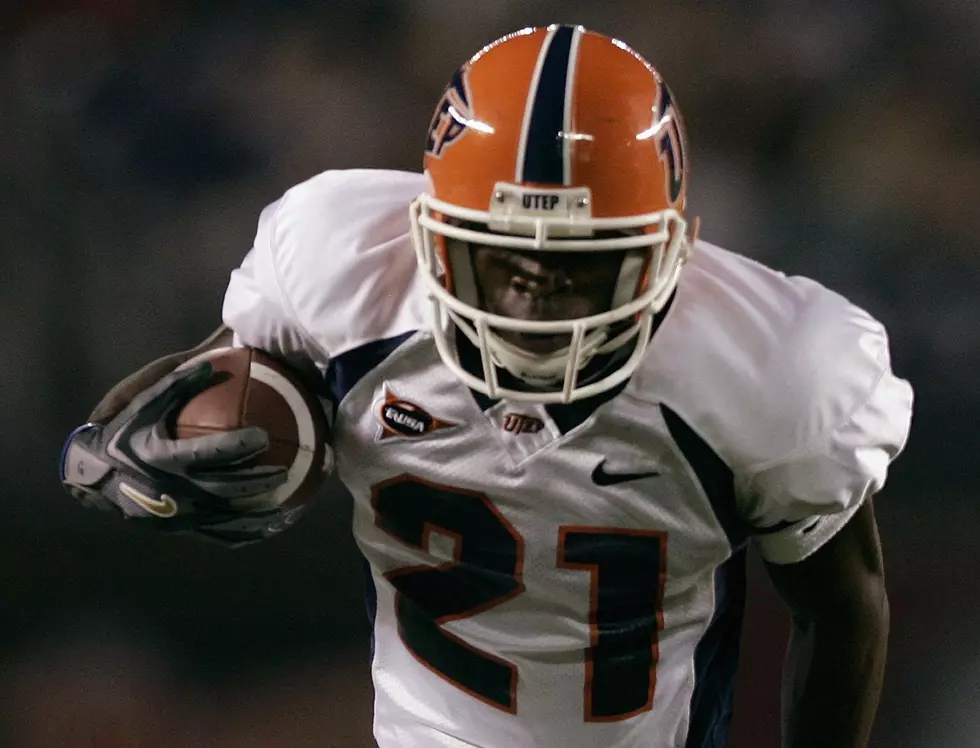 Johnnie Lee Higgins Highlights 2022 UTEP Athletics Hall of Fame
Getty Images
One of UTEP's most dynamic football players is headlining the school's upcoming Hall of Fame Class. Johnnie Lee Higgins Jr., who ranked second nationally in receiving as a senior, will enter the UTEP Athletics Hall of Fame later this year. Joining him will be former Miners quarterback John Furman, shot put champ Fred DeBernardi, and track and field star Jennifer Smit. The 1974-75 women's basketball team and the 1974 volleyball team will also be inducted into the Hall of Fame. The entire class will be honored at the September 23rd home football game against Boise State and then they will be enshrined the following day.
By the time Higgins Jr. finished his career as a Miner in 2006, he set school records for receiving yards (3,218) and touchdown catches (32). He also ranks second in receptions (190), third in 100-yard games (11) and sixth in points (210). He was a third round pick in the 2007 NFL Draft by the Oakland Raiders and he played 60 NFL games in his career with the Silver and Black.
Furman was an all Border Conference selection from 1959-61 and he was also a third round pick in the NFL Draft. He spent four years with the Cleveland Browns, but he never attempted a regular season pass, instead serving as a backup to Frank Ryan. Furman served the U.S. Army with the 32nd Air Defense Command, earning the National Defense Service Medal, the Ranger Tab, and the Army Commendation Medal.
DeBernardi was a six-time All American and one of the best shot putters and discuss throwers in UTEP history. He won both events at the 1972 NCAA Outdoor meet. DeBarnardi was so talented that the Baltimore Colts selected him in the 1972 NFL Draft as a defensive end prospect. Smit was the first Miner on the women's track and field team to claim a national title, and she won back-to-back NCAA titles in the indoor and outdoor shot put in 1978. Smit is already a member of the UTEP Track and Field Hall of Fame.
The 1974-75 UTEP women's basketball team finished 11-5 in its inaugural campaign under coach Carol Ammerman, while the 1974 volleyball team posted a 9-7 record in its initial season under coach Kevin Sherlin. This year is the 50th anniversary on the passing of Title IX.
LOOK: 25 fascinating vintage photos of the first Winter Olympic Games
The first-ever Winter Olympics were held in Chamonix, France, showcasing a variety of sports and athletes.
Stacker
assembled a collection of photos from those first Games.