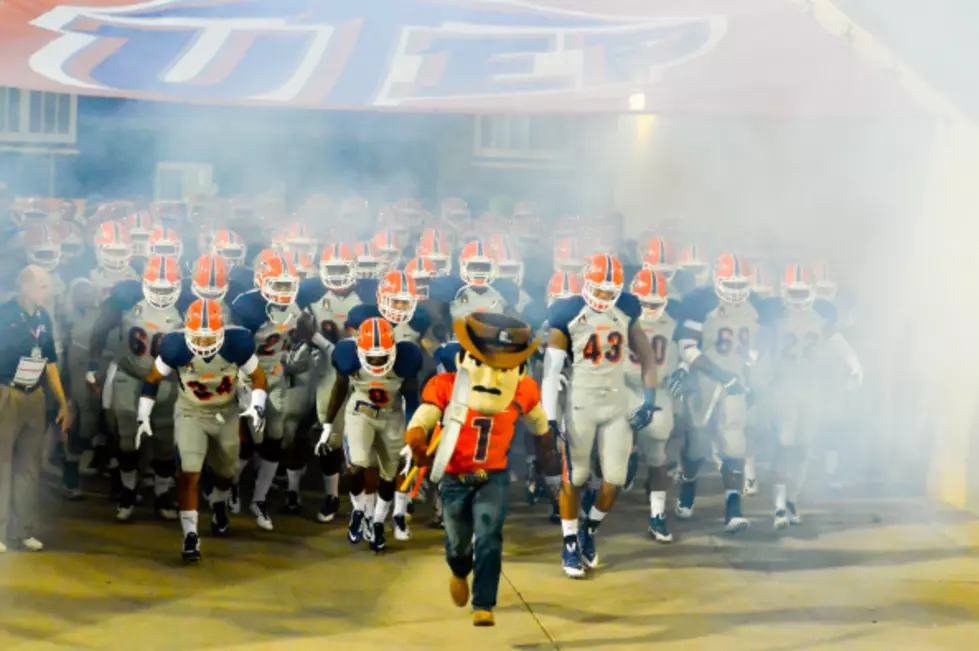 Get Ready to Party AT UTEP's Epic Back-to-School Bash
Getty Images
Hold onto your hard hats and picks Miners, because UTEP is about to throw the ultimate welcome-back bash for the upcoming school year and everyone is invited.
Miner Welcome will be two weeks of non-stop excitement as the Fall 2023 semester kicks off. The festivities begin Thursday, August 24th with Move-In Day at the UTEP campus.
"Miner Welcome events throughout the next two weeks will showcase all the university has to offer including socials, barbecues, a campus-wide Get Involved and Well-being Fair, a student employment fair, and two major events – Texas Western Gold Rush and Minerpalooza," said UTEP officials.
The highlight of this two-week celebration will be the Texas Western Gold Rush which will take place on August 28th at Centennial Plaza starting at 7 p.m. Students will be able to enjoy live music, jaw-dropping performances, surprise guests, and even a fireworks spectacle.
But that's not all! You can't forget about Minerpalooza which will happen on September 15th, from 6 to 11:30 p.m.
The Glory Road 2 parking lot north of Sun Bowl Stadium will be transformed into a magical playground and concert area. Guests over 21 will also be able to enjoy a beer and wine garden.
Best part? It's all FREE and open to everyone. So, mark your calendars, spread the word, and brace yourselves for the ultimate campus blowout. For more details, click here.
FULL LIST IF EVENTS FOR MINER WELCOME:
Saturday, Aug. 26, Late Night at the Rec: 
Students will have the opportunity to visit the Student Recreation Center from 8 p.m. to midnight for after-hours workouts or to participate in activities such as glow golf, laser tag, dance classes and more.
Monday, August 28, Texas Western Gold Rush:
Texas Western Gold Rush is an evening filled with Miner pride for all UTEP students. Nestled in the heart of campus, this welcome event showcases student talent, storytelling, and high energy entertainment. There's no better way to kick off the fall semester!
Wednesday, Aug. 30, Miner Welcome Pep Rally:
The UTEP Spirit teams and Orange and Blue Spirit crew will host a pep rally at 12 p.m. in front of Centennial Plaza to inform the student body of the UTEP football team's first home game against the University of the Incarnate Word. Players and coaches will be present for the event.
Thursday, Aug. 31, Get Involved and Well-being Fair:
This event is for students who are interested in joining a student organization, volunteering in the community, or getting more details on academic programs, opportunities to be active and detailed information about campus health and well-being resources. The fair will take over Centennial Plaza starting at 10 a.m.
Tuesday, Sept. 5, Chalk the Plaza:
UTEP students, faculty and staff are invited to show their UTEP spirit and pride through their artistic creativity at Fox Fine Arts Plaza from 6 to 9 p.m. Attendees will also have the opportunity to enjoy music and food while getting to know fellow Miners.
Thursday, Sept. 7, Pete's Roller Rink:
Why walk when you can skate? Students will have the opportunity to skate the night away at Pete's Roller Rink in the Fox Fine Arts Plaza.
Friday, Sept. 15th, MinerPalooza:
Minerpalooza is UTEP's biggest party of the year. This back-to-school bash features live performances, food trucks, and tons of fun activities and games beginning at 6 p.m. until 11 p.m. More headliner details to follow.
Click here for a full list of events: utep.edu/MinerWelcome
FYE Cielo Vista Mall