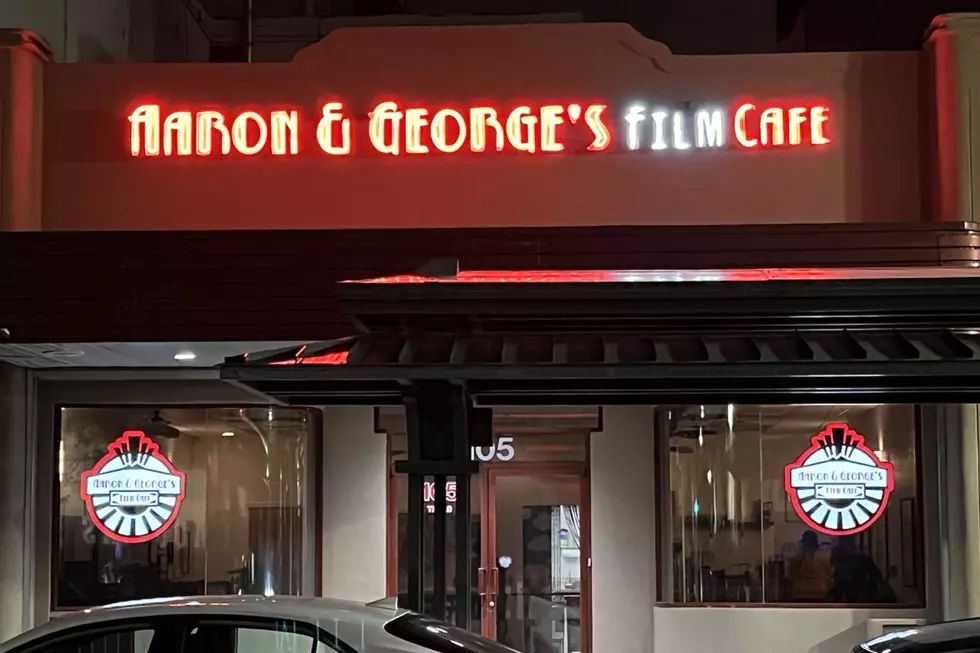 Film Lover's Rejoice! New Film Café Opens Up in Downtown
Aaron and George's Film Cafe
Downtown El Paso is now home to a new film café! Aaron and George's Film Café is officially open and recently celebrated its grand opening on September 10, 2022.
Located on 105 Texas Avenue, just around the corner from San Jacinto Plaza, Aaron and George's Film Café is owned by New York native Douglas Winter and El Paso native Rebecca Munoz.
Enter your number to get our free mobile app
Taking inspiration from small New York theatres like Spectacle and El Paso's own Fellini Film Café, Aaron and George's aims to provide an inviting space for film lovers to enjoy offbeat, classic and independent films.
Aaron and George's Film Cafe will serve a variety of sandwiches, salads and fountain-style beverages. The gem of their drink menu is the Egg Cream, an iconic New York City beverage that is getting an El Paso twist. Stop by to try this refreshing beverage made of U-Bet Chocolate syrup, milk and Topo Chico!
Aaron and George's Film Cafe is dedicated to the memory of their grandfather's, Aaron Schwartz.
And George Haims.
Both worked in the restaurant business and shared their love of food and family with owners Douglas and Rebecca. Family inspired and owned businesses are the heart and soul of El Paso!
Their hours are as follows:
Wednesday - Friday
9:00 AM - 10:30 AM
Mornings with Amy Goodman*
*Free "Anarchist Cookies" with your purchase of
coffee (while supplies last)
10:30 AM - 2:30 PM
Classic music videos, concerts, and sitcoms
6:00 PM
Café open for dinner
7:00 PM - 9:00 PM
Evening feature
Saturday
9:00 AM - 11:00 AM
Saturday Morning Cartoons
11:30 AM - 2:30 PM
Documentary
6:00 PM
Café open for dinner
7:00 PM - 9:00 PM
Evening feature
Sunday
11:00 AM - 12:00 PM
Sunday Morning Cartoons
12:30 PM
Matinee
It looks as though they won't just be showing films, but also music videos, sitcoms and cartoons (looking forward to those Saturday morning cartoons!)
To view their weekly movie schedule, visit their website at www.aaronandgeorgesfilmcafe.com and sign-up for our newsletter. You can also follow them on Instagram, @aaronandgeorgesfilmcafe for more info.
7 Movies That Were Filmed in El Paso
You Had to Be There: El Paso Edition