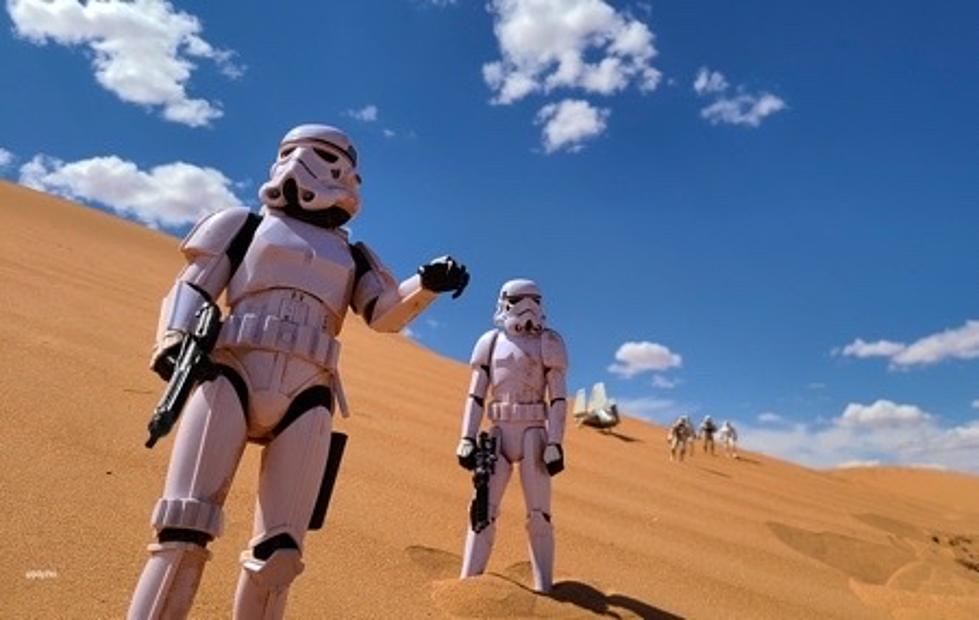 El Pasoan Clones Star Wars Planet W/ Fun Photo Shoot At Red Sands
J Diego Gonçalves
One El Pasoan has recreated Tatooine, one of the planets featured in the Star Wars franchise, with a fun photo shoot at Red Sands featuring his action figures.
The Force is strong with J Diego Gonçalves, a life-long fan of Star Wars and a new resident of the El Paso community.
Earlier this month, J Diego Gonçalves, a photographer from Brazil, moved to town with his wife, originally from El Paso, and was looking to adjust and decompress after a tough year.
Listen to Monika middays all week on 93.1 KISS-FM and download our free 93.1 KISS-FM App.
Unfortunately, just like many others across the globe, the pandemic hit their family hard, losing friends and family members to the deadly COVID-19 virus. The move and pandemic were life-altering, to say the least, for Gonçalves and his family but continued to push forward to remain productive by exploring the city and going out to take pictures.
On one of his outdoor adventures, J Diego Gonçalves came upon Red Sands, noting the resemblance to Tatooine, a fictional sparsely inhabited harsh desert planet and home of Anakin and Luke Skywalker.
Growing up, Gonçalves fell in love with the Star Wars franchise, from the movies to the live-action and animated series, which led to him deciding to use his action figures as props for his photo shoot at Red Sands and the Franklin Mountains.
J Diego Gonçalves shared via an email,
I went to Red Sands and the Franklin Mountains and loved the results, I posted it in some local groups and people loved it as well. I'm glad I was able to make people happy while having fun, that's the whole point in my opinion.
Gonçalves featured Storm Troopers, The Mandalorian, Grogu, Boba Fett, Luke Skywalker, C-3PO, and R2-D2 against the backdrop of what looked to be the real planet of Tatooine, and the results were wondrous.
While these may be simple toys to some, they served as a creative and therapeutic outlet during a time when uncertainty was the only certainty, and that's made all the difference for this young Jedi.
Star Wars Photo Shoot At Red Sands
Where To Find All Of El Paso's 3D Balloon Murals:
READ MORE: 25 Companies You Might Not Know Are Owned by Disney