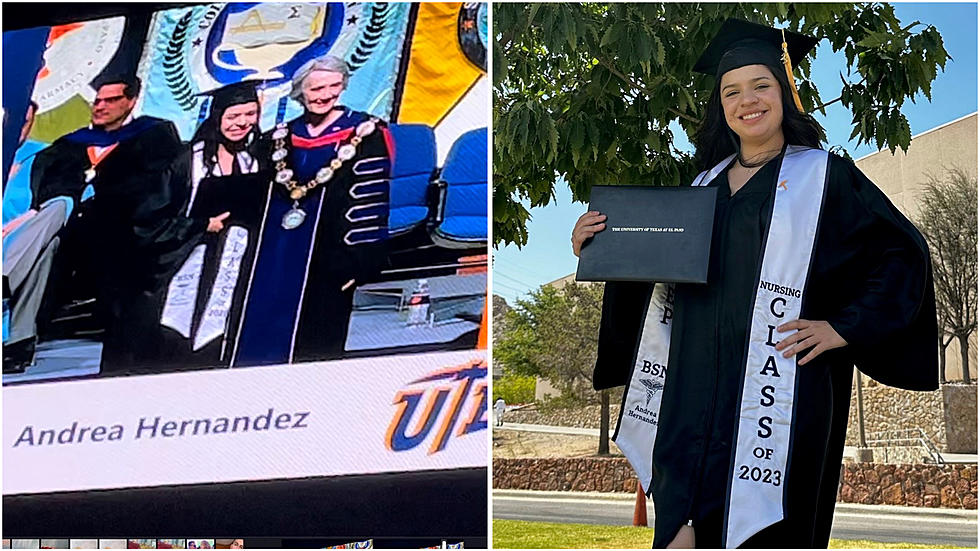 El Paso Teen Is Youngest To Graduate UTEP With Bachelors In Nursing
Courtesy: Isabel Hernandez
Graduation season is here for college students and soon high school students will be walking that stage to grab their diplomas.
One El Paso teen is breaking barriers and making history this graduation season by being the youngest UTEP graduate to receive a Bachelor of Science in Nursing!!
Andrea Hernandez is just 19-years-old and she was part of the inaugural class at America's High School's Trailblazers Early College High School in 2017.
Early college high school provides local high school student's with the opportunity to get ahead when it comes to being college ready. Students are able to  get their associates degree while still attending high school!
Andrea was able to receive her associates degree from El Paso Community College in 2021 and then she made the transfer to the UTEP Nursing program.
Andrea proudly walked the stage at this year's UTEP commencement ceremony but she won't have to worry about the stress of job hunting after graduation because she already found a job at the Hospitals of Providence.
Andrea will be a Registered Nurse at the Hospital of Providence and she plans to specialize in Progressive Care once she passes the NCLEX State Board of Nursing exam.
This is such a huge accomplishment for Andrea and one that her parents are proud of.
"She always demonstrated dedication since she was little, " said Andrea's Mom, Isabel Hernandez. " She learned to read and write at the age of four and now that I see all the posts about her, the image of her studying every single day makes me realize that everything she worked so hard for was all worth it."
Way to go, Andrea! You are a true example of what hard work and dedication can get a person!
UTEP Youngest Nursing Graduate