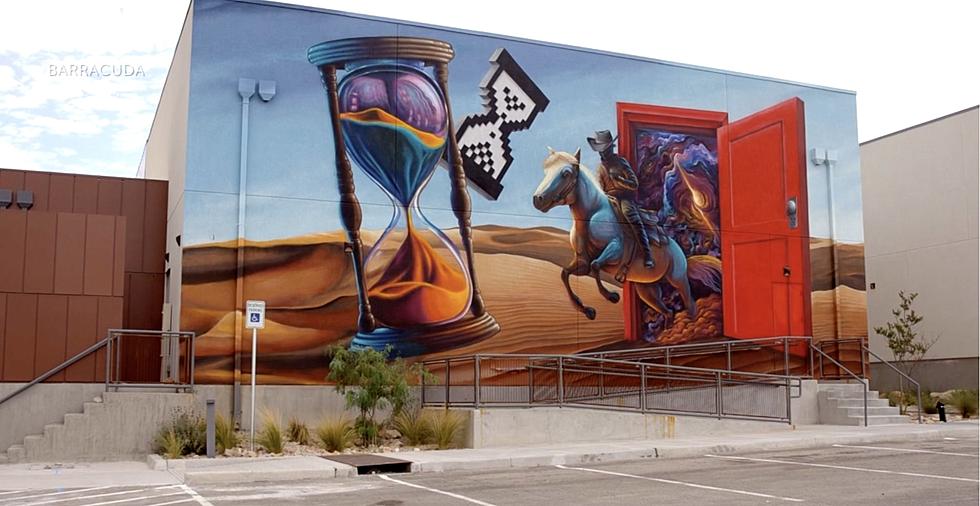 El Paso Muralists Team Up For New Montecillo Mural: Sands of Time
Courtesy: Barracuda PR
Fact: El Paso has some of the best muralists in the nation! Of course, that's just my biased opinion because I was born and raised here, but you would probably agree too if you just drive around town and see some of the amazing artwork on buildings done by local muralists.
Just recently I shared a story about local muralist, Jesus "Cimi" Alvarado, and how he created a 5-foot tall Blue Beetle mural at Tinseltown to help Warner Brothers promote the movie.
Well, there's a new mural in El Paso's westside of town. The Montecillo area to be exact, and it's a mural that will have you thinking you're a cowboy traveling in space!
Local artists Ryan Jean and Martin "Blaster" Zubia have gifted the city with a breathtaking mural located at Montecillo and visible from Interstate 10 West, this masterpiece adds a dash of sci-fi flair to the already sizzling El Paso art panorama. But wait, there's more – this is just the first of a series of murals set to grace Montecillo, a move that's turning this community into a true art oasis.
"It's all about time, man," said Zubia with a grin. "We're all caught up in this fast-paced world, running, working, barely pausing to catch a breath. Time slips through our fingers, even when we're binge-watching cat videos." Jean adds, "We wanted to break free from the artistic norm – we wanted to brew up something fresh, something that would make people look twice."
The mural features a space cowboy from a future we all secretly dream of, poised to ride through the ethereal desert. But here's the twist: a colossal hourglass, grains of sand cascading down, serves as a ticking reminder of time's ceaseless march. And if that isn't enough to blow your mind, a retro-style countdown timer hovers, as our daring cowboy emerges through a time portal – a portal triggered by the creak of a door. Talk about a wild ride!
The mural is visible if you drive past towards Sunland Park Mall exit, but if you want to see it up close and in person then you can check it out at 364 Vin Rambla Dr. El Paso, Texas 79912.
If you do stop to snap a selfie with the mural make sure to use the hashtag #MuralsofMontecillo. Your photo could be featured on Montecillo's Insta (@montecillo_ep)
Sands of Time Mural