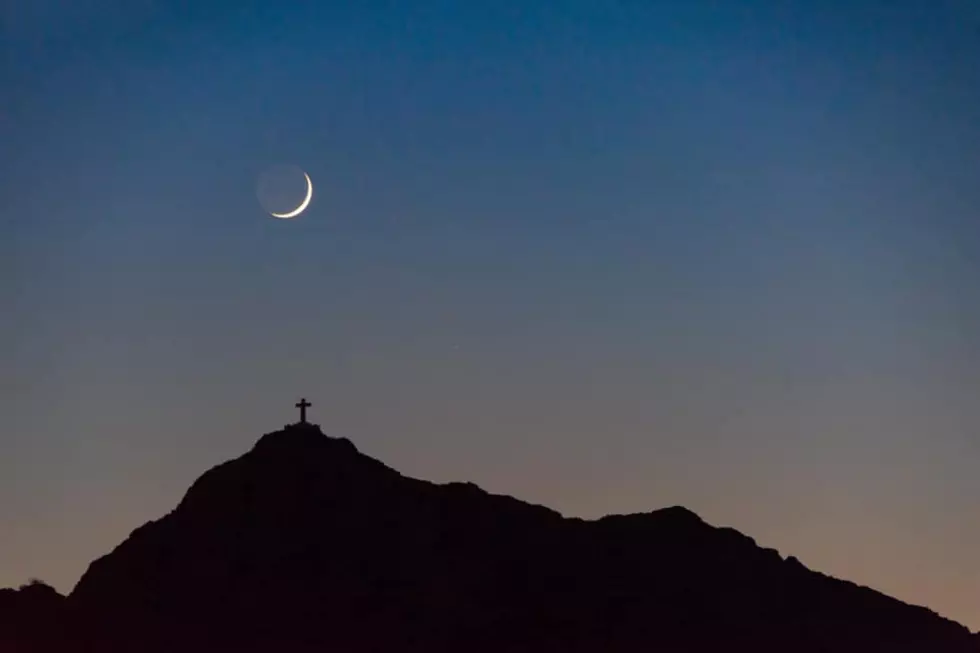 Effort to Light Up Mt. Cristo Rey 'Like a Batman Signal' Underway
Miguel Vigil/Edge of Forever Photography
A spectacular change could be coming to Mt. Cristo Rey.
Beams of light will soar skyward "like a Batman signal" if a Sunland Park city council representative and an El Paso lighting expert can make it happen.
Sunland Park City Council representative Daisy Lira and life-long El Pasoan Adrian Santana are on a mission to not only light up the 29-foot statue of Christ on the cross but the 2-mile-long pathway that leads the faithful to the top as well.
Light Up the Night
Unless a powerful lightning bolt streaks across the sky or a full moon illuminates the peak, the Jesus statue isn't visible once night falls.
But if Lira and Santana can get the okay to proceed with the ambitious plans, the mountain top will one day light up "similar to like a batman signal" is how he described it in a televised interview.
"Our ultimate goal and dream," he told me via email, "is to have Mt. Cristo Rey lit up at night in its entirety."
Laser Beams and Flood Lights
The project would happen in phases according to Santana and include an LED Laser Beam that would light the statue from over 2000 yards away which Adrian believes will keep vandalism attempts to a minimum.
Self-powered solar LED flood lights would light the way as well as the top, and "Wi-Fi routers that would be used for lighting, security cameras, alarm systems, and hardware checks on each light, camera and alarm" would be part of the mix as well.
Santana, who owns Mountain Star Lighting, has already lent a hand and expertise in lighting another iconic landmark.
A couple of years ago he donated the new bulbs and helped convert El Paso's Star on the Mountain from fluorescent lights to LED bulbs making the structure glimmer and shimmer brighter than ever before.
Next Step in the Project
So, when will the already unique landmark get the upgrade that will make it that much more distinctive?
"Although we may have a vision, it is ultimately up to the Roman Catholic Diocese of Las Cruces," Adrian told me. He and others involved will meet with the Diocese to discuss the project, and hopefully get its blessing to move forward, in August.
Feed Your Soul with 20 Stunning El Paso Sunrise, Sunset Photos