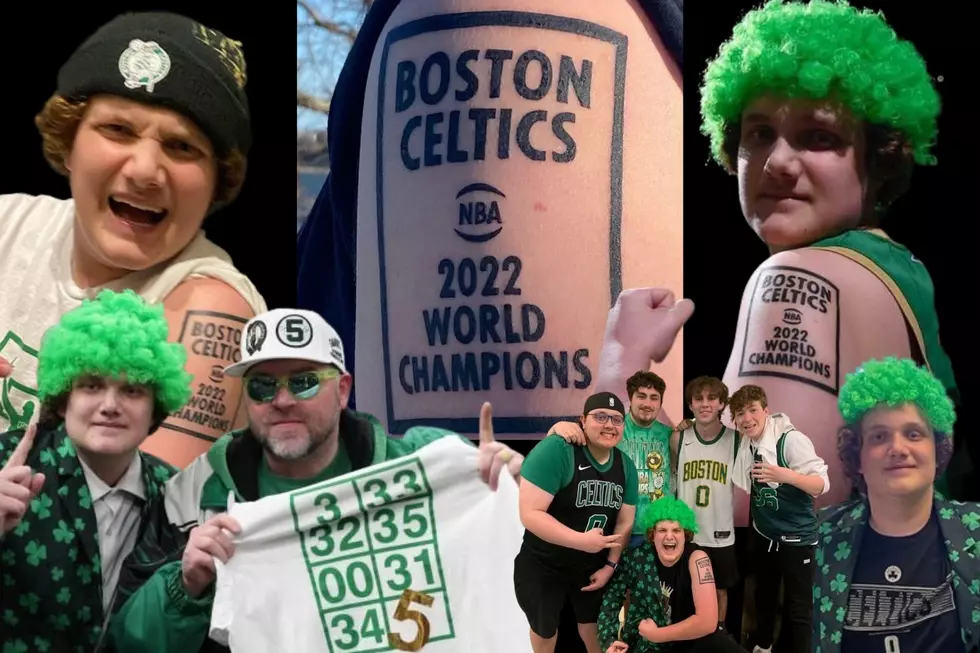 Cape Cod Celtics Championship Tattoo Comes up Short Against Curry in Game 6
Courtesy Jack Bienvenue via Instagram
He's known as the kid from Wellfleet who tattooed the predictive Boston Celtics championship banner for 2022 on his left arm.
His name is Jack Bienvenue and although the C's fell to the Golden State Warriors 103-90 in Game 6 of the NBA Championships, Bienvenue is still in high spirits.
His tattoo has brought him nothing but publicity, both good and bad. Now, he's telling Fun 107 of his plans.
"It will not be removed," he said Friday morning, after the crushing loss. "It's been a very up and down year for me and a lot of those ups have involved the tattoo. It's something that will always remind me of this amazing season of ups and downs for both myself and this Celtics team."
Bienvenue recently edited :"laser removal" from the original post of his fresh tattoo. In its place is a simple green heart.
As for next year, Bienvenue has confidence in the Boston team.
"The Celtics will come back hungrier than ever next season, knowing that they squandered an opportunity at a championship," Bienvenue said.
The Cape Cod legend took to his Instagram once more for the 2022 season with his final thoughts, and praise for his supporters and, of course, the Boston Celtics.
"I just want to start this whole thing off by saying thank you to every single one of y'all that has just recently started following me on this crazy-ass journey. This season has been the best season of Celtics basketball I've seen in my life. From being .500 in January, sweeping a title favorite in the first round, knocking out the defending champs, and making it all the way to the NBA Finals and proving all the doubters wrong. I know everyone is wondering about the tattoo, I'm honestly thinking about it right now, and it's not a huge deal to me. This year has given me some of the worst and some of the best moments of my life, and a lot of those best moments involve the tattoo. So no, it will not be removed. It's something that will always remind me of this amazing season of up and downs for me, and this Celtics team. This loss will sit with me and hurt for a while, but this team is just getting started. I can't wait to continue to watch this team for many years to come, and see what they accomplish together. Thank you all again for an amazing ride this season and you best believe I'll be back with the same passion next year." -Jack Bienvenue @jack_bien via Instagram
Best of luck, Bienvenue, and keep the positive vibes flowing. As unorthodox as your tattoo may be for your first-ever tattoo, you backed it up with your hype and gave Boston fans something to believe in.
What a ride indeed.
Thank you, Boston.
LOOK: 50 images of winning moments from sports history
Sometimes images are the best way to honor the figures we've lost. When tragedy swiftly reminds us that sports are far from the most consequential thing in life, we can still look back on an athlete's winning moment that felt larger than life, remaining grateful for their sacrifice on the court and bringing joy to millions.
Read on to explore the full collection of 50 images Stacker compiled showcasing various iconic winning moments in sports history. Covering achievements from a multitude of sports, these images represent stunning personal achievements, team championships, and athletic perseverance.