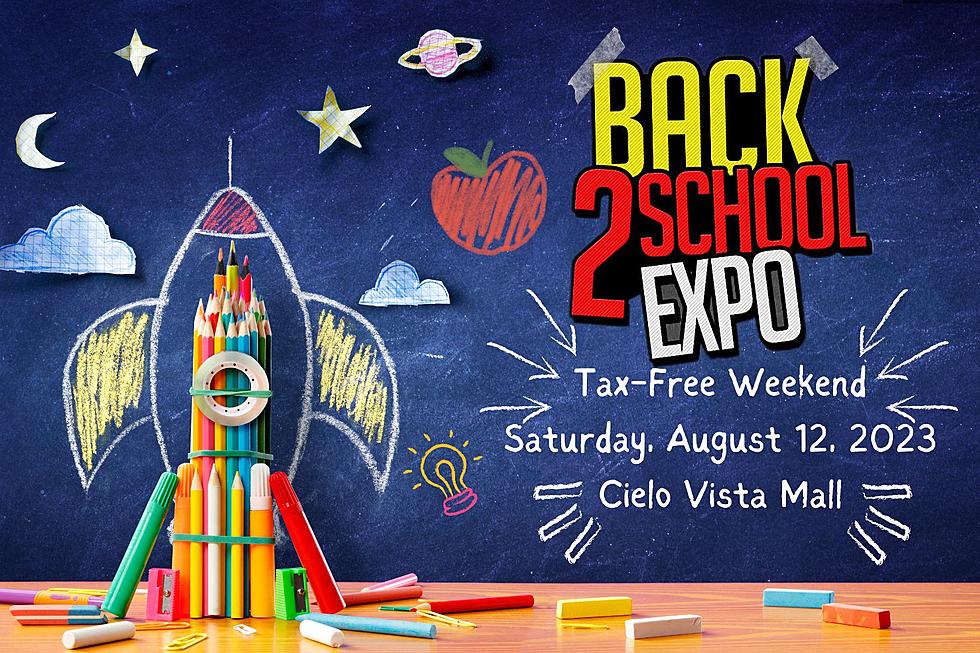 Back 2 School Expo Returns to Cielo Vista Mall in El Paso
Townsquare Media/Canva
93.1 KISS-FM El Paso Is Proud To Host The Annual Back-2-School Expo, Presented By Western Tech
KISS-FM along with Western Tech presents the Back-2-School Expo. Join us for a full day of back to school fun at Cielo Vista Mall on Saturday, August 12, 2023.
The Back-2-School Expo is conducted during one of the busiest shopping weekends of the year -TAX-FREE WEEKEND!
Each year, dozens of vendors take advantage of displaying their products and distributing information to THOUSANDS of mall-goers. The expo will feature fashion shows and exhibitions on the center stage located right in front of women's Dillard's (lower level). Multiple vendors throughout the mall will showcase their back to school items and will be giving out free goodies and registering to win great prizes to help you with your back to school needs.
A special thank you to our sponsors:
Western Tech, The Furniture Outlet, The YMCA, Texas Health & Human Services, GECU, EP Electric, Pinova Dental, Babytree Surrogacy, Limitless Strategies, Cielo Vista Mall, Laura's Productions, and Bright Nights 915.
Where and When?
WHERE: Cielo Vista Mall
WHEN: Saturday, August 12th
HOURS: 10 A.M. – 6 P.M.
Don't forget this is TAX-FREE weekend! Shop for the best savings of the year and get everything you need for the start of school thanks to Western Tech!
YMCA Stage
Great exhibitions from dance groups and clubs will be featured from noon to 5:30 pm on the YMCA Stage along with a Fabulous Fashion Show brought to you by Laura's Productions featuring all the latest Back to School fashions at 2 pm.
Check out what after-school activities to sign-up your kids and see the latest in teenage fashion on the Y-M-C-A stage. Stop by the Johnson Jewelers KISS-FM prize tent and sign up to WIN prizes including four $500 scholarships, courtesy of El Paso Electric!
TEXAS HEALTH & HUMAN SERVICES – SPONSORS OF HEALTH CORNER
We are excited to have the "Turn To" campaign joining us at the Back 2 School Expo at Cielo Vista Mall. The Texas Health and Human Services Commission will be onsite in partnership with Aliviane to connect families with local community resources that can help prevent substance use through mental health and wellbeing support. Find them at the "Health Corner" booth near the main stage and learn more about the "Turn To" campaign by visiting TurnToSupportsTX.org.
GECU – SPONSORS OF MASCOT SHOWCASE
Calling all high school mascots: G-E-C-U presents the Mascot Showcase at the Back-2-School Expo at Cielo Vista Mall on August 12th! Make sure that YOUR school is represented! Call 915-544-9550 to sign up. It's happening at the 93.1 KISS-FM Back-2-School Expo. Join Dru Blu, G-E-C-U's award-winning mascot, on the stage and show your school pride! Call 915-544-9550 to sign up by August 9th to represent your school!
EL PASO ELECTRIC - Register to Win a $500 scholarship
El Paso Electric wants to help students power up their education opportunities as the "Scholarship Sponsor" of the 93.1 KISS-FM Back-2-School Expo…August 12th at Cielo Vista Mall. Students can register for the chance to win one of four $500 scholarships at the 93.1 KISS-FM booth. EPE is transforming the energy landscape by providing safe, sustainable and reliable energy. By presenting these scholarships, EPE is committed to empowering our community. Winners will be selected at random after the expo and winners will be contacted. Must be 18 or over to register. Students can register but must provide parental/guardian information.
PINOVA DENTAL- SPONSORS OF THE KISS PRIZE TENT
Healthy smiles for kids and families! That's what Pinova Dental and Braces is all about. They take pride in providing quality, affordable dental services for patients of all ages. Pinova offers cleanings, exams and x-rays…as well as orthodontics, oral surgery, fillings and root canals. With five locations throughout the city, Pinova accepts most insurance, including Medicaid, and also offers flexible payment plans. Pinova Dental and Braces is proud to sponsor the Prize Tent at the Back-2-School Expo.
BABYTREE SURROGACY SPONSORS OF THE BACK PACK GIVEAWAY AND THE COLORING CONTEST
We have 15 FULL backpacks to giveaway at the Back-2-School Expo, generously donated by Babytree Surrogacy. Register at the KISS-FM tent. We will be giving away backpacks every hour beginning at 10 am until 5 pm. Stop by and register, you don't need to be present to win but check back with us after your done with your shopping. We will have a winner's board with the names of our winners as the day progresses. If you find your name there, you can take your backpack full of school supplies home with you. Come for back to school shopping and go home ready for the first day of school with all your school supplies.
Then head on down to Babytree Surrogacy booth where your kiddos can get a back to school coloring sheet and colors.
LIMITLESS STRATEGIES
Limitless Strategies will ask parents to take a simple/fun stress test by filling out a questionnaire. They will give you insights and ideas on how to manage your stress as a parent during school time and those stressful homework nights. They will be handing out stress balls for parents and school supplies to students.
CIELO VISTA MALL – HOST OF EVENT
At Cielo Vista Mall you can save big on back-to-school styles, El Paso's go-to family shopping destination and proud host of this year's Back to School Expo.
LAURA'S PRODUCTIONS – PRODUCER OF FASHION SHOWS AND EXHIBITIONS
Fashion Shows will take place on the main stage in front of Dillard's at 1:30 and 3:30 pm. There will also be a school Mascot showcase on the main stage at 2:30, along with exhibitions from cheer groups, dance groups and our sponsors from 12noon – 5pm.
BRIGHT NIGHTS 915 – STAGE DECORATIONS
Bright Nights 915! Bright Party Lights! Brighten up any celebration with a beautiful neon rental from Bright Nights. WITH over 60 neon rentals for every occasion…décor, giant lit-up marquee letters, multi-colored back drops and balloons. They can even help you create your own masterpiece. Go with the glo at Bright Nights 915.
THE FURNITURE OUTLET
Looking for great furniture ideas for the coming school year? Visit The Furniture Outlet at the Back to School Expo. They'll have fun giveaways including a chance to win a free desk, so you can get your kids ready for the new school year with a study space they can call their own. Explore living room, dining room and bedroom selections too.
---
A special thank you is in order for all the fabulous sponsors who make this event possible: