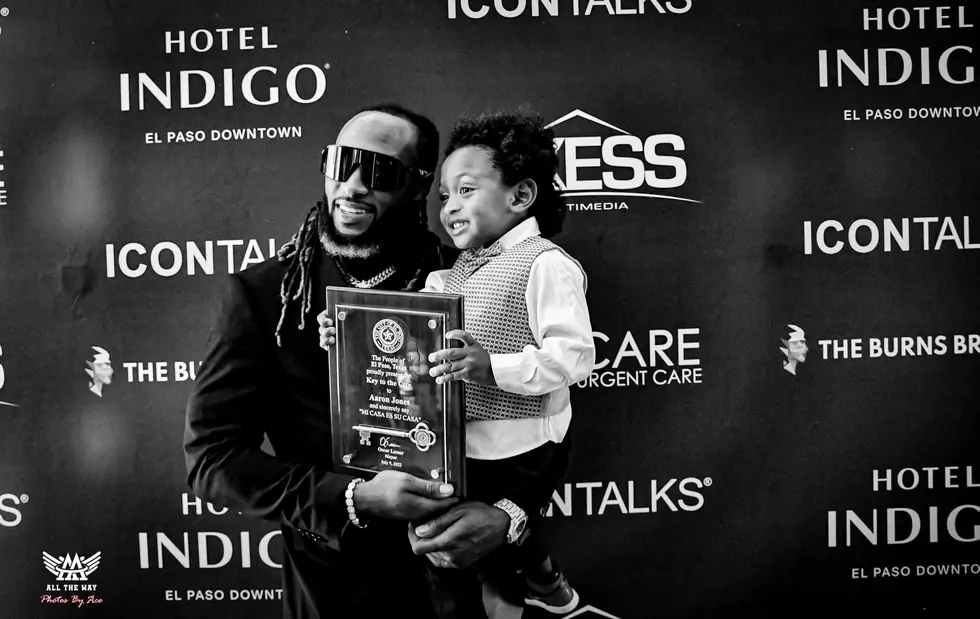 Aaron Jones is Awarded The Key To The City By El Paso Mayor
Courtesy: Ace Acosta
This past week a few local celebrities were in town for the Icon Talks Awards which benefited the Children's Hospital of El Paso.
Icon Talks highlights icons in various industries, fundraises through various inspiring content, and funds The Icon Foundation, which offers a multitude of different programs focusing on providing empowerment programs and resources to children most in need.
The guest list for this award event included NBA All-Star and Hall of Fame Legend Tim Hardaway Sr., El Paso Children's Hospital CEO Cindy Stout, both of whom received the Mayor's Distinguished award.
Rapper Krystall Poppin was also in attendance and the guest of honor was El Paso's favorite Green Bay Packer, Aaron Jones.
During the event, Mayor Oscar Leeser was presented with the visionary award "because he demonstrates the core values of a true Visionary and someone who inspires not only through his innate talents."
Mayor Leeser then had the honor of presenting the Key to the City to NFL Green Bay Packers All-Pro running back Aaron Jones.
"It's his city. El Paso is proud of all he has done and it's so important that he represents what El Paso is all about and I am honored to watch him give back to El Paso," said Mayor Leeser.
For Aaron, giving back to his community has always been a goal for him.
"I knew that if I was ever able to make it to the level that I am, I would always want to do something in my community to give back," said Jones.
Now, although the key to the city can't actually open any doors, this honor is a pretty big deal because it's only given to esteemed residents and even visitors that have shown love for the city of El Paso wherever they go.
Back in 2018, singer Khalid received a key to the city from former Mayor, Dee Margo. That would be the first "Key to the city" that former Mayor Margo would give out.