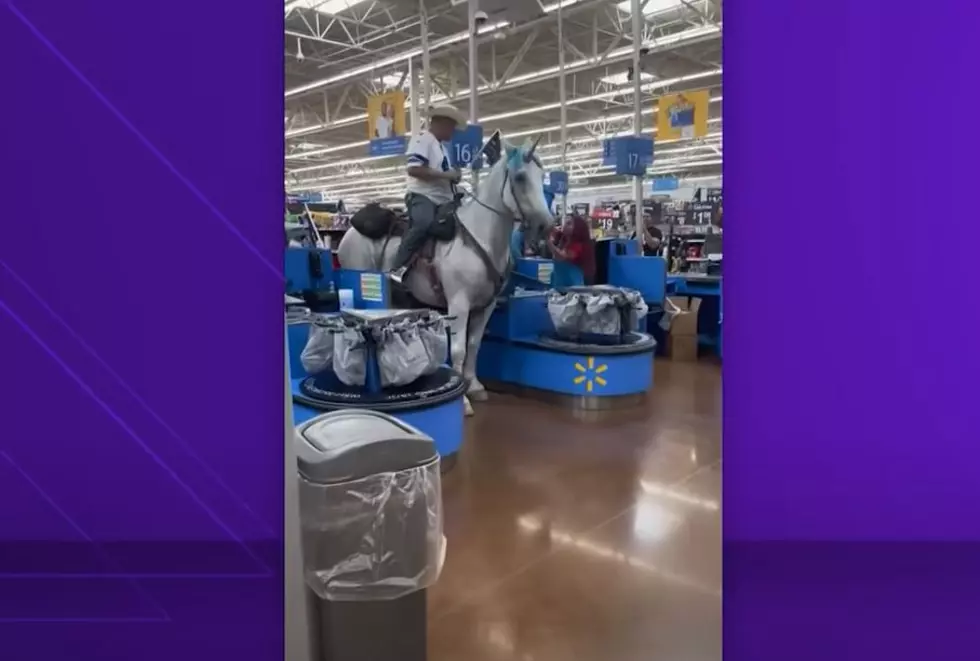 What NFL Fan Base In El Paso Do You Picture Being Wild Like This?
via WFAA YouTube
There are some wild fans that love to really show off their team in a wild way. For example, only in Texas, you will see some Dallas Cowboys fans take it to the next level.
Sure we have all seen those really wild fans who risk being banned by running on the field for some attention. Then there are also those other kinds of fans who get butt hurt and will fight the opposing team's fans either over a loss or a win.
Then you have those extremely wild fans that pull some daring moves that will land them national recognition. If a Dallas Cowboys fan riding on a horse in Walmart came to mind, then you score a point.
Tons of people at the Walmart in North Texas had phones out recording something they couldn't believe. A Dallas Cowboys fan went riding into a Walmart on his horse shopping for a bucket that WFAA's YouTube video shows below.
This wasn't just any horse it was decorated as a horse with a unicorn and Dallas Cowboys colors. Clearly, something like this would not be allowed in El Paso, Texas unless the horse was a service animal.
But it sure had me wondering what NFL fan base in El Paso you see pulling this wild stunt somewhat similar to this off. I feel tons of people in El Paso will just vote Dallas Cowboys for the hell of it.
But then again I haven't really seen any other wild sights from any other NFL fan base in El Paso. For example, we can't forget the El Pasoan who transformed his backyard into a Dallas Cowboys football field in 2019.
Now there is a true die-hard Dallas Cowboys fan that has a full-blown truck decked out in Cowboys decor. But that is so far the only wild thing I have seen a Dallas Cowboys fan do in El Paso. This should be proof that Dallas Cowboys fans go all out for their favorite NFL team.
KEEP READING: Here are 50 of the most famous sports goofs