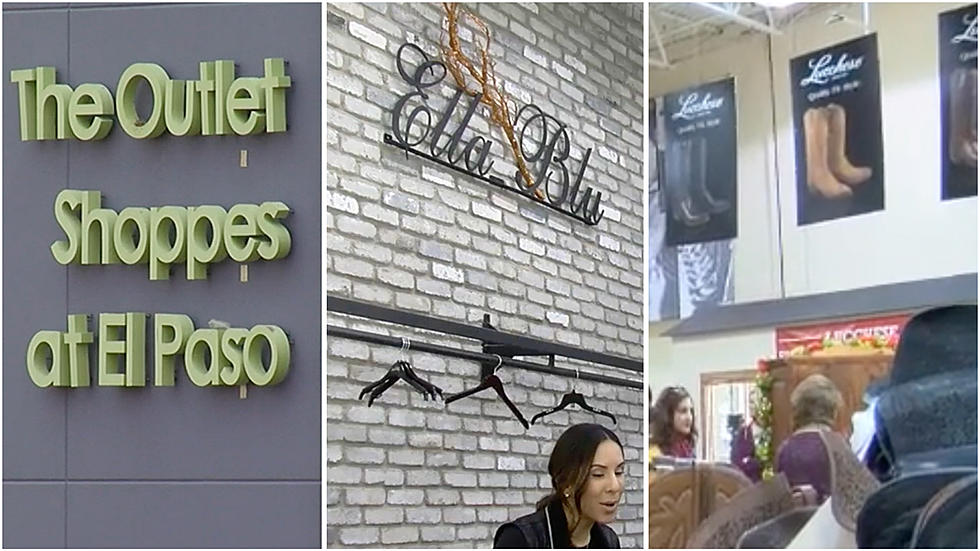 These El Paso Businesses Have Been Named The "Best Stores In Texas"
IL
A few El Paso businesses are getting some love as they have made the list of the Best Stores in Texas for 2023!
If you're traveling across Texas and want to do some shopping, ShopAcrossTexas.com is the go-to web resource to find the best stores in whatever city or town you stop at.
"Our coveted "Best Stores in Town" list is generated from a combination of our expertise and a 6-week survey held every May, in which our readers vote for their top shopping spots across the state," read a description on the website's page.
For 2023, eight local businesses were added to the list of Best Stores in Texas.
"It's wonderful exposure for El Paso to have eight businesses named to a statewide 'Best Of list'. Each of the awarded businesses was rightfully chosen for their distinctive and authentic products and goods that are well recognized by both locals and visitors," said Jose Garcia, President and CEO of Destination El Paso.
Although I haven't been to a few of these stores, the stores that I have visited on this list definitely deserve this coveted title!
Whoopee Bowl Antique Mall:
Whoopee Bowl was selected to the Best of Antique Stores list and this selection is near and dear to my heart because it is a place me and my son would visit often when he was younger and enjoyed collecting "old coins."
When my son was in elementary school he had an obsession with collecting antique items but he really really loved collecting coins that looked like they were "a million years old."
I took him to Whoopee Bowl one day and after that, he always requested to spend our Friday afternoons taking the 30-minute drive to visit the Whoopee Bowl so he could visit the coy fish outside of the store, get his bag of popcorn from the sweet gentleman behind the register, and of course search through the bowls of coins for the coolest coins he could find!
If you haven't visited Whoopee Bowl yet, what are you waiting for? It's a great way to just get lost in history!
Lucchese Factory Outlet and The Outlet Shoppes:
Both outlets were named to the Best Outlets list and for good reason! Lucchese Factory Outlet is a place many Hollywood celebrities are known to stop by when they're making their way through El Paso.
The terminator himself, Arnold Schwarzenegger, visited the outlet back in 2016.
Rocketbuster Handmade Custom Boots:
Another place that was visited by the terminator back in 2016 was Rocketbuster Handmade Custom Boots!
Arnold spent some time at the boot store and even snapped a few photos with fans and local city officials.
Gal Fashion, Ella Blue & Nono's:
Talk about Girl power! Gal Fashion, Ella Blue & Nono's are all local fashion boutiques that are owned by strong women.
These locally owned boutiques aim at making women feel powerful and classy with the gorgeous clothing and accessories they provide!
El Paso Import Company:
"With 30 years of experience in handmade and imported furnishings, El Paso Import Company is a veteran in the wholesale and retail furniture industry," read a description on ShopAcrossTexas.com.
El Paso Import company has expanded all over the nation since 1987 and provides shoppers with a variety of local antiques as well as items from all over the world!
Love Alumni Boutique