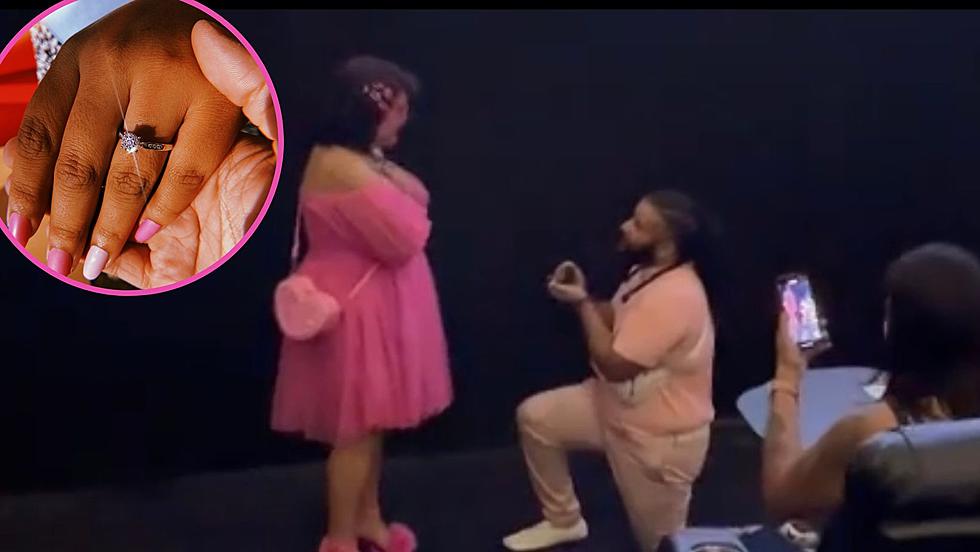 The Ultimate Date Night: Texas Man Proposes to Girlfriend at Barbie Movie Premiere
Courtesy: Alexander Lopez
So the Barbie Movie has taken over El Paso, and pretty much the world! I am LOVING and living for all these Barbie related outfits, birthday parties and girls night out.
But just when I thought it couldn't get any better, the universe decides to serve me with a Barbie proposal!!!
Well, not me. I didn't get proposed to *cries in Spanish* but one lucky El Paso couple was on center stage right before the Barbie premiere at Flix Brewhouse in West El Paso.
Alexander Lopez and his girlfriend at the time, Adriana, had made plans since December to watch The Barbie movie with friends at Flix Brewhouse.
"We loved the idea of seeing the Barbie movie with our friends with everyone wearing all pink. Luckily my friend worked at that location so we were able to get more details about showtimes and availability," said Alexander.
Well, knowing how excited his girlfriend Adriana would be to watch the Barbie movie, Alexander decided to make the day even more special by planning a surprise proposal at the theater.
"I've been secretly trying to come up with a plan to propose to her. A lot of the plans I originally thought of fell through for one reason or another, and luckily I was able to purchase her engagement ring this past May! So in June I had the idea to combine our Barbie All Pink Everything day with my proposal," said Alexander.
He made sure to get in touch with his friend who worked at the theater, Mayra, to make sure this was something he could put together. Once he got the green light, he reached out to Adriana's sisters so they could help him plan the special surprise.
"First we had to sneak her family and my mom into the movie theater screening room before we arrived there. Then I had to keep her from the theater until I was told it was time to bring her in," said Alexander.
Beforehand, he made sure to send in a picture that he had created for the proposal to the technician of the screening room so that when he would get on his knee, the image would come on.
"I was so nervous all week leading up to the showing that my heart-rate app on my watch said that I had a higher than normal spike," joke Alexander.
Luckily everything went off without a hitch! Adriana was surprised, the projector was timed perfectly, she of course SHE SAID YES!
"Everyone was crying and we all took pictures.  I really can't thank my friend Mayra and the staff of the Flix Brewhouse enough for their hard work with making my proposal the best I could've imagined," said Alexander.
Welp, I wasn't planning on crying so early in the day but here I am, a hopeless romantic crying tears of joy!!
Congrats to the happy couple! And I really hope that the Barbie theme is incorporated in your future wedding! If it is, send pics!
WATCH THE FULL PROPOSAL SURPRISE HERE:
Barbie Mania In El Paso