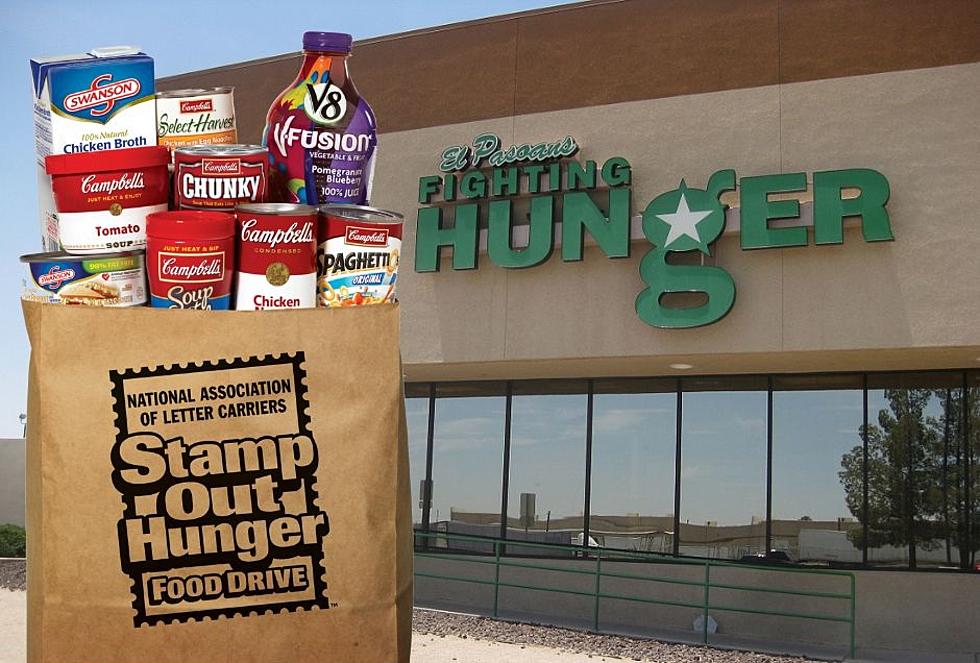 Help El Paso Letter Carriers Feed Families, Stamp Out Hunger This Saturday
Kevin Vargas/NALC
Letter Carriers all across El Paso will be participating in the U.S. Postal Service's Stamp Out Hunger food drive this Saturday, May 13.
Stamp Out Hunger is the largest, single-day food drive in El Paso, and doing your part couldn't be easier. The thought of anyone having to go hungry breaks my heart. I plan to do my part. I hope you can too.
Enter your number to get our free mobile app
How to Help Stamp Out Hunger in El Paso
Simply fill up the food drive bag that was placed in your mailbox with non-perishable food items and place it by your mailbox before your letter carrier's normal pick-up time this Saturday, May 13. Your letter carrier will do the rest.
I told you doing your part couldn't be easier!
Non-perishable food items that are always needed include canned vegetables and fruits, canned meats and soups, packaged cereals, pasta, peanut butter, canned tuna, and packaged staples such as rice, beans, and oatmeal.
If you didn't receive a food drive bag or you misplaced it, no problem. Any sturdy bag or box will do.
El Pasoans Fighting Hunger
All food donations will benefit El Paso-area food banks and pantries such as El Pasoans Fighting Hunger.
Because the El Pasoans Fighting Hunger Food Bank is the distribution center for many food pantries, soup kitchens, and shelters in our area they require an enormous amount of donated goods.
And it's not just food insecure individuals in our city they help feed, but those in need in our neighboring Culberson and Hudspeth Counties as well.
Texas Goodwill Won't Accept These 7 Items
Pictures of 7 items you cannot donate to Goodwill in Texas
10 Most Stolen Vehicles in Texas
According to the National Insurance Crime Bureau here are the 10 most stolen vehicles in the state of Texas.
Vehicles Targeted for Catalytic Converter Theft in Texas
Here is a look at vehicles that get targeted the most by thieves looking for a catalytic converter.