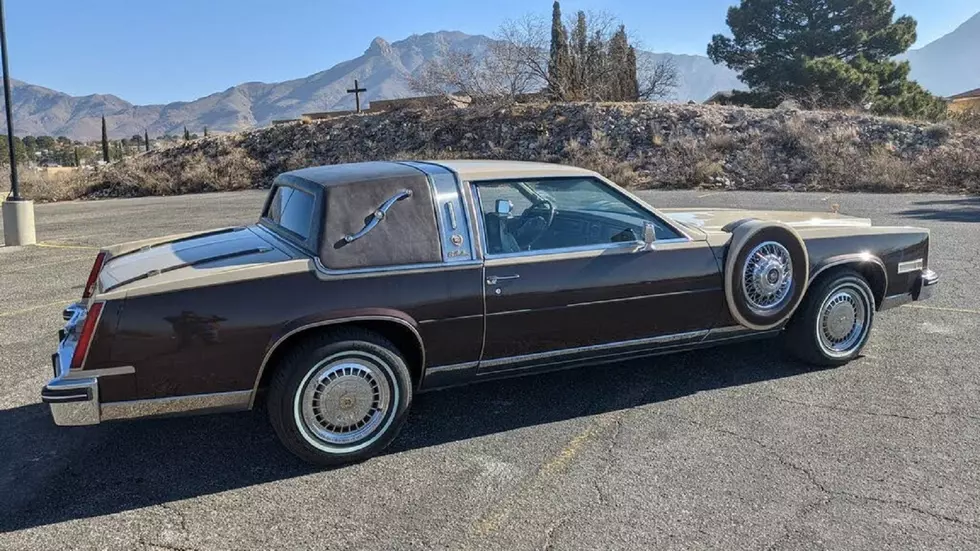 Ride In High 80s Style With This 1985 Caddy Spotted In El Paso
CarGurus
A 1985 Cadillac Eldorado Balero edition with full-on sweeping fender lines and side-mount spares spotted in El Paso. 
The original owner of a 1985 Cadillac Eldorado Balero edition is currently selling the classic vehicle in El Paso for just under $20,000. 
I recently spotted the brown and tan old-school Caddy near our studios, immediately reminding me of the Cadillac featured in the 1991 film Casino where Robert De Niro gets blown up in but gets saved thanks to a "metal plate" fitted under the driver's seat.  
While the Cadillac in the film was a 1981 Biarritz model, this Cadillac spotted in El Paso is a 1985 Eldorado Balero edition which, like Robert De Niro, is giving off all sorts of boss feels. 

The classic Cadillac features side-mounting spare tires and a trunk that looks like leather luggage straps are securing it.
The Cadillac Eldorado Biarritz of the early 1980s might be best known today as the car that blew up Robert De Niro, but, back in the day, high-rolling gentlemen and the elite paid top dollar for this type of fine luxury automobile. 
A little over three decades later, the original owner in El Paso appears to have a real jewel here, considering these types of vehicles are hard to find, especially in this condition.  
According to the original owner, the vehicle was bought from an authorized Cadillac dealer in 1985 for $49,000 and still owns the original MSRP paperwork and clean title to prove it.  
The car also includes the original set of gold keys, leather interior and spoke wire wheels, full-on sweeping fender lines, and side-mount spares, complete with functional electronics such as windows, a/c, and radio featuring a cassette player.  
So, what's wrong with it? Well, not much, according to the seller, the vehicle has some wear and tear, and the passenger seat motor is a "hit or miss," and the fluid tank has a crack in it.  
Other than that, the vehicle looks to be in excellent condition. The paint job is solid, and the interior looks to be well maintained.  
While I spotted the vehicle IRL, I was able to find the exact vehicle online being sold via CarGurus.  
Seller's Price: 

$19,995

 

Mileage: 

44,800 miles

 

Transmission: 

4-Speed Automatic

 

Gas Mileage: 

15 MPG City / 20 MPG Highway / 17 MPG Combined

 

Engine: 

V8

 

Drivetrain: 

Front-Wheel Drive

 

Major Options: 

Leather Seats

 
This classic Cadillac may very well be $20K out of my reach, but if you're down to ride in this time capsule, then make an offer and get ready to gain some street cred as you flashback in time riding this bad boy around town.  
1985 Cadillac El Dorado Balero Edition
UP NEXT: See how much gasoline cost the year you started driving