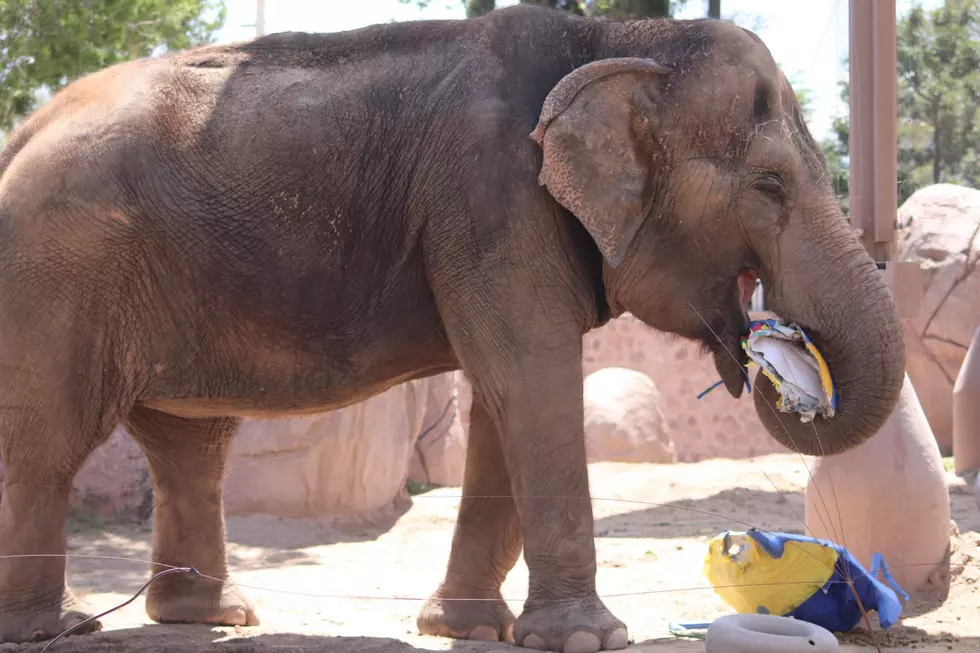 Memorial For Asian Elephant Juno Happening Today At The El Paso Zoo
El Paso Zoo
El Pasoans are invited to attend the one-day memorial event for the beloved Asian elephant Juno at the El Paso Zoo today. 
The El Paso Zoo and Botanical Gardens are hosting the memorial event, today Saturday, April 10, for Juno, the beloved Asian Elephant who recently lost her breast cancer battle. 
Juno's care team, along with the whole staff at the El Paso Zoo, is dedicating a day to El Paso's most beloved Asian Elephant. Everyone is invited to leave a written message outside of the elephant exhibit during the memorial. The messages of love and support left throughout the day will then be collected and given to Juno's care team.  
As part of the special day, El Pasoans visiting the zoo today are also encouraged to wear pink in Juno's memory. 
In October of 2016, Juno was diagnosed with a malignant mass in her right mammary gland and received two rounds of electrochemotherapy treatment thereafter. 
Despite her animal care team's efforts, in mid-March, Juno's health took a sudden turn for worse, and she stopped eating, drinking, and her pain medication was no longer enough. 
Sadly, according to the El Paso Zoo, Juno was "peacefully euthanized in the presence of the animal keepers who cared for and loved her since her arrival to the Zoo."  
Juno was a beautiful and gentle giant who was only 53 years old and was one of the few known elephants ever diagnosed with cancer. 
In fact, Juno's case was so peculiar that Nat Geo Wild covered her journey on the program Animal ER, which introduced new technology and therapy behind her procedure in 2017. 
Now that Juno is gone, the El Paso Zoo is searching for an elephant companion for  Savannah, the zoo's other elephant, with help from the Association of Zoos and Aquariums. 
For more information on zoo hours and admission, visit elpasozoo.com. 
Juno Memorial 

 

El Paso Zoo

 

Saturday – April 10, 2021

 

Zoo Opens: 9:30 a.m.

Last Admission: 4 p.m.
Disney Coco-Inspired Mural In El Paso