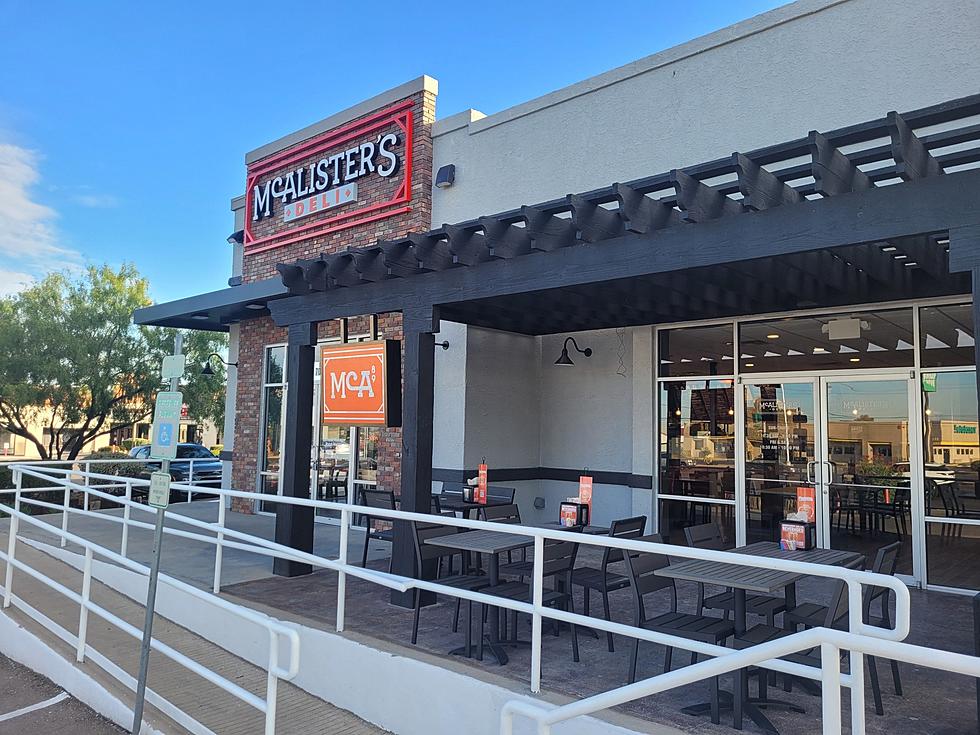 McAlister's Deli Opens New West El Paso Restaurant
McAlister's Deli (Colony Cove) Facebook
Westsiders who have been (im)patiently waiting to get their sweet tea and stuffed spud fix from McAlister's Deli don't have to stand by any longer.
The deli sandwich chain has opened along Mesa near Resler. The west side location is its second in El Paso.
Enter your number to get our free mobile app
'Famous' for Its Sweet Tea
For those not familiar with McAlister's, they're known for their "craveable sandwiches," salads, and baked potatoes stuffed with a variety of toppings to choose from.
But it is "famous" for its sweet tea, which can be purchased by the glass or gallon. You can also get it Unsweet, Half Sweet/Half Unsweet, or Half Tea/Half Lemonade.​
McAlister's West
The west side McAlister's offers guests dine-in and outdoor seating options, curbside pickup, and a walk-in pickup station.
It is located in front of the Albertson's at 7040 N. Mesa in Colony Cove next to Cold Stone Creamery. Hours of operation are Sunday to Thursday from 10:30 a.m. to 9 p.m. and Friday and Saturday from 10:30 a.m. to 10 p.m.
More McAlister's on the Way
A third McAlister's Deli is in the works at Eastlake Commons, the open-air shopping center across the street from Eastlake Marketplace. Site plans show its location will be in the same area Dutch Bros is.
McAlister's far east side location – El Paso's first – at The Reserve at Rich Beem on the corner of Rich Beem and North Zaragoza opened in June of 2022.
QUIZ: Can you identify 50 famous companies by their logos?
How well do you know the logos of 50 of the world's most famous companies? Keep scrolling to see if you can guess which icon belongs to which brand.