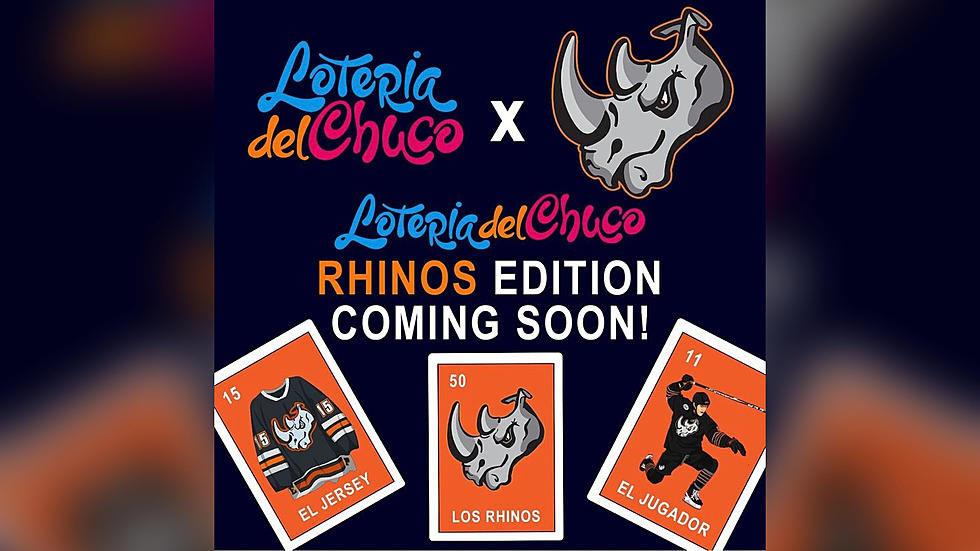 Loteria Del Chuco Teaming Up With El Paso Rhinos For Special Edition Loteria Game
Courtesy: Lotería Del Chuco
The El Paso Rhinos are getting in on more than just the game of hockey! They're joining in on the Loteria fun all thanks to Loteria Del Chuco.
Loteria Del Chuco was created after three friends, siblings Crystal, Andy and Gabe Dominguez, and a family friend, Dan Corral, were playing the traditional Loteria game.
"We wanted it to be specific to our hometown of El Paso. Over drinks on video chat, we started brainstorming different ideas using key landmarks, mascots, and El Paso's most beloved athletes, singers, and historical figures," said Dan Corral.
Some of the original Loteria cards were kept the same, but other images were changed to compliment the Sun City.
Loteria Del Chuco has featured local celebrities including El Politico aka Beto O'rourke riding on his skateboard and holding his fave meal ever, Whataburger. They've also featured Khalid as "El Musico" and they've showcased local iconic landmarks including Wet N' Wild aka "La Rana" and of course Chico's Tacos aka "Los Tacos."
This time around, Loteria Del Chuco will be teaming up with El Paso Rhinos for a special edition version of the game including game pieces that are specific to El Paso's only hockey team.
Pieces will include "El Jugador" aka The player, "Los Rhinos" aka The Rhinos, and "El Jersey" aka The Jersey.
The Loteria Del Chuco Rhinos edition will be available for sale at El Paso Rhinos games and on their website as well.
Loteria Del Chuco creators are working on even more collaborations so stay tuned! Their next feature will be taking us to northeast El Paso!
Loteria Del Chuco El Paso Rhinos Edition
Loteria Del Chuco Preview