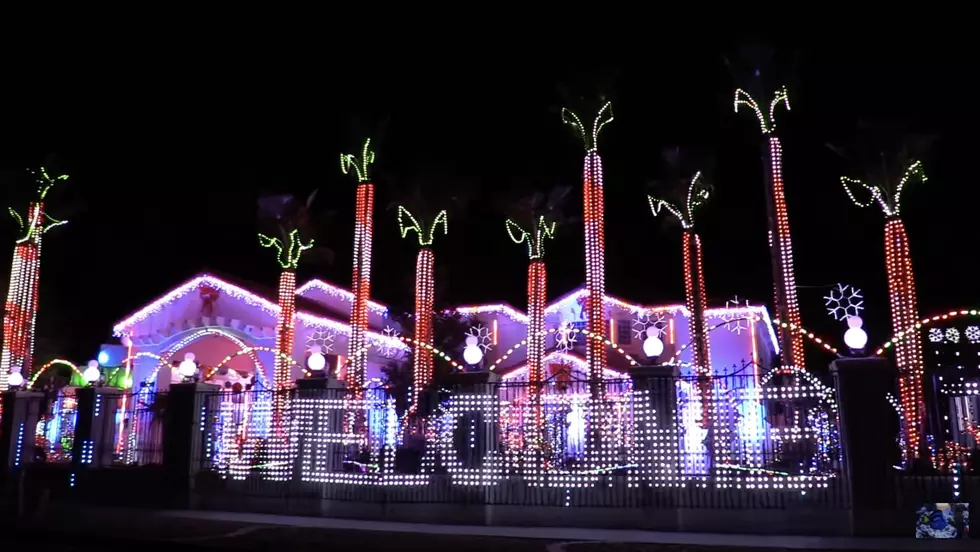 Iconic Fred Loya Light Show Moves To Ascarate Park And El Pasoans Have Mixed Emotions
Courtesy: 915mang via YouTube
After a two year hiatus, The Fred Loya light show is coming back but with a twist. 
El Paso Commissioners Court recently agreed on a partnership to bring the Fred Loya holiday light show to Ascarate Park.
The light show has been an El Paso tradition that brought hundreds of people to Fred Loya's east El Paso home every year to watch his amazing display of lights and visitors even enjoyed a visit with Santa and his elves.
The Fred Loya holiday light display was even a winner of ABC's "The Great Christmas Light Fight," back in 2015.
The past two year's the Fred Loya Light Show was put on hold due to the pandemic, but this year it will be returning but in it's new location, Ascarate Park.
This new collaboration with the county is expected to be an even more spectacular holiday light show and it is expected to bring a unique holiday experience to people of all ages.
"We are honored and grateful that Mr. Fred Loya would choose El Paso County to partner on this one-of-a-kind Christmas light show at Ascarate Park," said Commissioner David Stout, Precinct 2.
The light show will join Ascarate's annual light celebration, "Lights on the Lake," which includes holiday light displays, food trucks, entertainment for the kids, live music from local artists, and more.
The Fred Loya Holiday Light Show will kick off on Nov. 25 with nightly shows running Friday through Sunday and light displays every night through Jan. 6.
El Pasoans Have Mixed Emotions About The Change:
Although this new collaboration seems like a great idea since it will relieve congestion in the Loya family's neighborhood, some El Pasoans have mixed emotions about the changes:
"Won't be the same,especially if they are going to charge just to go in the park. Also anytime you move something nice from its original place, most times it loses its flare."

 

"It will no longer be a labor of love. It will be a labor for profit." -Josie Rangel Pacheco
Some people are hoping construction outside of the park's entrance will be completed before this event:
"I think it would work but will the road be fix in front of the park and how much are they charging?" -Guy Anderson
Some are sad to see it leaving its original location:
"I'm one of the neighbors.....its never been a bother for us....I thinks it's a beautiful show...one that is missed by many...its well organized when it comes to the traffic and crowd control....if it moves well then it moves....I hope that it doesn't." -Lisa O. Fahey
While others are excited for this change:
"I think it is an awesome opportunity for the County to expand this event and make it into a greater event and gives the opportunity to local vendors to participate as well. To be honest I believe it will make Ascarate lake/park much nice. I have visited the lake during Christmas and it needed to be bigger and better because the lights reflect very nice by the lake." -Veronica Garcia Sosa
Sometimes change is good so personally I think this is a good thing for El Paso and I am excited to see what's in store for this El Paso tradition in its new location.
More details on the 2022 Holiday Lights on the Lake collaboration with Fred Loya Partners L.P. will be released soon.
The County will be seeking vendors to join this year's event beginning Nov. 1st. Interested applicants can email tjimenez@epcounty.com for more information or contact the El Paso County Parks and Recreation administrative office at (915) 771-2380.
Holiday Lights on the Lake