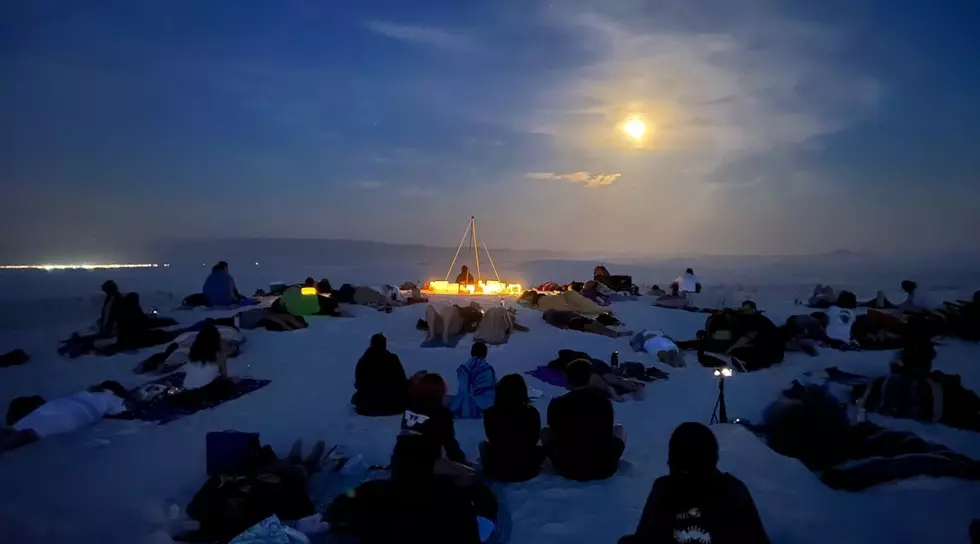 Full Moon Sound Bath At White Sands Back By Popular Demand
Instruments of Healing
Instruments of Healing is back with one last full moon sound bath of the year at White Sands National Park.
Throughout the year, Instruments of Healing has been hosting full moon sound baths at White Sans National Park, and due to popular demand, the event is back for one last time this month.
These events are not your ordinary sound baths. Imagine a radiant full moon glowing over the white gypsum dunes at White Sands, along with a sound bath and live flute playing, tingling all your senses. It's quite an extraordinary and memorable experience.
Initially, the last full moon sound bath took place in September, attended by over 200 participants, and since then, many fans have reached out to Instruments of Healing for one final session before the end of the year.
The ancient practice of a sound bath is a form of acoustic therapy dating back centuries across many cultures that carry many benefits, from deep relaxation to lowering stress and anxiety and improving one's mood and well-being.
Native El Pasoan Cesar Lujan of Instruments of Healing, a Sound Healing Teacher & Frequency Carrier trained in Crystal Healing, Holy Fire III Usui & Karuna Reiki, Metatronia Therapy, and Raindrop Technique, will lead the evening's adventure.
Lujan will guide attendees on a meditative journey allowing for the healing and hypnotic vibrations of the sound bath to resonate through the body, followed by enjoying the full moon as it rises over the horizon at White Sands National Park.
And take it from me, the immersive experience is so relaxing that I completely fell asleep the first time I tried it, and I might have snored too, but that's a story for another day.
Admission: 
The event is free, but a $25 donation (to cover transportation costs) is encouraged -  but not required.
Attendees will need to pay the park's entrance fee, $25 per vehicle
What To Take: 
The evening event will take place outdoors, so dress accordingly because once the sun goes down, it does get chilly.
Participants can bring blankets, pillows, chairs, jackets, umbrellas, and drinking water.
Crystals, amulets, and elixirs are all welcome to charge under the moonlight and vibrations of the crystal singing bowls.
Don't miss the final sound bath at White Sands this month and immerse yourself in nature during a full moon; it's truly a one-of-a-kind experience like no other.
Full Moon Sound Bath at White Sands National Park
Monday - October 10, 2022
Sound bath begins promptly at 7:00 p.m.
Space is limited
Michelangelo's Sistine Chapel Exhibition At Sunland Park Mall In El Paso
Take a sneak peek inside Michelangelo's Sistine Chapel Exhibition, now open at Sunland Park Mall now through January 1, 2023.
Eastlake: From Desert to Destination In A Few Short Years