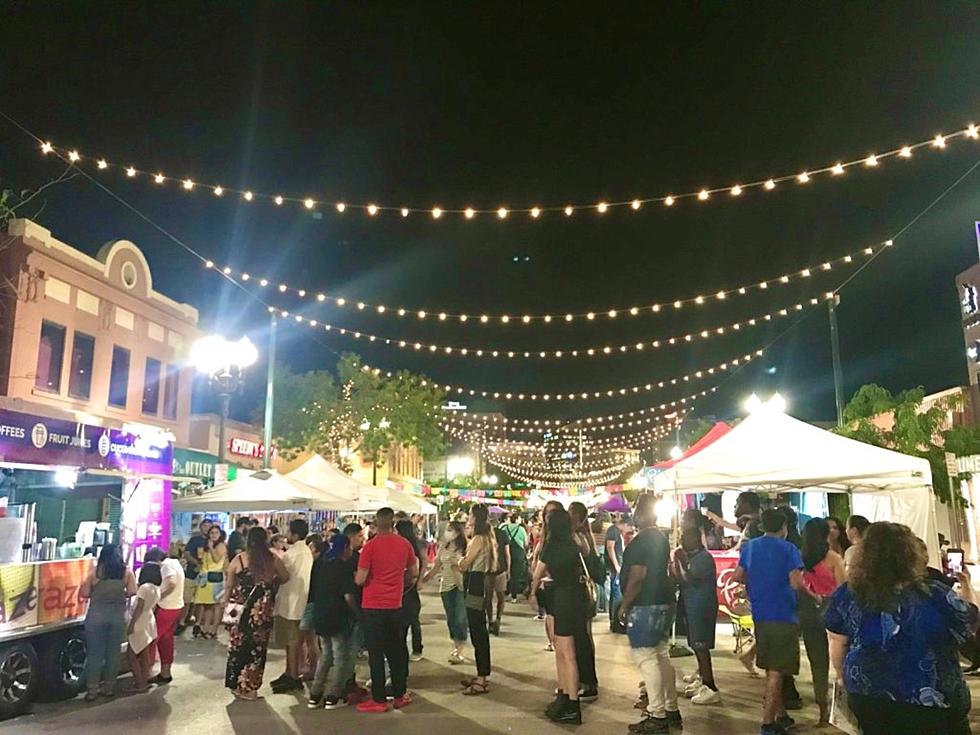 Fiesta De Las Luces Back w/ Weekend Celebration In Dtown El Paso
Downtown El Paso DMD
Downtown El Paso will light up once again as Fiesta de Las Luces takes over this weekend with food trucks, live music, art, and plenty of family-friendly fun. 
If you missed out on Fiesta de Las Luces last month, then tag your bestie, significant other, friends, or family and make your way downtown for a true El Paso experience. 
The Fiesta de la Luces will take over downtown from S. El Paso St. (Paisano to Fourth Avenue), bringing a festive atmosphere to the area while showcasing the Paseo de las Luces project attracting the public to help support local businesses. 
The Paseo de las Luces is a beautification project completed in 2018 by the City of El Paso. The art deco archway is stringed with lights and parklets that illuminate the area stretching down El Paso Street from the Paso del Norte international bridge to San Antonio Ave. 
Since July and every last weekend of the month through September, the Downtown Management District began hosting Fiesta de la Luces at the historic gateway to our city in downtown El Paso. 
El Pasoans, young and old, are invited to celebrate our culture with mariachis, Folklorico, family-friendly activities, live art, classic and performance cars on display, and much more. 
The Downtown Fiesta de las Luces is free and open to the public, located between Paisano and Fourth Avenue on El Paso Street.
Fiesta De Las Luces

August

 

Schedule:
Saturday – August 28, 2021
Sunday - August 29, 2021
For more details, upcoming schedules, or information on becoming a vendor, visit DowntownElPaso.com. 
Live Entertainment:
Saturday, August 28, 2021
Sunday, August 29, 2021: 
Food Trucks:
Saturday, August 28, 2021 
Sunday, August 29, 2021: 
Adult Beverages: 
Vendors:  
A Pinch of Spicy

 

The Art of the Goddess

 

Ashton Kaleigh Art

 

Bandits Jerky

 

B.E. Art by Blance Estrada

 

Betty 12 Craft and Carving

 

Cielo de La Frida

 

Danny Martinez

 

Dreadful Designs

 

El Paso Inc

 

EPTX Pkmn Go

 

Euforia Customs

 

EverClay

 

Fraiche & Doux Body Works

 

Gabriela's Mexican Jewelry

 

Happy Cow Printing

 

iCreate with Clay

 

J&M Creations

 

Kiwi Horizon Creations

 

Klevr Tea

 

Kraving Sweets

 

La Lencha

 

Lead Accessories

 

Lotus Botanical

 

Love Alumni Mobile Boutique

 

Lucid Rings

 

Made for You

 

Memories in Making

 

Momo Creameries

 

Muchas Flores Studio

 

Ninalu Designs

 

Ooh La La

 

Painted Hand Studios

 

Paw Bakery

 

Pawpy Love

 

Pluhkee Art

 

Print Meikiando

 

Proper Printshop

 

Salsas "Mi Alma"

 

Samantha Pichardo

 

DDOS, Samuel Flores

 

Sky Creations

 

Sleepy Sloth Bakery

 

Stunning Minerals

 

Sun City Fire Sauce

 

T & L Leather

 

Toys and Lights

 

UWeirdo

 

Witching Flours

 

Wulf's Rebirth

 

ZZ The Clown

 
El Paso's Blue Moon Drive-In
Here's Where To Find All 8 Of El Paso's Balloon Mural Series: