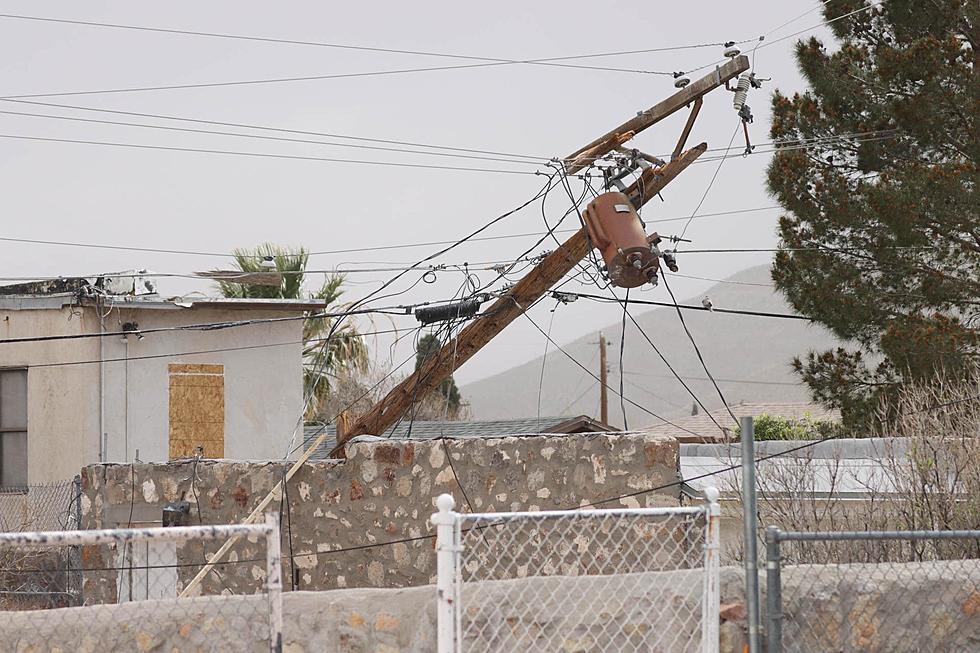 El Paso Weather Packs Winds Hail Rain & Power Outages In One Day
Armando Vela
Yesterday's weather packed a punch bringing high winds, scattered rain, even hail, and knocking down poles, causing power outages across El Paso, TX.
Ask any native El Pasoan, and they'll tell you that if you don't like the weather, all you have to do is wait 20 minutes because it will change and bring on a different weather pattern.
It's not uncommon for El Paso to experience wild weather, from rain to hail, sunshine, and a rainbow all in one afternoon, and yesterday was a perfect example.
Yesterday's mercurial weather brought about high winds that knocked out power lines leaving many residents in the dark. The high winds were also to blame for overturned patio furniture, trampolines, trash bins, and blowing debris.
A brief hail storm even fell over downtown El Paso while scattered rains fell across the city. The winds were wailing so bad that the station's backup generator kicked in twice at the KISS-FM studios.
The National Weather Service reported a high wind advisory with winds whipping 35 to 45 mph and gusting up to 60 mph and low visibility due to dust which only exasperated allergy sufferers.
We're only two weeks into the spring season in El Paso, and all we've seen is a mixed bag of crazy weather as if winter overstays its welcome.
View this post on Instagram

 
Thankfully today won't be as windy as yesterday, but there is a wind advisory for El Paso with a slight chance of light rain in higher elevations.
And while El Paso hasn't quite settled into spring, we can try to make the best of it, especially with summer just around the corner, which might bring another heavy monsoon season that usually begins in mid-June.
El Paso Looking Green & Lush In 2021
26 New Businesses Opening At Eastlake In El Paso
Here's Where To Find All 10 Of El Paso's Balloon Mural Series: