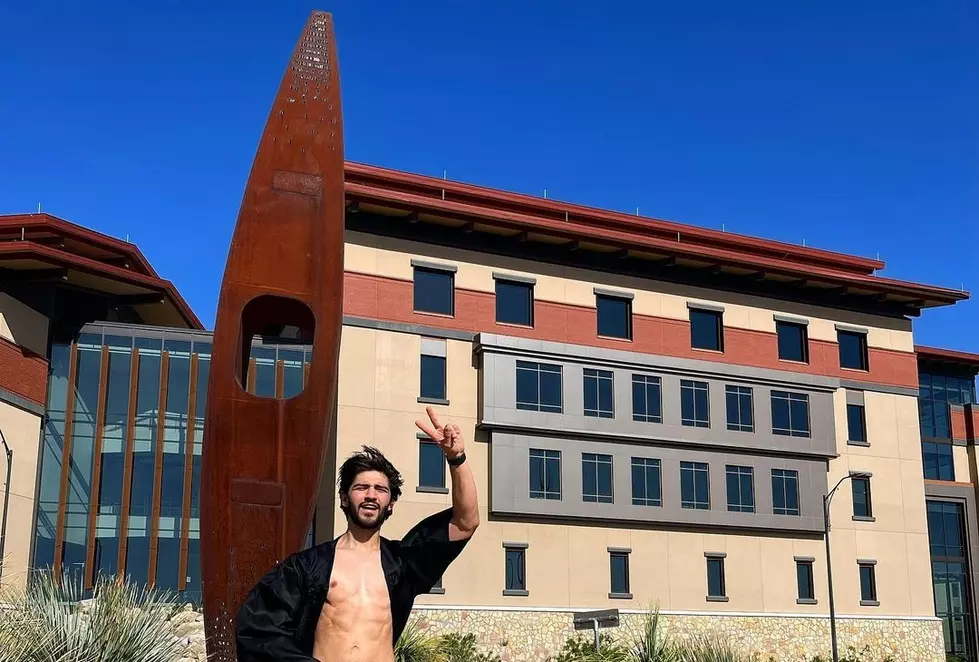 UTEP Grad Poses Semi-Nude, Shows Pride with His Pick Up
Jaime Coverty via Instagram
No question graduating from college is a major accomplishment. It's an achievement that must be celebrated and documented with photos.
Maybe with the classic "jumping for joy" shot or a traditional tossing the cap up in the air pic. Or, you can go with something more unconventional, like one recent University of Texas El Paso graduate did.
Jaime Coverty has the Internet laughing, talking, and making fun of his legs after posting a semi-nude photo of himself flashing more than just a peace sign in front of the Miner pick axe sculpture on the university campus roundabout. The Instagram shows Jaime in nothing but a gown strategically using the cap to cover his bobbly bits. Duuuude, haha!
And he captioned the photo, "**KS UP ⛏" [Writer's note: it rhymes with 'Picks' and is a euphemism for the body part he's covering up.]
I don't know if he lost a bet, did it on a dare, or just stuntin' those thighs, but the comment section on FitFam El Paso, which re-posted the pics, has been on fire -- especially 'bout dem legs:
• 🔥🔥nice thighs man ❤️
• This dude needs to work on calves 😂💀
• Dang!!! Look at those thighs ❤️
• Chicken legs what happened to calfs
• Ontan los chamorros?!!!!
• Let's talk about those calves tho:D
Savage! I think he can take it, though. Anyone whose profile reads like this has got to have a pretty good sense of humor:
21⌛️...but look like 9
Premed GPA...1.7
Model...i escort
Travel😍... been to juarez a few times
Fitness youtuber...got 100+ views
And in case you're wondering, below is what he looks like when he hasn't misplaced his clothes.
GRADS: Beware of These 50 Jobs That Might Vanish in the Next 50 Years