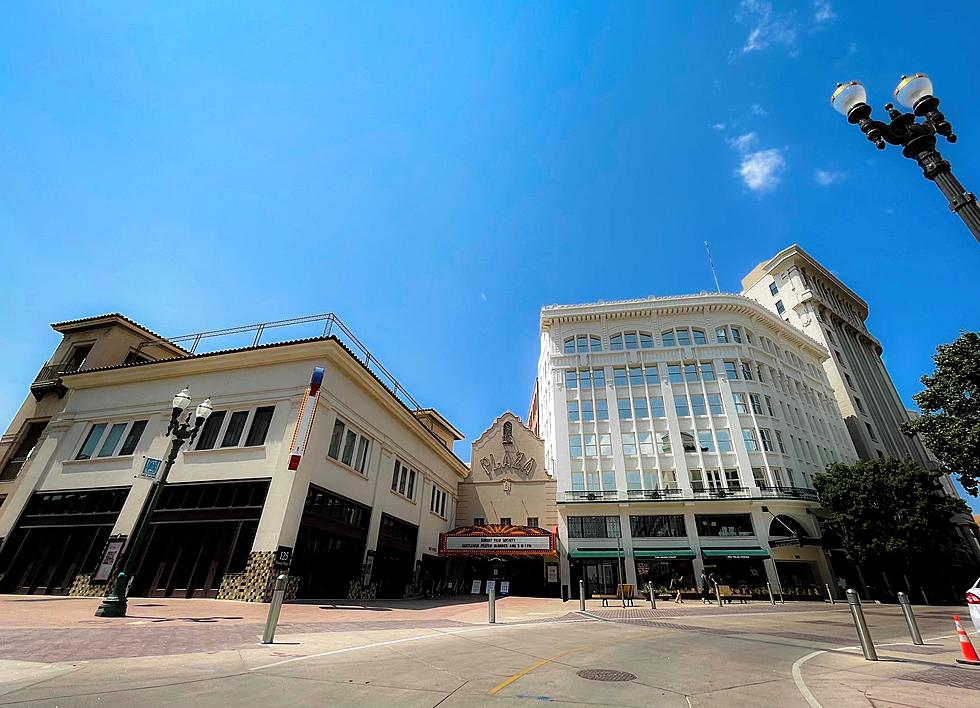 El Paso Proud: Plaza Classic Film Fest Is Largest In The World
ma
Did you know that El Paso's very own Plaza Classic Film Festival is the largest in the world?
The Plaza Classic Film Festival has the distinct honor of being the largest classic film festival globally, taking place every year since 2008 for two weeks in downtown El Paso at the historic Plaza Theatre.
The El Paso Community Foundation started the Plaza Classic Film Festival in 2008 as a special project to bring movies back to the historic Plaza Theatre.
That same year, EPCF President/CEO Eric Pearson and movie enthusiast Charles Horak created The Movies Return to the Plaza Theatre. It was such a success that over 25,000 people turned out to watch more than 60 movies at the Plaza Theatre.
A year later, the festival returned rebranded as the Plaza Classic Film Festival with renewed interest in the region and throughout the country.
Today the Plaza Classic Film Festival has become the world's only largest classic film festival, with an attendance of 40,000 people a year.
Listen to Monika middays all week on 93.1 KISS-FM and Download our free 93.1 KISS-FM App.
Throughout the years, the festival has drawn in a shining array of celebrity guests, including Al Pacino, El Paso native Debbie Reynolds, Rita Moreno, Richard Dreyfuss, Eva Marie Saint, Kathleen Turner, Sam Elliott, Katharine Ross, Bruce Dern, Ali MacGraw, Tippi Hedren, Shirley Jones, Robert Wagner, Cindy Williams, animators Don Bluth (another El Paso native) and Gary Goldman, Peter Bogdanovich, Kathleen Quinlan, Louise Fletcher, Michael York, Nancy Olson, Candy Clark, Elsa Cardenas, and Margaret O'Brien.
Over 480,000 people from all walks of life have attended the festival in the last 13 years, making an economic impact of $1.5 million annually.
Now on its 14th season, the Plaza Classic Film Festival continues to hold the title as the largest classic film festival of its kind, taking over the Plaza Theatre for 2 weeks a year with outdoor movies and concerts and has become a major showcase for regional filmmakers through its Local Flavor series.
The fact that El Paso is home to the largest classic film festival of its kind in the world is pretty astonishing, giving us another reason to be proud of what our city can accomplish and reason enough for us to go out and support year after year.
The Plaza Classic Film Festival continues this weekend, featuring fan favorites such as Who Framed Roger Rabbit? (1988), Pinnochio (1940), Zoolander (2001), Star Wars: A New Hope (1977 /1977), and many more.
For movie details, passes, tickets, and more visit, plazaclassic.com
A Brief History Of The Plaza Theatre:
The Plaza Theatre's history dates back to 1927 when owner Louis L. Dent purchased the property on Pioneer Plaza with the hope of giving back to the community and hired W. Scott Dunne to design the Plaza and H. T. Ponsford and Sons to build it.
Finally built on September 12, 1930, the Plaza was known for its elegant and ornate 18th-century interior décor and Spanish Colonial exterior style. Because of its grand interior, The Plaza Theatre was nicknamed "The Showplace of the Southwest."
The Plaza Theatre was once considered the largest theater of its kind between Los Angeles and Dallas and was so modern for its day that it also was the first theatre in all of the United States to feature air conditioning.
After closing for years, the theatre was purchased thanks to a
fundraiser featuring actress Rita Moreno
and restored for $38 million in 2006 in a joint partnership between the City of El Paso and the Community Foundation.
To delve more into the history of the Plaza Theatre visit
elpasolive.com
.
25 Celebrities Who Have Stayed at The Historic Hotel Paso del Norte
LOOK: What are the odds that these 50 totally random events will happen to you?
Stacker
took the guesswork out of 50 random events to determine just how likely they are to actually happen. They sourced their information from government statistics, scientific articles, and other primary documents. Keep reading to find out why expectant parents shouldn't count on due dates -- and why you should be more worried about dying on your birthday than living to 100 years old.
</div>
The 11 Tallest Buildings In El Paso