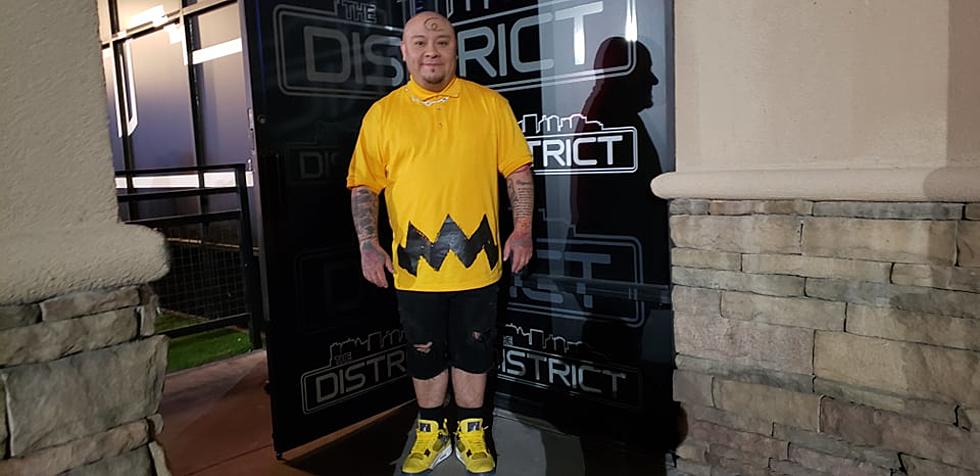 El Paso Men Showed a Creative Side with Their Halloween Costumes
DJ Lex Amparan
El Paso sure has its fair share of men that step up their game for a Halloween costume. There are a couple of men I wanted to give major props to for their Halloween costumes. Some dudes will use their creativity and sense of humor for costumes.
Enter your number to get our free mobile app
For example, two dudes in El Paso are turning heads for their brilliant Halloween costume ideas. The two dudes that had me tripping out on their costumes were badass hands down.
One dude that stepped it up with his Halloween costume you've seen spinning the turntables. DJ Lex Amparan is a local DJ you may see djing out and about usually at The District.
DJ Lex really came through with his creativity for his costume that ladies would love. If you're a fan of Charlie Brown then you will also appreciate DJ Lex's Halloween costume as much as I did.
DJ Lex certainly got the outfit and even the hairstyle of Charlie Brown on point. I couldn't help but feel excited when I came across the costume that he put together.
That wasn't the only Halloween costume that I appreciated seeing on my newsfeed. If I got a kick out of my friend Chaz Jiron's Halloween outfit I am sure you will too.
If you love the movie Step Brothers you will love the costume Chaz Jiron and his partner in crime created. Their hair, outfits, and pose were similar to the actors Will Ferrel and John C. Reilly. Place your vote for the Halloween costume that you got a kick out in the poll below.
LOOK: How Halloween has changed in the past 100 years
Stacker
compiled a list of ways that Halloween has changed over the last 100 years, from how we celebrate it on the day to the costumes we wear trick-or-treating. We've included events, inventions, and trends that changed the ways that Halloween was celebrated over time. Many of these traditions were phased out over time. But just like fake blood in a carpet, every bit of Halloween's history left an impression we can see traces of today.
25 Scaredy Cat-Approved Halloween Movies