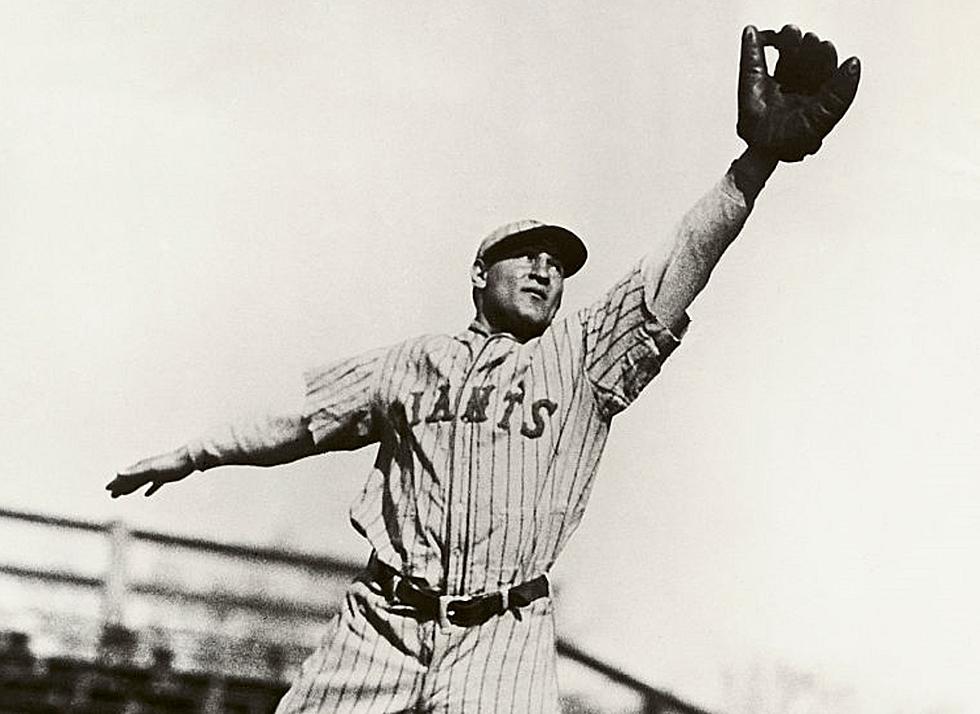 Andy Cohen's Original Baseball Glove Is a Thing of Beauty
Corbis via Getty Images
95 years ago, a 21-year old second baseman made his big league debut for the New York Giants. Andy Cohen, who was born in Baltimore but later moved to El Paso, had graduated from El Paso High School just three years earlier. Cohen played a full season for the Giants in 1928 and he hit .274 with 9 home runs and 59 RBIs. Giants Manager John McGraw traded away star Rogers Hornsby prior to the 1928 season to make room for Cohen as his full-time second baseman. Cohen got off to a hot start that year, including a big opening day performance against Hornsby's Boston Braves. Following the 5-2 win, Jewish fans rushed the field at the Polo Grounds and carried Cohen on their shoulders in celebration. In the picture below, Cohen (left) and Hornsby shake hands prior to the Giants and Braves meeting for the first time during that 1928 season.
How popular was Cohen in New York City circa 1928? So much so that he posed for a photo (second from left) with other sports greats, including Babe Ruth and Lou Gehrig following the season to support New York governor Al Smith and his presidential run.
Cohen was having a solid season in 1929, and despite batting .294 in 101 games, McGraw sent him back to the Minor Leagues late in the season because he thought that he was slowing down and playing hurt. Cohen's son Hank told me that Giants players were afraid to disclose of their injuries to McGraw, because he would immediately send then back to the Minors. Cohen played hurt during his time in New York, but he did not want his manager to know about his injuries. Nonetheless, he did not realize that his Major League career would be over before he turned 25. After playing well for two seasons in the Minors, Cohen broke his ankle the day he was supposed to return to the Giants in 1931 and the following year, McGraw retired from baseball due to a sinus condition. Although Cohen would play another 10 seasons in the Minor Leagues, he never received another call back to the Giants or any other Big League team.
Over the last 10-plus years, I have worked at Townsquare Media with Marina Lee, Andy Cohen's daughter. When we started talking about her dad, she told me that she still has his baseball glove from his playing days. When I had a chance to take a look at it, I was amazed at how well preserved the glove was after all these years. There were no cracks in the leather and it looked brand new.
To try and get a date on when this glove was made, I reached out to Jim Daniel, a long time baseball glove collector who operates a website devoted to his passion. Daniel has all of the Wilson baseball glove catalogues from the 1920s and 1930s and he helped me narrow down the year the glove was given to Andy. Based on the original Wilson stampings, the glove appears to have originated between 1937 and 1939. At that time, he was playing in Minneapolis. What is even more fascinating is that the glove is a Rogers Hornsby model 648LX. The "L" stands for long fingers and the "X" is a designation for a professional-issued mitt. Daniel also told me that he doubts that Cohen ever played with the glove, since the silver stampings are still visible. Those would wear off as soon as the mitt was broken in. He called it one of the nicest gloves from that era that he had seen.
Although Cohen did not have a baseball card made when he debuted for the Giants in the late 1920s, he was featured on a 1933 Goudey while playing in the Minor Leagues. According to Pro Sports Authenticators (PSA), the highest graded version of the card, a Near Mint to Mint 8 was sold for $14,400 via Heritage Auctions in January, 2019.
Cohen's playing career would end in 1942, and he went on to spend 16 seasons as a manager in Minor League baseball. He also served as coach for the Philadelphia Phillies in 1960, and won his only game as big league manager that season. Following his retirement from professional baseball, he (along with his brother Syd) started the baseball program at then Texas Western and often is regarded as one of El Paso's greatest sports figures ever.
As for the vintage Wilson signature model infielder's glove, there is no current estimate on its value. Most vintage player signature model gloves from that time period are being offered for sale starting at around $500. For Marina and the entire Cohen family, it's priceless.
25 Celebrities Who Have Stayed at The Historic Hotel Paso del Norte