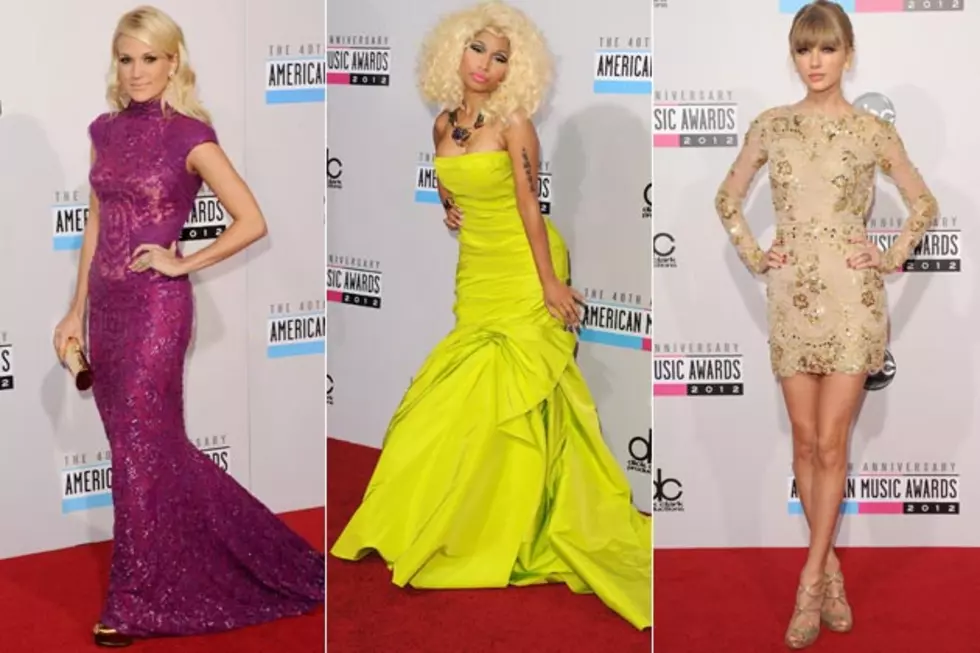 Best Dressed at the 2012 American Music Awards [PHOTOS]
Jason Merritt (3), Getty Images
The American Music Awards took place last night (Nov. 18), with the music world's elite gracing the red carpet and looking gorgeous while doing it -- and thanks to some smart stylist choices, some of pop's prettiest ladies hit their highest fashion notes of the year.
Carrie Underwood
Country superstar Carrie Underwood was a vision in a curve-hugging, purple lace mermaid gown with a high collar, capped sleeves, and a perfect, delicate train. Underwood carried a gold clutch and wore her hair down, both were the right choice for this outfit. Two thumbs up, Carrie.
Carly Rae Jepsen
Canadian cutie Carly Rae Jepsen, whose smash hit 'Call Me Maybe' was a Summer 2012 radio staple, looked sweet in a confection of a pink, sparkly gown with a halter neckline. It clung to her curves, and she looked extra sweet.
Our only complaint? Her dark chocolate locks and heavy bangs are too extreme to pair together. She would benefit from some thinner fringe or some highlights sprinkled throughout to break up the "heavy" and monochromatic look.
Kesha
Kesha cleaned up nicely. The normally raunchy pop tart, who makes no secret about her desire to get dirty, looked breathtaking in a pink lace mini accessorized with black nail lacquer and asymmetrical black stilettos. She expertly paired light with dark -- and the result was a winner.
Nicki Minaj
Nicki Minaj is known for her loud, attention-grabbing style, and her highlighter-yellow gown certainly stood out. The color was bold and certainly not for everyone, but it popped against the rapper's mocha skin and was a welcome change from her usual "all pink, all the time" style mantra. The silhouette also perfectly played up Minaj's curvy frame. Bottom line: She was a vision, without sacrificing her edge.
Taylor Swift
Taylor Swift wore her hair in a bun with heavy bangs and ditched her often dowdy duds in favor of a short-hemmed, long-sleeved frock with gold appliques, paired with strappy heels that showed off her mile-long legs. Swift has a model's height and this trim, polished and posh dress is easily her best red carpet look of 2012.