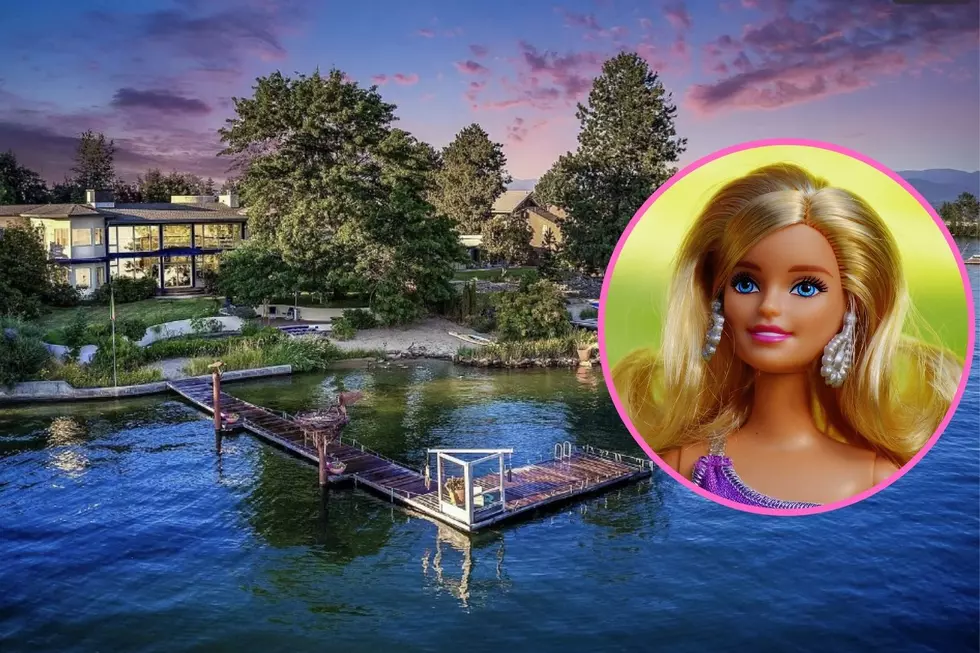 JUST SOLD! $3.9M Idaho Barbie Dreamhouse in Sandpoint [PICS + Barbie Facts!]
Photo Credit: Canva Pro Images // Ryan Valenzuela
BARBIE

girl
At 36, I'm a Barbie girl in a Barbie world.
Living a life filled with adventure, endless opportunity, and fabulous friendships, Barbara Millicent Roberts is my kind of girl. Around the time I was eight or nine, I recall thinking how marvelous it must be to change your mind as often as you change your wardrobe, or even your career.
Without notice or explanation, Barbie's ambition catapulted her from teen fashion model to the first figure to land on the moon in 1965. With a resume boasting more than 200 careers, Barbie is every woman.
FEMINIST

barbie
A world-renowned icon for over 60 years, Barbie was and still is the quintessential feminist. After all, what is a feminist?
A feminist is a woman who assumes self‐dependence as a basic condition of her life.

She may live with and love other people (feminism does not necessarily imply becoming a hermit and suddenly not needing any emotional life) but she knows that her own fulfillment is her responsibility, that if she wastes her life, she will have no one to blame but herself.

It seems to me that sooner or later, all intelligent women become feminists. —Erica Jong

 

 
Like Barbie and so many Idaho women in my circle of friends, Jong captures my personal brand of feminism better than most. Simply put, the 1970s author and poet's definition of the liberated woman is one who thinks for herself. That's Barbie.
Equal measures of resilience and self-reliance, Barbie's a door-kicker who champions the badass in young girls and women around the globe.
IDAHO BARBIE 

dreamhouse
Life is but a dream when you're Idaho Barbie.
With a backyard spanning over 53 million acres to love and explore, Gem State living appeals to a number of Barbie's interests. From her sense of adventure and athleticism, to her appreciation of wild life and free-thinking nature, Barbie is right at home in Sandpoint, Idaho.
Likewise, everything about a certain Sandpoint property reminded me of Mattel's chief maven. Listed on Zillow at $3.9 million, the stunning '90s home is nestled on the beautiful banks of Lake Pend Oreille.
SELLING

sandpoint 
The Pacific Northwest's largest theme park, Silverwood theme park, Boulder Beach water park, and Scarywood are but three of Sandpoint's most popular attractions! Others include:
An accomplished golfer, fisher, boulderer, chef, actress, and adventurist—among many other things—of course Barbie would buy this stunning Sandpoint home!
Scroll on for a gallery featuring Sandpoint's Barbie Dreamhouse & a series of fun & fabulous Barbie facts!
💗 $3.9M Idaho Barbie Dreamhouse for Sale in Sandpoint
😍 Life is but a dream when you're Idaho Barbie.
⛰️ From her sense of adventure and athleticism, to her appreciation of wild life and free-thinking nature, Barbie is right at home in Sandpoint, Idaho.
🤩 Have the best time scrolling through this stunning Barbie Dreamhouse listed for sale in Sandpoint, Idaho! See for yourself why Barbie would buy this home on the banks of Lake Pend Oreille!
💎 Bonus: the Barbie Dreamhouse tour is packed with fabulous Barbie facts!
😍 $1.9M Boise Bench Home For Sale Is the Epitome of the '90s [PICS]
From
music
and
movies
, to
fashion
and
pop culture
, 2022 is rife with
hella cool
'90s nostalgia with no signs of stopping. Its latest conquest is the 2022 housing market and home design! Droves of prospective homebuyers in Idaho and around the country are searching for the back-to-the-basics vibe of '90s home design.
This is why it comes as no surprise that this '90s Boise Bench home listing stole our
hearts
. Scroll through our gallery of pics for a trip down memory lane. Could this '90s house become your next Boise home?
PS, We probably had a little too much fun with the captions, but whateverrr!
$23 Million Property In Gozzer Ranch Club
One of the most expensive properties in Idaho is available in Gozzer Ranch!
Stunning $4.3M Eagle Home Has an Incredible Outdoor Sportsplex
🏠 If you're in the market for a stunning home in Eagle, Idaho, you've come to the right place!
📱 Scroll through our stunning gallery of the home that has it all. Exquisite design aesthetics lend this $4.3 million-dollar Eagle residence elements of grandeur accented with modern, chic fixtures.
💗 Love this home sweet home? Lucky for you, our team of local writers have quite the yin for fabulous real estate in and around Boise's Treasure Valley. Week after week, we share pics and insight on Idaho's most coveted and unique listings.
😍 If living vicariously through someone else's real estate conquests sounds like fun, you're in fantastic company! Right-click to tab and explore this
stellar '90s home on the Boise Bench
after you're done perusing this property!
🕵🏼‍♀️ Mystery Fans Will Love Searching for Secret Room Inside $1.3M Garden City Home [PICS]
📙 Mystery novel fans are enchanted by the mystery within this Garden City beauty!
💎 Listed at $1.3M, this Treasure Valley gem on the river has a secret room.
🕵🏽‍♂️ Use your expert sleuthing skills to find its concealed living space!
We'll reveal the secret location at the end of the gallery!