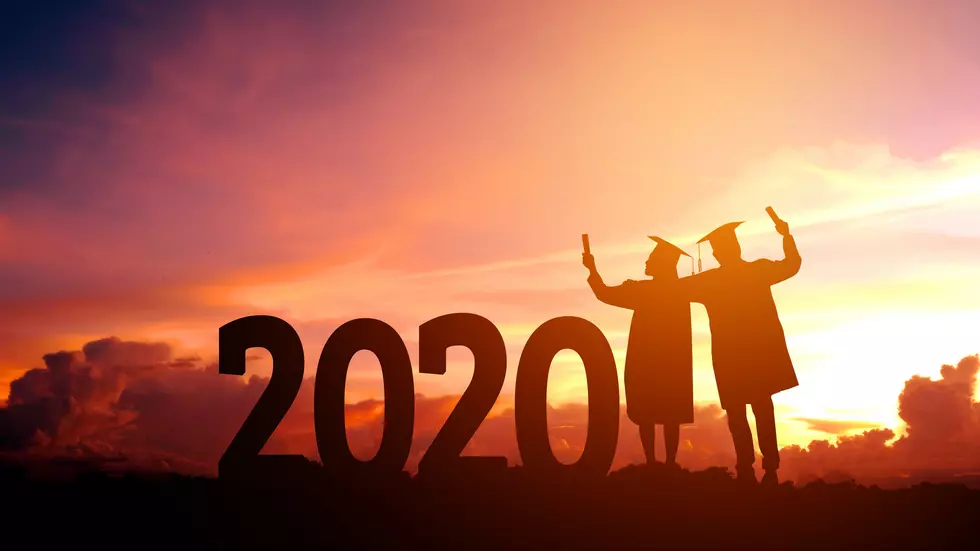 Ysleta Independent School District Graduates of 2020
SARINYAPINNGAM
Congratulations to the seniors of Ysleta Independent School District class of 2020!
We at Townsquare Media El Paso want to help honor the El Paso area class of 2020 seniors. We have created the Senior Salute presented by TFCU's High School Spirit Debit Card. This senior salute is a online gallery showcasing local seniors from all El Paso area high schools
David Sariñana

Del Valle High School

Congratulations

 to our son David, we are extremely proud of you and all your hard work. Now that you will be stepping into your Adult life, do not ever forget that giving up is not an option always continue to strive for the best. We love you and look forward to what the future holds for you.. Class of 2020

Kristine We Love You and are so Very Proud of You. Your year was cut short but you have handled it with class. Stay true to yourself and always keep your head up. CONGRATULATIONS MIJA :)

We are so proud of you Anthony and can't wait to see what the next chapter of your life has in store for. We love you!

We are extremely proud of all your accomplishments and the dedication you have shown. This not the end of your road, but the beginning to a new one! Love you with all of our hearts!

Sweet Pea! You did it!! Can't wait to see what the future has in store for you. Good luck at UTEP! Could not be more proud of you!!

Congratulations to our first born Aileen N. Almaguer "cokito"!! We are super proud of you because we know you had such a hard time adjusting to a school you didnt belong (not her home school)

Angela, I am proud of the beautiful sweet young lady you have become. Your determination of accomplishing your dreams is inspiring. May God guild you on your journey on becoming a Veterinarian. We Love you:

Lauren I'm so proud of all you have done! You were so involved at school and although you loved your 4 years there, you are going to soar at UT Austin! Go get 'me baby! Hook 'em!

Brandon Alexander Jimenez

My son worked very hard his four years in high school. He is graduating Top 10 of his class, he has served as a band president, brass captain, and Head section leader for our Hanks High school marching band. He was an officer for the National Honor Society, officer for the Hanks mariachi group, and an active member of student council completing over 300+ hours of community service. We are beyond proud of our son for all his accomplishments!

I am so proud of my son Anthony for all his accomplishments. Through all of these tough times he has show true character and heart, still looking at the brighter side of everything . He has a heart of gold and a caring personality that will make him shine in all he completes. He plans on attending NMSU this Fall to Major in History and become a history teacher. He will have some story to tell his future students about the year 2020.

Son we are so proud of you!! You have accomplished so much and there is so much more to come!!! UTEP bound! We love you and thank you for being the great kind hearted teen you are.

That I am so proud of her on all her accomplishments. I would also like to say to her congratulations on accepting her admission to The University of Texas at Austin.. Goooo Longhorns!!!

Maegan, is my first born. I have waited for the day to be able to see her cross the stage and receive her diploma. Although this pandemic has changed the way this will happen, she still remains the kind hearted gentle soul. Can't wait to see what your future has in store for you. Always stay humble and kind baby girl. Love you.

Lauryn, to say I am proud of you is an understatement. You did it! And you graduated in the Top 10 which was a goal you had set since middle school. Getting to this point didn't happen overnight or by having one good semester. This is YEARS of hard work, dedication, and drive! All things are possible and there is nothing that you can dream of that is too big. Reach for the stars my love!

You are a wonderful person with a big heart. Search and live always with happiness. Words can't describe my love and pride.

Dear Kaitlyn,
Thank you for always striving to be the best, excelling academically, and paving the way for your brother. Your perseverance was evident as you managed to graduate at the top of your class, as a top ten senior. Thank you for allowing your vivacious laughter and endless smiles fill our walls during some of our darkest days giving us hope for a better tomorrow. I love you forever and always!

Beyond proud of the amazing person you are and all of your accomplishments! God Bless your upcoming journey at Austin College and beyond.

The journey that you've worked so hard for begins and we know that the best is yet to come. We are proud of you! Keep making this world a better place to live with your service. Lots of love ❤️ Mom, Dad, Brother.

We are so proud of you and we look forward to witnessing your next steps towards a successful future ! Love, Mom, Dad and brother

You did it Papalove! CONGRATULATIONS! Go conquer your dreams! I am the proudest Mama in the world!!

Joshua played football all four years of high school, the last two with varsity. He was also in the varsity track team. He is graduating in the top ten percent of his class. He also volunteered for Our Lady of the Valley Catholic Church where he was a member of Teen A.C.T.S. He managed to maintain his grades, while playing sports, volunteering and working part-time.

Congratulations on graduating from Eastwood. We area so proud of all of your accomplishments. You had your dreams set on going to State for swimming and you did that twice. We love you!

Sister, I am so proud of you! You will accomplish everything that you put your mind to. The whole family is proud of what you have accomplished. Being in the top ten is not easy and you did it. I know you will continue to make us proud. I love you sister!

Son it just seems like yesterday when you started pre-k and now you are graduating high school. I know life has not been easy and has given you many curveballs but you have faced them with such courage to overcome them. I just want to take this opportunity and say how PROUD I am of the youngman you have become. Remember this is only the beginning of your journey and continue to educate yourself and follow your dreams. Know that you are my pride and joy and that I will ALWAYS be your BIGGEST cheerleader!! UTEP bound GO MINERS!!!

We have watched as your dedication and commitment to excellence in all the goals you have set has brought you to this culmination of being a graduate of 2020. Through all your perseverance and always reaching to excel in education and sports coupled with your leadership and a wisdom beyond your years has all multiplied on the road to success you are on. The willingness and compassion in your association with others has brought recognition to not only you but the others whom you have helped along the way to bring out the best in them. We know your life as you go to UTAustin will be filled with both many successes and accolades. As your parents you have our support and love and we are excited to see you continue your journey in 2020 and beyond to even greater heights. We are so proud of you!
Love always- Mom and Dad

Sadly, Brandon's memories and class of 2020 memories will be altered by Covid-19. As a senior Brandon missed out on prom, tennis, class of 2020 meeting, being the school DJ for the end of the year activities, hanging out with friends and most importantly graduation. I'm proud to say he has a 3.9 GPA and is in the Top 10% of his class. Brandon was accepted to his dream College, Full Sail University in Winter Park, Florida which he will attend this August to pursue a degree in Music Production / Recording Arts. My son's biggest accomplishment happened this year in February, right before he turned 17. He received a contract from Musata Music for a song he produced (On Fire) under his DJ name AFTRFX. https://linktr.ee/AFTRFX
He is one of a kind! I Love you!!

Daniela, we are so proud of you; through your perseverance, patience, and positive outlook on the toughest of situations, you have made it through arguably one of the best and most terrifying critical moments of your life. Although, you were faced with additional challenges to an already stressing time of your life, you faced it with courage, positivity, and best of all hopefulness- hope for a better future, for visionary leadership, and for societal prosperity. We do not wish you luck for your future endeavors because we know with certainty that you will advance and exceed in anything you set your mind to, rather, we wish you immeasurable knowledge, compassion, and humility for your future. Congratulation, and remember: Once an Indian, Always and Indian.

Pop and I are so proud of you!!! This year sucked. Seriously, it did, but you held your head up and took every blow with positive energy and a great attitude. We know you will do amazing things in your future. The sky isn't even going to hold you, you are space bound. GO NASA!!

We love you always and forever.

Zeke is a loving, caring and very responsible teenager. His goal is to earn a Bachelor's degree in Civil Engineering from UTEP where he has been accepted!!! Although he has been diagnosed with Aspergers (high functioning Autism) and has had to learned to make adjustments to be successful he doesn't let that stop him from achieving his dreams and goals

Nayeli, we are very proud of all your hard and dedicated work throughout your 12 years of school. You waited patiently for this big moment, and we are so amazed at how well you're dealing with this pandemic. Our prayers will always be with you wherever your new journey takes you. Blessings!!!

Robert, we are so proud of you. We can't wait to see what your future holds. We love you.
Abrí, Ethan, Mom & Dad

This is my son Joshua. We are very proud of his and efforts and success. He worked hard and dedicated to being the top 10 percent. We will continue to support him on his pathway to the future. We love you always.

Congratulations

! When you were born, you were not given much of a chance to survive, but look at you now! National Honor Society President, debate captain, enterlace dance captain, academic all-American, 4-time debate state qualifier, 2 times debate national qualifier, conquistador award recipient, condesa award, top ten percent and best of all a great person who cares for others! You are still our little miracle and we know you will make a difference in this world! We love you so much! Thank you for being that light in our lives! Mom and pops are so proud of you!

You have worked so hard throughout the years. You are so amazing. Best wishes for your next journey.

Sofia is an amazing human being. I first met her when she was in middle school as my student. She can become every person's go-to as she is so easy to talk with. Her parents have guided her in realizing the important things in life - family and education. She will continue her studies by majoring in psychology!! Way to go SOFA!! (My nickname for her)

You will never understand how proud we are of you you've accomplished what we (mom and dad) didn't your the true meaning of a role model We waited so long for this day and you did it! We want to thank you, Thank for showing us how to be strong no matter the situation how to be parents because we learned with you being our first born and for being our right hand helping us take care of your brothers and sister and everything else. We love you and couldn't have done it without you And Thank you for giving us what we asked you for a High school diploma. Now we want that College one next we know you got this and we'll be with you every step of the way. Love mom and dad

Congratulations Agustin on graduating top 10% of EHS Class of 2020! We are extremely proud of you! The best is yet to come your way. Love you!!!

Mom and dad are super proud of you Bobby. Now go and shine your bright light on the world. We love you.

The world is unpredictable and understandable to be frustrated that of all the past graduation classes,
Yours would be the one,to miss out on it.
It is a unique opportunity to learn of the things in life that are not automatic, it is has made you stronger, to try to reach your goal
Of what you missed out .u am so proud of you, that you didn't let the short class year,
Effect your desire to achieve your goal.
Stay strong as an example of what el Paso's strong means to this city.