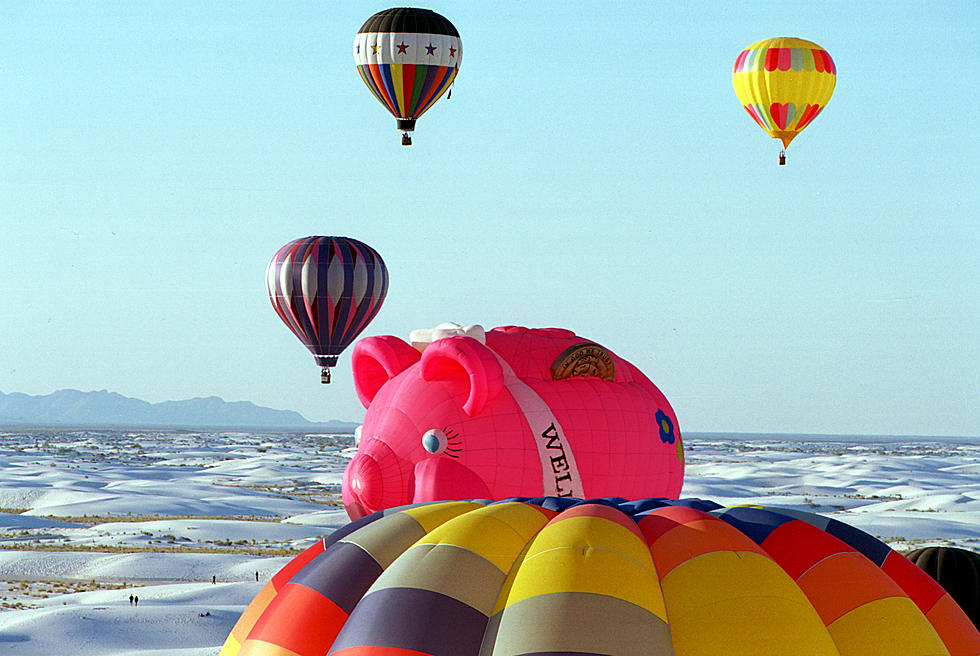 Organizers Cancel White Sands Balloon Festival Over 'Covid Restrictions'
Getty Images
The 2021 White Sands Balloon and Music Festival was going to be three days of live music, food and drink and arts and crafts vendors, and colorful hot air balloons ascending into the sky from both Ed Brabson Balloon Park and the glistening gypsum dunes of White Sands National Park.
Enter your number to get our free mobile app
And judging by the number of social media likes, shares and comments when we first announced it earlier this summer, many El Pasoans were looking forward to making the trip to Alamogordo.
But the festival, which was scheduled for September 10-12, has been canceled by event organizers.
According to a post on its Facebook that has since been deleted, The Alamogordo Center of Commerce Board of Directors called it off over what it described as recently implemented COVID-19 restrictions by the state.
Due to COVID restrictions recently implemented by the State of New Mexico, the Alamogordo Center of Commerce believed it impossible to hold a successful event and fully comply with the Governor's COVID mandates.
They did not detail exactly what limitation or requirement would keep them from putting it on. The Las Cruces Sun News reports the governor's current public health order does not prevent large, festival-type events from occurring.
In fact, the Labor Day weekend Harvest Wine Festival and the Southern New Mexico State Fair are still a go.
We will regroup and immediately begin preparations for the next White Sands Balloon and Music Fest that will be held on the third weekend in September 2022 -- Alamogordo Center of Commerce
If you still want to see hot air balloons and you're up for a longer drive, the Albuquerque International Balloon Fiesta is still on.
This year's fiesta, set for October 2 – 10, will see a near return to normalcy with more than 500 colorfully painted hot air balloons already signed up to dot the New Mexico sky with their colorful shapes.
LOOK: Stunning vintage photos capture the beauty of America's national parks
Today these parks are located throughout the country in 25 states and the U.S. Virgin Islands. The land encompassing them was either purchased or donated, though much of it had been inhabited by native people for thousands of years before the founding of the United States. These areas are protected and revered as educational resources about the natural world, and as spaces for exploration.
Keep scrolling for 50 vintage photos that show the beauty of America's national parks.