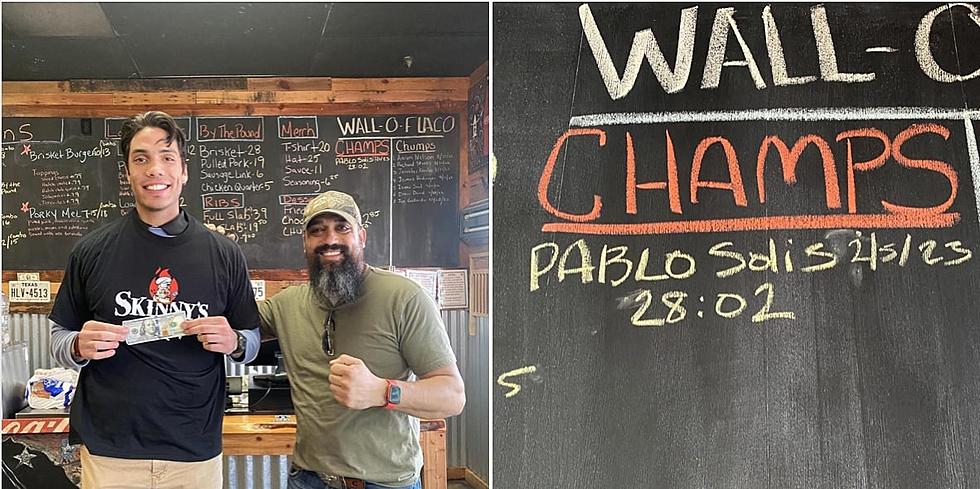 Watch a Texas Man Take On 4 and a Half Pounds of El Paso's Skinny's BBQ
Courtesy: Skinny's BBQ Facebook
Calling all BBQ lovers! If you claim to be the biggest BBQ fan EVER then I have the perfect challenge for you.
Skinny's BBQ in east El Paso challenges customers to try their "Malo Flaco" challenge which consists of them eating over 4 pounds of food in under 30 minutes!
One El Paso man decided he would take on that challenge! Pablo Solis took on the "Malo Flaco" challenge and it was all caught live on video and shared on Skinny's BBQ Facebook.
Pablo was challenged with eating 4 pounds of Skinny's delicious BBQ in under 30 minutes. The cost for the meal comes out to $78.00. 
If Pablo accomplished the challenge he would not have to pay anything and he would get $100, a free Skinny's BBQ t-shirt and his name would be added to the Wall-O-Flaco Champs list!
However, if he felt like he couldn't eat anymore he would have to do the walk of shame and walk to a bell in the restaurant and ring it, meaning he gave up. He would also have to pay for the meal and his name would be added to the Wall-o-Flaco Chumps list.
Dang, now that's a walk of shame and a list I would not be happy to be a part of.
Well thankfully Pablo didn't have to do that walk of shame because he was able to complete the challenge in 28 minutes and 2 seconds making him the first Malo Flaco Champ for 2023!
If you think you have what it takes to beat Pablo's time then I suggest you head over to Skinny's BBQ and do just that!
The BBQ restaurant is a veteran-owned company and is located at 1320 N. Zaragoza Suite 105. 
Skinny's BBQ