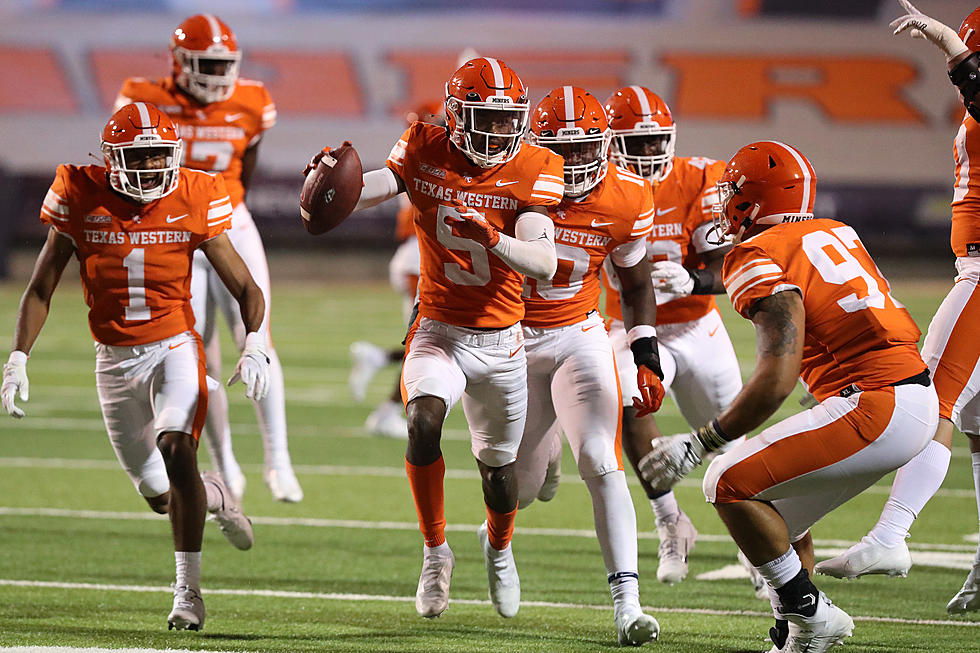 UTEP vs. UTSA: Final Storylines to Know Before Kickoff
Ruben Ramirez/UTEP Athletics
It's almost time for the kickoff of UTEP-UTSA, one of the most highly anticipated home games that the Miner program has seen in years.
UTSA, who was tabbed at No. 16 in the AP Top 25, is off to an amazing 8-0 start on the year, including a 4-0 mark in Conference USA. The Miners (6-2, 3-1 C-USA) are looking to spoil the perfect start to UTSA's season on Saturday night in front of a nationally televised audience.
Listen to UTEP vs. UTSA on Saturday with Voice of the Miners Jon Teicher calling the action on 600 ESPN El Paso starting at 7:15 p.m. MinerTalk presented by the Oscar Arrieta Agency will follow the broadcast on 600 ESPN El Paso.
Final storylines before kickoff 
Jeff Traylor vs. Dana Dimel
When you compare both head coaches, each program has built its respective programs in separate ways. Traylor, who came from the Texas high school football coaching ranks, has won rather quickly at UTSA. He took the Roadrunners to a bowl game in year one of his tenure and he boasts a 15-5 overall record at the school. They built a program with a mix of high school recruits, Division I transfers and some JUCO transfers.
Dimel is undergoing his fourth season at the helm of the program and he holds an 11-29 record. Prior to this season, the UTEP football program went 1-11 in 2018, 1-11 in 2019 and 3-5 in 2020. This season the squad started off 6-1 and clinched bowl eligibility for the first time since 2014. Dimel brought in three new coordinators this year in Dave Warner (OC), Bradley Dale Peveto (DC) and Aaron Price (special teams). The program is constructed with a collection of JUCO standouts and several high school recruits.
C-USA West Division leader is on the line 
Despite the Miners losing to Florida Atlantic last week, they are still in the running to try and steal the C-USA west division. They are only one game behind UTSA in the standings. With an upset over UTSA, they can secure a tiebreaker in the division. Meanwhile, the Roadrunners are atop the league standings with an unblemished record. UAB (3-1) is tied with the Miners for second in the west, with the Blazers still having both schools on their schedule before the year ends.
'USTA' snubbed from CFP Ranking
Traylor poked fun at the College Football Playoff selection committee for not only snubbing the Roadrunners of a top-25 ranking, but also for incorrectly calling them "USTA." It's a shame that the CFP ranking omitted an unbeaten UTSA squad, and instead threw in programs with multiple losses to round out the top 25. Miner fans must understand that the Roadrunners are coming into Saturday's game with something to prove.
Roadrunners have never lost in the Sun Bowl 
This matchup will mark the ninth meeting between UTEP and UTSA, with the Roadrunners holding the 6-2 all-time advantage. UTSA has won the last four games against UTEP by an average of 16.8 points, and interestingly enough, the Roadrunners are 4-0 in the Sun Bowl.
UTEP has won 6 straight at the Sun Bowl
On the Miners' side, the program has won six consecutive games at the Sun Bowl dating back to 2020. Their home wins this year include Bethune-Cookman (38-28), New Mexico (20-13), Old Dominion (28-21) and LA Tech (19-3).
UTSA is 1 of 6 undefeated teams left in FBS 
As the only undefeated team left in the state of Texas, UTSA is off to a program record-setting start. Their eight-game win streak is tied for the third-longest active win streak in FBS. They have won 11 of their last 12 games, with their lone loss coming in the First Responder Bowl against Louisiana (31-24).
Miner defense vs. Frank Harris 
Quarterback Frank Harris has dazzled all season long for the Roadrunners. He has totaled 1,793 passing yards, 16 touchdowns, 270  rushing yards and a pair of rushing touchdowns. His dynamic receiving trio is comprised of Zakhari Franklin, Joshua Cephus and De'Corian Clark, who have all totaled 430+ receiving yards this year.
It will be up to the UTEP defensive line to put pressure on Harris in this game. Pass rusher Jadrian Taylor racked up 3.5 sacks in his last home outing against LA Tech. They will also need a stout game from the secondary, which didn't have a takeaway in the FAU game. The Miner secondary has totaled seven interceptions this year.
Miner defense vs. Sincere McCormick 
Just as Harris is deadly in the passing game, running back Sincere McCormick is among the most elite tailbacks in the country. He has racked up 891 rushing yards and nine touchdowns on the season. McCormick, who is UTSA's all-time rushing leader with 3,341 yards, is 11th nationally in FBS for total rushing yards. He has six 100-yard games this year.
Meanwhile, the Miner defense hasn't allowed a 100-yard rusher this year with their stout defense. The Miner run defense ranks 11th in FBS and allows just 97 yards per game on the ground. Defensive tackles Keenan Stewart and Kelton Moss will be key players to watch in this game.
Attendance numbers pacing nicely for this matchup 
As KTSM reporter Colin Deaver mentioned on Thursday, the ticket sales seem to be pacing very nicely for this game. The UTSA allotment of tickets sold out well ahead of game week. This will be a nationally televised game on ESPN 2. And, on top of everything, it's a late kickoff set for 8:15 p.m.
If the walk-up crowd is strong, the game could flirt with 30K fans, which would be an excellent turnout. The Sun Bowl holds just above 45K seats. With a massive walk-up crowd, maybe they get close to a full-capacity crowd.
That would be especially significant for the UTEP football program, which has seen a decline in attendance this year despite the strong start.
Traylor is fresh off a new deal 
Following the program's 8-0 start and first-ever AP Top 25 ranking, UTSA signed Traylor to a long-term deal. But let's be honest, the job openings at Texas Tech and TCU might have had something to do with the extension that will keep him at UTSA through 2031. Traylor officially inked a 10-year, $28 million deal on Sunday, as announced by the university. This 10-year span will see Traylor transition UTSA from C-USA to the American Athletic Conference.
Miner defense on pace to break program records
After UTEP held FAU to only 280 yards last week, it marked the sixth time that the defense has held opponents to less than 300 yards. They held opponents to 300 or fewer yards eight times in 1966. The defense is on a five-game streak of holding opponents to 300 or fewer yards.
The Miners defense is No. 1 in C-USA for total defense (294.9 ypg), No. 1 in third down defense (28.4 percent), second in run defense and third in scoring defense (20.4 ppg).
UTEP: Heavily penalized; UTSA: limiting penalties 
UTSA is the second-best in FBS when it comes to the fewest penalties. They are disciplined when it comes to penalties, having only committed 30 penalties for 316 yards all year.
UTEP, on the other hand, is the fourth-worst team in the country for penalty yards per game (84 per game). They have totaled 69 penalties this year for 672 yards, which is the worst in C-USA.
Watch out for UTSA's run defense & forced turnovers 
UTSA's defense has become one of the best in FBS in several categories. Most notably, their run defense is one of the best in the country, holding opponents to just 79.4 rushing yards per game (1st in C-USA, 3rd in FBS). In addition, the Roadrunners are third in C-USA for turnovers (16) and total defense (333.5 ypg). They have eight interceptions and eight forced fumbles on defense. The Roadrunner defense has three interception returns for scores in the last two contests.
Hardison to Cowing connection is key for a win
There's already some skepticism when it comes to this UTEP offense, especially after last week's loss to FAU. Despite quarterback Gavin Hardison hitting a career-best mark with 327 passing yards, the UTEP QB had a costly interception in the second half that resulted in an FAU touchdown. In this game against UTSA, Hardison has to play the best game of his career in order to try and win.
Getting top wide receiver Jacob Cowing involved is a must. Cowing had a quiet night against FAU, which Dimel attributes to the aggressive defense that the Owls had. In 2021, Cowing has totaled five different 100-yard receiving games, which is the most for a UTEP receiver in a single season since Kris Adams had five in 2010. UTEP legend Johnnie Lee Higgins Jr. had six 100-yard games in 2006.
UTEP Football Sweeps New Mexico With 20-13 Win Over UNM
The UTEP football team defeated NMSU and UNM for the first time since 2014 after a big second half comeback gave the Miners a 20-13 win over the Lobos Saturday night in front of 15,069 fans at the Sun Bowl.