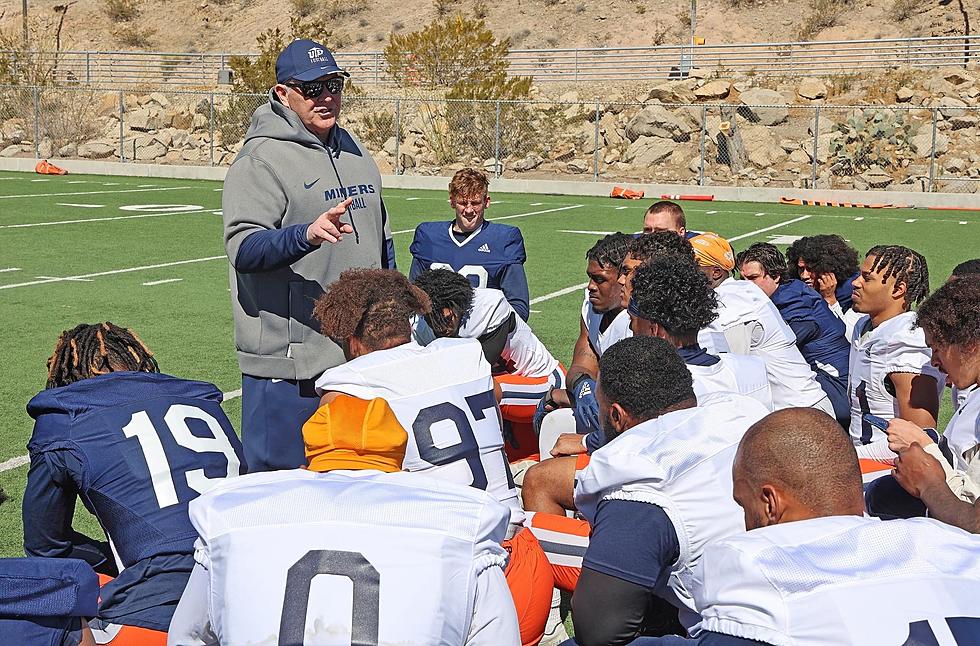 Five Observations Around UTEP Football Spring Ball Practice
Ruben R. Ramirez
As the basketball season winds up, it's time to jump into spring football. The UTEP football team is looking to avenge their losing season in 2022 with a mix of returning talent and new players on their roster.
In a newly shaped C-USA, which will feature NM State, Sam Houston State, Jacksonville State and Liberty starting in 2023, the Miners will have to prepare for some teams they might be a bit more unfamiliar with. And for head coach Dana Dimel entering week two of spring ball is where it all starts.
"For me, it's locking up all the assignments," said Dimel. "For the new guys that have joined the team, just getting their assignments locked in... That will be our thing is to really clean up assignments and get those as close to 100 percent as we can get. Overall, a good start to it all."
1. Hardison's back. Who's backing him? 
With senior Gavin Hardison assuming the quarterback spot for the fourth consecutive season, the ultimate question will be who will be his backup. Calvin Brownholtz was the backup quarterback since Hardison took the starting job at the program. Due to Brownholtz's graduation, the Miners will have to rely on Kevin Hurley, Cade McConnell and Jake McNamara to step up in the position.
From what I saw on Monday, McConnell has really progressed since he got here. The Cerritos College (JUCO) transfer is every bit of his 6-foot-1 frame and looks almost like the most passing-ready option of the group. McNamara has drastically improved since he joined UTEP as a freshman. He lacks size, but moves nicely in the pocket and displays accuracy as a passer. Hurley was the only quarterback I didn't get to watch throw on Monday.
2. Wide receiver competition is wide open
With the loss of Tyrin Smith to the transfer portal (Texas A&M) and the graduation of Rey Flores, the Miners will need to fill their No. 1 and 2 spots for wide receiver. They will have multiple options and they hope to see players emerge in the spring.
Among the top options are returning wideouts Kelly Akharaiyi and Jeremiah Ballard. Akharaiyi played in all 12 games last season (21 receptions, 275 yards & 1 TD), while Ballard was in and out of the lineup, though contributed in UTEP's win versus Boise State (4 catches, 64 yards & 1 TD).
"I don't feel it. I know I can be the next guy," Akharaiyi said. "It's about getting out of my head, being confident and doing what I know I can do."
Some of the other players that can emerge in the receiving game include UTSA transfer Dre Spriggs, Emari White, Marcus Bellon and Jostein Clarke. Spriggs is a sizeable, fast option as a wideout.
"I really bring it all," Spriggs said. "The talent is just as good as anywhere in the country. Everyone here is hungry. This is a great environment."
3. Defensive line is always key 
I saw Praise Amaewhule on the sidelines today watching his defensive line. He told me to watch out for the "dogs" that made up the defensive line, including newcomers like Dimitri Madden (6-3, 287 defensive lineman from NMMI) and Osaiasi Taueli (Mesa HS product). Amaewhule was right. The defensive line—without Amaewhule and fellow standout Kelton Moss—was eating up UTEP's offensive line. The team can run about 10 players deep in their four-man defensive line. It has been and will continue to be UTEP's best position group.
4. Kicking spot is on the line 
It's Buzz Flabiano versus Mark Ramos to take over Gavin Baechle's kicking role at UTEP. Since Baechle graduated, the Miners will need to fill a kicking spot that was taken for the last four seasons.
Flabiano displayed his kicking abilities at practice and looked strong in simple place-kicking drills. He's a redshirt freshman from Plano East High School. Ramos is a graduate of Andress High in El Paso and has served as UTEP's backup kicker for the past two seasons.
Meanwhile, Josh Sloan is back to continue punting duties for the Miners. He was named an all-conference punter in 2022, as he averaged 44.4 yards per punt, the best of his three-year college career.
5. New looks all around for UTEP football
Monday was the first day I witnessed the brand change for UTEP from Nike to Adidas. Some coaches have begun the transition, wearing all Adidas gear. Players are already sporting Adidas practice jerseys and some already have new cleats. Others are still rocking the Nike gear, while it's still there.
There are also a few number changes that I noticed. Receivers Kelly Akharaiyi (No. 1) and Marcus Bellon (No. 7) made jersey number changes, along with Deion Hankins, who is now sporting No. 3 instead of his old #33 jersey.
UTEP men's basketball downs UTSA to snap a 4-game losing streak