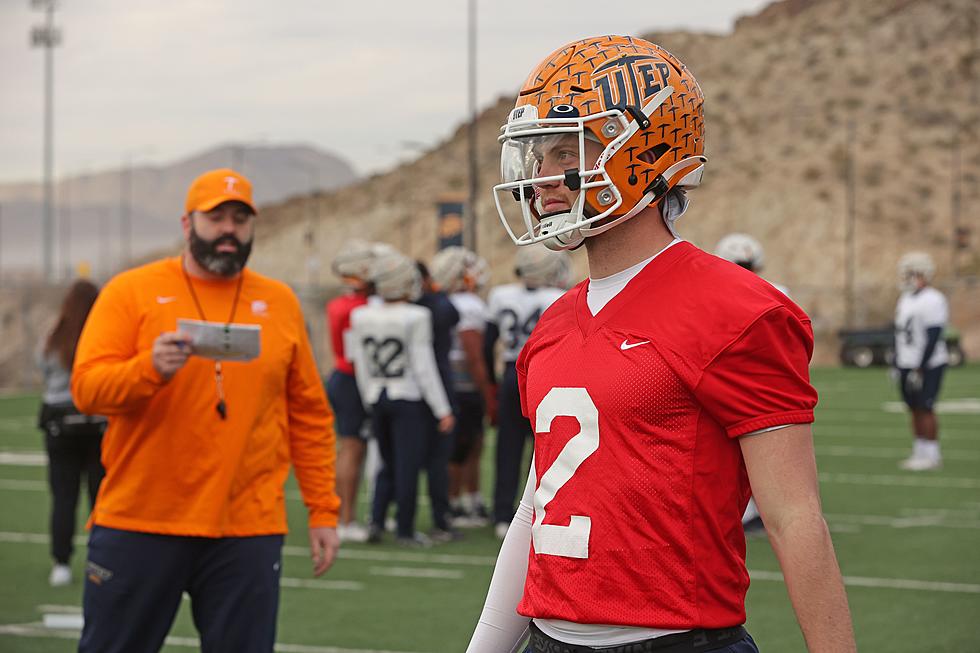 UTEP Football Offseason Check-In: Deep Dive Into Quarterbacks
Ruben R Ramirez | UTEP athletics
Editor's note: In this offseason check-in for Miner football, UTEP Zay examines the quarterback position and takes a deeper look at the depth chart going into summer workouts. 
---
Gavin Hardison is entering his fourth year as the starting quarterback of the UTEP Miners. Time flies. The senior gunslinger will need to step it up this year. This is Hardison's final year at UTEP and we have no clue who will take the reins after he leaves, or who will be the backup this season.
UTEP currently has six quarterbacks listed on their official roster, and with the addition of NM State transfer Kheagian Heckaman—who can play both tight end and quarterback—they have seven players who can compete for the backup role. Let's take a deeper look at everyone and I'll nominate my top 3 candidates to be the backup quarterback this year.
Jake McNamara (5-11/RS Freshman)
Jake is the younger brother of former Michigan quarterback, and now Iowa quarterback, Cade McNamara. But I'm sure Jake is tired of hearing that. I'd imagine he is eager to start and create his own name, separate from his older brother's legacy. And boy does he have a huge chance.
The Franklin, TN, product attended Page High School where he lit it up on the field in his senior year. He threw for over 3500 yards and 43 touchdowns. His play would lead the Patriots to the Tennesse 5A state championship, where they ultimately fell in a shootout to Powell, 42-34. McNamara was once a Colorado State commit, before flipping to the Miners.
The biggest concern about McNamara's game is his size. He is 5-11, which is relatively short for the quarterback. If McNamara has the talent, I doubt his size would hold him back. He has a decent arm and can move in the pocket, but he still needs more experience. With McNamara graduating high school early, he is already in his second spring with the Miners, which is a huge advantage over the others in the backup competition.
Kevin Hurley (6-3/RS Junior)
Hurley is the prototypical Dana Dimel quarterback. He has all the physical tools Dimel dreams of. He stands at 6-foot-3 (233 lbs) and reminds me a lot of former backup Calvin Brownholtz.
He's been on the team since 2021 and got some game experience this year against FIU. Hurley knows this system as well as anybody. He's a hardworking player with all the physical tools to be a starter at this level but will need to work on his arm and accuracy. Hurley spent time at Northeast Mississippi Community College prior to signing with the Miners in 2021. During the pandemic-shortened 2020 season, Hurley was one of two QBs that NEMCC used. The Tigers went 5-1 and Hurley had 881 passing yards with 10 passing TDs, to go along with him leading the team in rushing. As I mentioned, his dual-threat play style is one that Dana Dimel loves, so I wouldn't doubt Hurley being given the chance to back up Hardison this year.
Zach Rodriguez (6-3/RS Sophomore)
The El Paso High product walked onto the Miners in 2020 and redshirted in his first year. At 6-3, he has the prototypical size at the QB position. He had a sub-par senior season at EPHS, putting up 606 passing yards in 10 games. His junior year was when he stood out when he threw for 1,400 yards and had 15 total TDs in 10 games. We all know that the walk-on system at UTEP gives walk-on's a fair chance at playing time, and if you prove yourself and work hard, you can end up as a productive player. We've seen it happen with Rey Flores, so the opportunity for Rodriguez is there.
Cade McConnell (6-1/RS Sophomore)
McConnell has a very interesting situation. He arrived late to the team last year, starting his UTEP career in the fall coming from Cerritos College. For McConnell, this is his first spring with the program and he impressed among the group, but is it enough to win the second-string spot? In his one year at Cerritos College, McConnell put up over 1,400 passing yards and 8 TDs. McConnell is one of three players that Dimel suggested is competing for the backup QB spot, and his progression throughout the past year gives him a nice shot at the job. The biggest thing holding him back is his experience with the team. His JUCO stats aren't flattering, either. Of the three competing for the job, he is the one that has been with the team for the least amount of time. McConnell brings a lot of upside to the table for the Miners, but he has an uphill battle to climb.
Seth Mouser (6-5/Freshman)
The Bastrop, Texas, native is the youngest of the QBs on the roster. He is also the tallest among the quarterbacks by a couple of inches. He spent his sophomore and junior years in high school rotating in and out as the QB for Bastrop. However, in his senior year, he took over the starting job and had a solid season. He threw for 2,607 yards and had 22 total TDs, to only 7 interceptions. Mouser's senior campaign was an inconsistent one, with a lot of highs, and some lows. He started the year throwing for 1,269 passing yards and 9 TDs in the first four games. He slowed down a bit, but the production is there. He threw for over 240 yards in all but two games for Bastrop this season and had three games in which he threw for over 300 yards. The kid can flat-out play. However, his mechanics as a pure QB need to be worked on. He has an awkward throwing motion, and his arm isn't all that impressive. The size and athleticism for that size make him a player that UTEP wants to develop, and if they can, he can become an interesting prospect to watch over the years.
Kheagian Heckaman (6-1/Sophomore)
The Miners added a late (rare) transfer portal addition last week in NMSU ATH Kheagian Heckaman. He might not end up playing quarterback, but his play style is too fascinating to not take a dive into. Of everybody on this roster, he reminds me the most of Calvin Brownholtz. He has a similar body type and is very agile for the quarterback position. He is an athlete for a reason. He runs a 4.62 40-yard dash, can bench 225 lbs., squats 415 lbs., and brings versatility to this offense.
Gavin Hardison (6-3/RS Senior)
I know I said that this was going to focus primarily on the other QBs, but how is this going to be an article about UTEP's QB situation and not mention their fourth year starting QB, who might be the most important player to this team?
Hardison's three years as UTEP's starter have been a roller coaster for Miner fans. From the 3-5 2020 season, to the hot 6-1 start to the 2021 year. After the disappointing 2022 campaign, Hardison has a lot riding on this season.
There was so much hype that Hardison and the team had last year that, which left a sour taste in a lot of UTEP fans' mouths when they underperformed and failed to reach a bowl game. His subpar play left him with 2,044 passing yards and 11 TDs in 10 games last season before being sidelined for the final games with an injury. His 8 interceptions were perhaps the most frustrating part of his play.
Hardison has all the tools to be one of the best quarterbacks in C-USA. He has a rocket arm and nice playmaking ability in the pocket. However, his pocket awareness is something that needs to be worked on, along with decision-making. His raw playmaking ability and overall talent cannot be ignored, but he needs to show growth in his play this season. His development has been seemingly stagnant since last year.
UTEP's season depends on Hardison. I believe that he can become the QB that UTEP needs. From the returning weapons to a new offensive coordinator, I think Hardison can lead the Miners to their first bowl win in over 55 years.
UTEP's season rides on how Hardison plays, and they will go as far as he takes them.
Who's the backup QB?
Now that we've taken a deep dive into all of UTEP's QBs, we have a clearer view of who can be the backup to Hardison this season. Let's rank them from least likely to most likely:
6. Seth Mouser: Mouser has a lot of talent and raw size, but as a freshman, he will most likely redshirt. Mouser being this low is not because of talent, but because he's a freshman.
5. Zach Rodriguez: The hometown product is the longest-tenured QB on the roster outside of Hardison himself, so he has that on his side. But he needs more work and game experience to be on the list of possible backup QBs.
4. Kheagian Heckaman: The NMSU transfer just joined the team, and in all likelihood will not even play QB for the Miners, but the similarities to Brownholtz are just too promising to ignore. He can be the guy UTEP brings in on QB sneaks, or quarterback draws, which puts him this high.
3. Cade McConnell: McConnell really did impress this spring, but he still started the race late last year and has been working to catch up to the other two since then.
2. Jake McNamara: McNamara would be the very bold choice for second string QB. He has the talent but the thing holding him back the most is his size. The race for backup QB will only heat up, but for now, Hurley gets the edge over McNamara.
1. Kevin Hurley: Hurley gets the edge over McNamara for two reasons: His physical size and experience. Hurley has been with the team longer than the other three and knows Dimel's system. He also has the prototypical size of a Dimel QB. This is Hurley's job to lose.