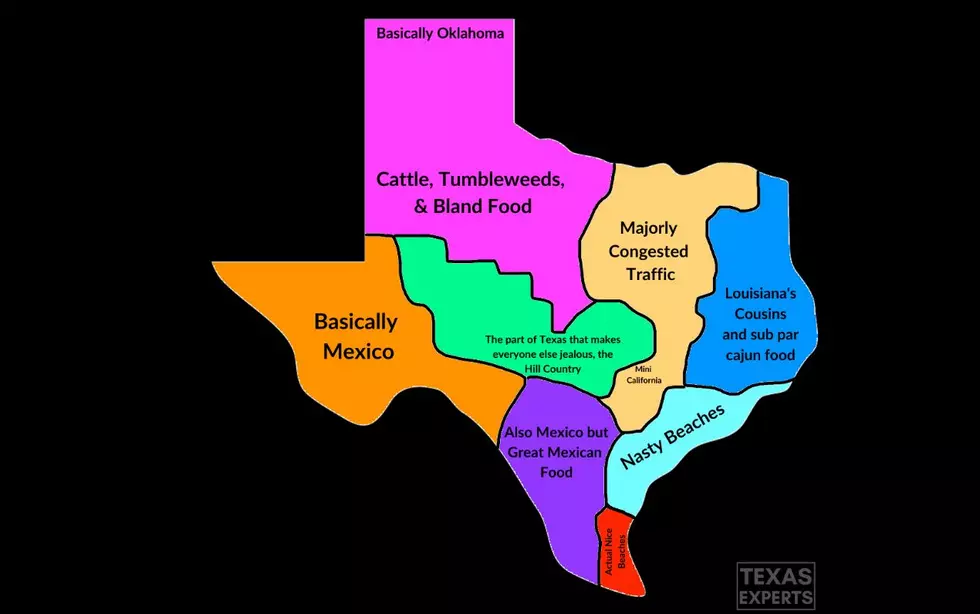 Texans May Agree or Disagree with This Funny Texas Graphic
via Texas Experts Facebook
Tons of people in and outside of El Paso know quite a few places with some great Mexican food. There are so many places to name that El Pasoans hit up for some great Mexican food.
Hell, sometimes some of us will even cross the border for it too. There is a Texas graphic that has been shared by the Texas Experts Facebook page some of you would maybe agree or disagree with.
In my opinion, I believe our side of Texas should have the title great Mexican food as the purple part of Texas does. I could list all the Mexican restaurants that could earn us that title but there are too many to name.
Some of us definitely agree with the highlighted neon green section of Texas. The Hill Country is pretty sweet and tons of Texans love to visit that area when they can.
Another section of Texas that El Paso can relate to is the congested traffic. Hell, Zaragoza road as well as I-10 West just before the Spaghetti Bowl are insanely congested.
Sure, those aren't the only parts of El Paso that have crazy traffic. But in my opinion, I feel the orange section in El Paso falls in should include good Mexican food as well as congested traffic.
I agree with the label our part of Texas was given but feel we could have gotten a couple of extras. After all, El Paso is practically neighbors with Ciudad Juarez, Mexico. Feel free to share your opinion if you agree or disagree with the graphic Texas Experts shared below.
LOOK: Must-do activities at every national park
Stacker
lists the must-do activities at every national park ranked by the annual number of visitors.