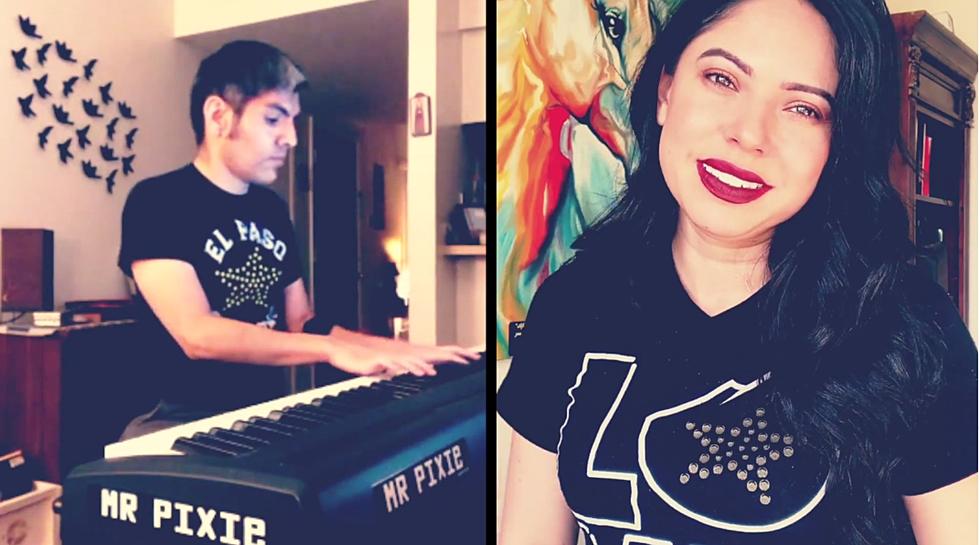 Online Music Performances Are The Unsung Hero of the Quarantine
Valerie Ponzio Facebook
Online music performances have popped up all over social media platforms saving us music lovers while in quarantine during the COVID 19 pandemic.
With COVID-19 forcing all the United States to shut down businesses, enforce social distancing and restrictions on leaving homes for non-essential reasons, it has had most people feeling stir-crazy. In El Paso, TX., this quarantine has made it extremely difficult for the residents because of how close-knit families and friends are in the city. To pass the time while the city waits for the quarantine to finally be over, some musicians have taken their performances to social media to help brighten up everyone's lives.
"Music has such an incredible power," said Latina country singer and The Voice contestant, Valerie Ponzio. "I have been pursuing music for a while now and it's easy to get caught up in the industry and hustle, but I've noticed that since the virus I've been coming back to that same place of vulnerability and openness with music. I feel so helpless and I'm so grieved for everyone who is deeply and tragically impacted by this pandemic I feel like sharing songs as tributes and dedications to essential workers and anyone who is hurting is my small token of putting healing vibes out there," said Ponzio.
Although performing on social media is not something new in this day and age, these online performances put on a different meaning for the musicians and for their audience during the COVID-19 pandemic. These musicians believe that live music on social media can help people who listen to it during this time to not feel alone, especially for those who have suffered a layoff as a result of the shutdown.
"I decided to have shows online because music changes lives. Music helps people feel. Many people are having a hard time dealing with the emotions and stress of our situation. Also, I wanted to bring awareness to all musicians. They're struggling. Music being some musicians only source of income, things are getting difficult," said Director and recording artist at River Moon Records, Damian Wyldes.
These online performances offer everyone affected with this pandemic a way to deal with having to stay away from loved ones and all the activities that they enjoy. It is not an easy task for people to stop their normal daily routines to ensure that they do not become ill or infect the people that they love because they went out in public. These days are stressful with all the uncertainties happening which are why these online shows have helped both the artists playing and those watching to sit back and relax.
"It felt great to hear that we are having any sort of impact in this difficult time. We see medical professionals and essential workers having to brave so much right now, I think artists of all kinds are carrying us through right now. That includes game designers, directors, actors, graphic artists, etc. We just wanna keep doing what we can to help affect our world and those around us as much as we can as well," said musician Mike Minjarez.
When the only focus on the world is the rising numbers of people infected with the COVID-19, it can make it difficult to appreciate all the good that is happening in the world because of the separation this pandemic has caused. The lack of interaction amongst people is what some need right now which is why these online shows have become a source of happiness for people.
"In a time when human interaction is suppressed and is made illegal if it's not to go pick up medicine or groceries, we're each going to need as much love as we can get...an audience taking the time to watch, every single person, will mean (and does mean) a lot," said a bassist for Hot Shot Kixxx, Damian Gray.
Online music shows like the ones these musicians have held for their audience on their social media accounts have not only helped these artists heal with having to deal with so many emotions in a short amount of time since the world has been quarantined, but it has helped the audience too by reminding them that life goes on despite having to be in a shutdown.
"Music is important. It's a snapshot of who we are. It has the power to transport us to other realms and bring us all together for a time," said musician, pastor at Mountain View Baptist Church and Guitar, Music Media and Choir Director at El Paso High School, Tim Thompson.
In a little over a month, the Sun City that we once knew is now riddled with worry and the seemingly never-ending spread of the COVID-19. With every non-essential store closed and a $1,000 fine or 180 days in jail for violating the stay-at-home order, it has turned El Paso's world upside down which is why it is so important to contribute in whatever way possible to help this city brighten up again. Music is just one of the many ways to contribute to everyone suffering through this pandemic.
"We're having to figure out different ways of reaching each other and we're so lucky to have internet and platforms that can make these connections possible. I think as long as you're being loving, honest and are trying to help whoever you can through this you might as well use any available outlet to give back and spread hope and love," said Ponzio.
Many thanks to Tanya Torres for her article contribution and for taking the time to speak to the various El Paso musicians including Valerie Ponzio. Torres is a graduate student in Rhetoric and Writing Studies from UTEP and since graduating has written for several publications as a freelance writer including Fusion Magazine. Apart from her busy schedule, she is flexing her written word skills as an intern for the El Paso International Music Foundation.