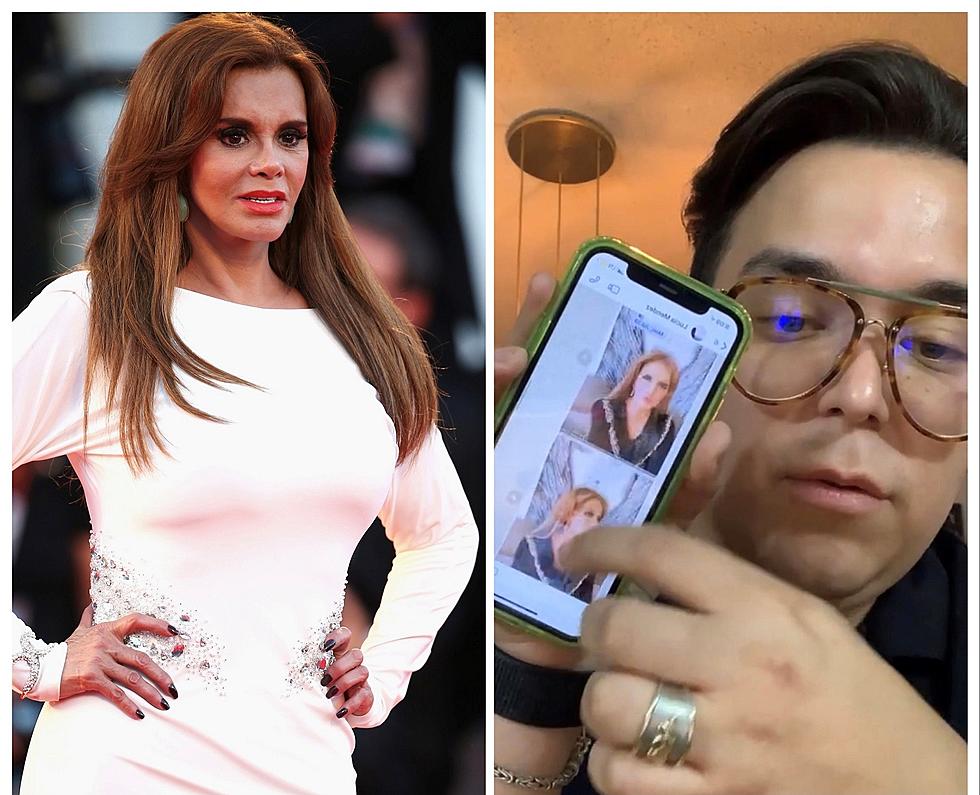 Now Viral Video Reveals Mexican Diva Insults El Paso & Its Tacos
Getty Images / Caleb Campos
Mexican Diva insults El Paso, its cuisine and bullies local makeup artist Caleb Campos.
Over the weekend, a local makeup artist took to social media to reveal the behind-the-scenes interaction with Mexican artist Lucia Méndez in a now-viral video.
After nearly 60 years in the entertainment industry, Lucia Méndez is an old-school Mexican telenovela and film actress, model, and singer who hit the road once again as part of the 'Divas' tour across Texas, including El Paso.
Caleb Campos is a well-known local makeup artist who has worked with his share of celebrities over the years.
Since the Divas tour was making a stop in El Paso, Lucia Méndez's team contacted Campos for his hair and makeup services, and because he was a longtime fan, he agreed to take the gig pro-bono.
But this is where the real-life telenovela drama begins because from the moment they met, the Mexican Diva's ego was too much for the local makeup artist.
Listen to Monika middays all week on 93.1 KISS-FM and download our free 93.1 KISS-FM App.
In a now-viral video picked up by all the Mexican gossip, daytime talk shows, and even Univision and the Miami broadcast entertainment news show El Gordo Y La Flaca, Caleb Campos exposes the actress for her trash-talking him, El Paso, and our cuisine.
Campos took to social media saying that the Mexican Diva called him fat, that he was inept as a makeup artist, and after curling her hair, lashed out at him and made him redo her hair by straightening it out again.
On top of the allegations, Campos and his assistant say the two were subjected to Mendez's rants about how ugly and sad the city of El Paso looked. She even went as far as saying that our food was also trash and that our tacos and guacamole were bland and tasteless and that she could teach us a thing or two about Mexican cuisine.
Despite the insults and toxic situation, Campos finished the job as best as he could and left. Campos tells me that he chose to expose the actress on social media to call her out for her rude and entitled behavior, saying that no one should ever be treated in such a demeaning way, whether it's "the janitor, service employees or a makeup artist."
Soon after his post went viral, Lucia Méndez responded to his video by saying none of it was true because Campos never even ended up doing her makeup. In response to that, Campos once again took to social media to show proof of his work on the Mexican Diva.
View this post on Instagram
As someone who deals with celebrities often, it's not uncommon to come across ego-centric stars who feel so privileged that they feel like they can do and say as they please, constantly putting people in the crosshairs of their toxic and crappy behavior.
As much as Lucia Méndez may not have appreciated our city, its cuisine, or hired makeup artist, it's pretty condescending to then get on stage and face her El Paso fans and pretend she didn't just trash talk us behind closed doors.
Sadly this happens all the time, so high-five to Caleb Campos for speaking up, and maybe this will teach celebrities like Méndez to treat people with respect and professionalism in the future.
25 Celebrities Who Have Stayed at The Historic Hotel Paso del Norte
LOOK: What are the odds that these 50 totally random events will happen to you?
Stacker
took the guesswork out of 50 random events to determine just how likely they are to actually happen. They sourced their information from government statistics, scientific articles, and other primary documents. Keep reading to find out why expectant parents shouldn't count on due dates -- and why you should be more worried about dying on your birthday than living to 100 years old.
</div>
The 11 Tallest Buildings In El Paso
El Paso's Blue Moon Drive-In