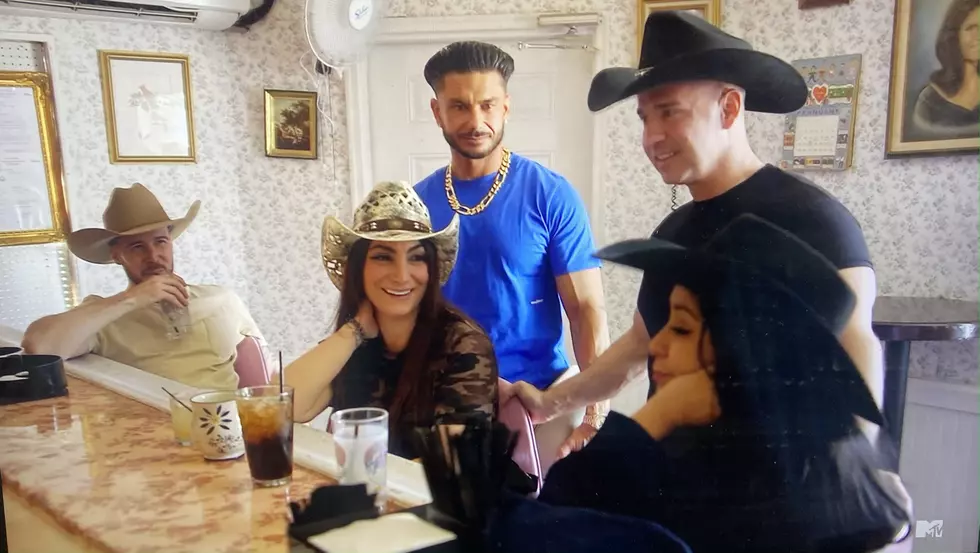 MTV's Jersey Shore Cast Stops By Four Local Businesses In Recent Episode That Featured A Taco Tour
Iris Lopez
Cabs WERE here and now they're gone but not before they highlighted some well known spots in the El Paso area.
What am I talking about? Well, you may remember that the cast of MTV's Jersey Shore made an appearance in El Paso back in March.
DJ Pauly D was booked to perform at a local club, 11:11, and he decided to make it a "family" trip with the rest of the cast. The whole trip was documented in the latest episode of Jersey Shore's Family Vacation.
The Jersey Shore is my guilty pleasure so you best believe that I watched the most recent episode and it was pretty cool to see El Paso in one of my favorite reality TV shows. However, I could've done without the stereotypical "Yeehaw" and cowboy outfits the cast insisted on wearing while they visited local businesses in the area.
Four El Paso Businesses featured During Jersey Shores Taco Tour:
So, Thursday's episode was mainly dedicated to Mike "The Situations" obsession with food. Specifically tacos. He was on a mission to taste as many tacos as he could and he stopped by two El Paso spots to try these tacos and a few other local spots along the way.
Taconeta:
First on their "Taco Tour" is honestly my favorite place to get the best Tacos in El Paso, Taconeta Which is located on 311 Montana Ave.
The cast was greeted by a server and Mike "The Situation" asked the server if Taconeta was the best place to get the "finest tacos in the land" to which the server replied, "Yes Sir."
The cast chowed down on all the different types of tacos that Taconeta has to offer and from the clip, it seems as if they all enjoyed the tacos!
Prickly Elder:
Now, Prickly Elder doesn't serve tacos, or food for that matter, but the cast wanted to stop by the dive bar to check out the unique atmosphere that Prickly Elder provides.
As soon as the cast walked into the bar they were impressed with how "cozy" they felt. They hung out for a while before they made their way to the next place to try some more tacos.
Fools Gold:
Up next on the Jersey Shore Taco tour was Fools Gold which sits in west El Paso's Cincinnati Entertainment District.
Right off the bat the cast was impressed with the fact that you had to enter the bar by walking through their famous refrigerator door entrance.
The cast wanted to try out El Paso's famous "$1 Tacos" and it seems as if they enjoyed the tacos, however, Vinny seemed to have enjoyed Taconeta's tacos a bit more when he made a comment saying that he enjoyed the tacos from the first place a bit more.
Hey, 1 out of 5 isn't too bad. I hear the tacos from Fools Gold are pretty delicious and now I want to make my way out there just to give them a try myself!
Mi Piaci Restaurante Italiano:
The episode only showed two locations on the cast's taco tour, but during the evening the Jersey Shore cast decided they wanted to enjoy some dinner, Italian style.
They made their way to Mi Piaci on El Paso's west side where they were able to enjoy some great Italian food that made them feel like they were back in Jersey.
The episode ended with DJ Pauly D's appearance at 11:11 where he did a set and introduced his other cast members.
Overall, the cast of Jersey Shore genuinely seemed to enjoy their time in El Paso, at least in that episode. They were impressed at how much love El Pasoans showed them and I hope it encourages them to come back again to see what else our beautiful city has to offer!
I'm curious to see what other nonsense the cast gets into in the next episode of Jersey Shore!
Jersey Shore's El Paso Taco Tour