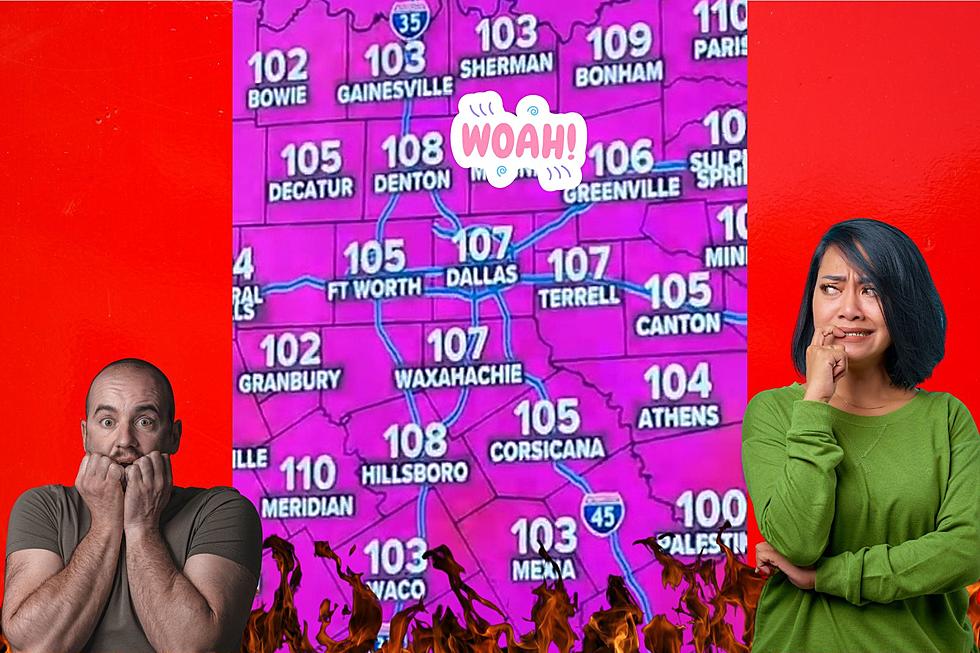 VIDEO: One McKinney, Texas Weather Report Mishap Leaves Us Melting
Twitter @BobbyBeltTX/Canva
We all hate the Texas heat, it's quite ok to admit that. We all hate getting home drenched in sweat from simply walking from our car to the front door. It feels like we're just walking into lava some days doesn't it?
So during the summer months, we look at the weather report with one eye open, just hoping that the heat doesn't reach the triple digit mark. It's also feels like we should throw a party when the temps are at 95 instead of 105 doesn't it? But today we're not going to be talking about temps.
Rather, we'll be talking about a typo regarding temps. How bad was it you ask? Well only one way to find out.
Temps in McKinney, Texas Weren't This High Were They?
During a recent weather report in the state, one Texan video recorded a mechanical malfunction for the ages:
WHOA! McKinney are you feeling alright? Or more importantly, is the individual helping out with the graphics ok? 101105? Looks like somebody was typing too fast.
To be fair, we've all have that moment of a mistype. And the reaction from the weather individual was also rather funny, with him simply stating "Everybody is dead." What else could you say in that moment honestly?
In fact, this reminds us of another moment like this during weather reporting:
So in short, thankfully Texas heat never reached that ridiculous height. And hopefully, it never will!
7 Texas Stereotypes Every Non Texan Gets Wrong
These are the 7 things everyone gets wrong about Texans according to
MyHighPlains.com
.
Seven Scariest Sights In Texas
These are the 7 most haunted places to visit in Texas according to
TravelTexas.com
11 Oldest Towns In Texas, '1' Is Closer Than You Think
These are the 11 oldest towns in Texas according to
A-Z Animals
Ten Habits Every 'Real' Texan Can't Break