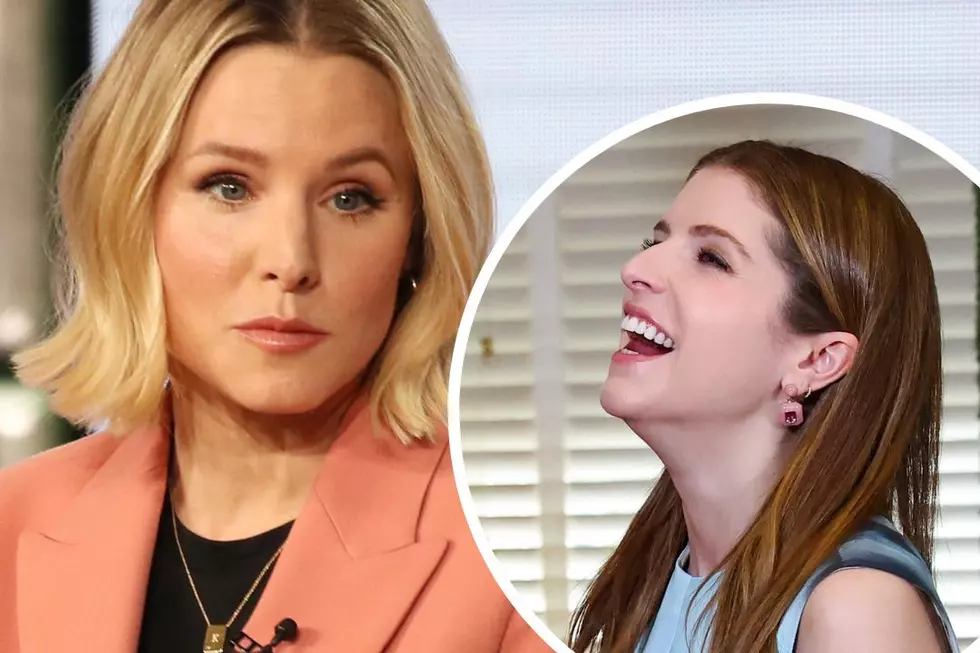 Here's Why Kristen Bell Is 'Jealous' of Anna Kendrick
David Livingston / Paul Morigi, Getty Images
Kristen Bell has apparently been harboring some secret feelings of jealousy toward fellow actor Anna Kendrick — at least according to the Frozen star's husband, comedian and podcast host Dax Shepard.
During a recent episode Shepard and Monica Padman's podcast, Armchair Expert, Shepard revealed his wife's envy to their guest, Kendrick.
While talking about Kendrick's role in the upcoming film Alice, Darling, Shepard couldn't resist giving the Trolls star a "quick compliment."
"I've known Kristen [Bell] for fifteen years, she has only had jealousy over a single human, and it's been you. I'd never saw it. It blew my mind," he told the Pitch Perfect actress.
"Kristen was like, 'Who is this other short person? Oh, so she can sing like that, too? I'm already here. We got another one,'" Shepard continued, mimicking his wife's reaction to Kendrick's rise in Hollywood.
Shepard said his wife "monitored" Kendrick's career, "recognized how brilliant you were, lost some roles to you, and slowly processed the whole thing, and has nothing but wonderful feelings for you."
"But you're the only person who ever made her jealous that I witnessed," he added.
Kendrick leaned into the comedy of the situation.
"I know this is an audio thing, but I really feel like I have like, a comedically shocked look on my face," the actress replied, noting the "bizarre" nature of the situation.
"I actually have a funny thing with your wife where I never felt that she liked me. But I do think a massive percentage of that is just genuinely when it comes to like, really sweet, angelic blonde girls," Kendrick revealed.
"I just assumed they think I am weird. They think I am like this weird little troll. And I don't think of Kristen as short, I think of her as just an angel, and she's so sweet. And I feel so rough around the edges that I was like, 'Oh, she must not like me.' I am sure that's just my projections. That's not actually how she feels," she continued.
"I have to be ultra-clear with you: She never disliked you. I just want to say that, for the record, never disliked — [she was] jealous, which I had never seen," Shepard clarified.
"That is so unfathomable to me," Kendrick replied.
Listen to the clip from the podcast, below:
During the podcast, Shepard confirmed that his wife gave him permission to share the story about her jealousy for Kendrick.
Alice, Darling hits theaters Dec. 30.
Awkward Celebrity Interactions