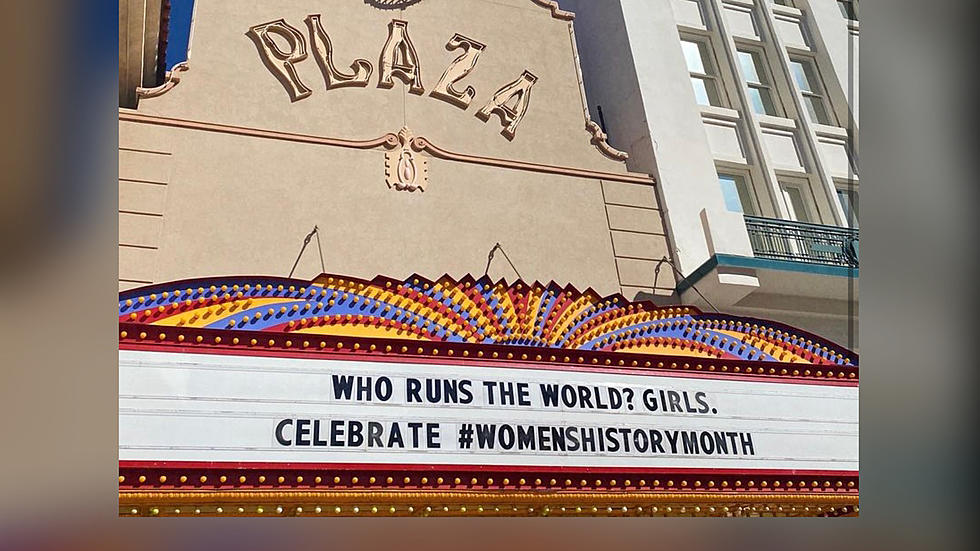 International Women's Day: Here's How You Can Celebrate Throughout The Month of March
Courtesy: El Paso Live
DISCLAIMER: An empowered woman is writing this story so expect A LOT of biased opinions on how amazing women are. 
Women, UNITE! Today, March 8th is International Women's Day. A day where we can lay on the couch all day and let the kids cook dinner..... Just kidding that doesn't sound too safe. 
Anyways, International Women's Day is a global holiday celebrated annually on March 8 to commemorate the cultural, political, and socioeconomic achievements of women.
This year's theme for International Women's Day is #BreakTheBias: Gender equality today for a sustainable tomorrow.
"Imagine a gender-equal world. A world free of bias, stereotypes, and discrimination. A world that's diverse, equitable, and inclusive. A world where difference is valued and celebrated. Together we can forge women's equality. Collectively we can all 
#BreakTheBias
," reads a statement on the official website for International Women's Day.
Now, this may be a biased statement I'm about to make but I'm still going to say it, Women should be celebrated EVERY DAY but it's nice to have a day where we can recognize the achievements of women who have paved the road for other strong women.
If you want to celebrate National Women's Day or Women's History Month here are a few ways you can do that.
1. DONATE TO A LOCAL WOMEN'S NON-PROFIT:
El Paso has so many amazing non-profits that are helping women in our community. Making a simple donation to their cause will go a long way. Here are a few non-profits to consider:
El Jardin Birth & Family Resource Center:
The El Jardin Birth & Family Resource Center aims to increase community connectivity around birth and early parenting to ensure new mothers and families are supported, both physically and emotionally.
FEMME Frontera Fund:
Femme Frontera, a collective of six female filmmakers from El Paso, Texas, Las Cruces, New Mexico, and Ciudad Juárez, Chihuahua, advocates for the amplification of films made by female filmmakers from borders across the globe. The organization celebrate these unique voices through showcasing work, community outreach, funding opportunities, and educational initiatives.
The Women's Fund of El Paso:
The Women's Fund of El Paso promotes access to funding, information and networking so that women earn better education, develop leadership skills and achieve personal economic growth.
Mija, Yes You Can Fund:
Mija, Yes you can empower's and advocate's for women of all ages, races, ethnicities, social-economic status, sexual and gender identities to achieve gender equality in all aspects of life. The organization aims at providing resources and education to women and girls in order to help them achieve their ambitions in life.
They achieve this empowerment by focusing on our main pillars:
Woman's Club of El Paso:
The Woman's Club of El Paso has a rich and colorful history, and has been a vital force in the community for well over a century. Through the years, the club, its founders, and members have been a part of many firsts; however, we feel the best has yet to be written!
Anchored in our historic clubhouse, as a 501(c)(3) non-profit organization, we meet monthly to offer educational and cultural opportunities for the enjoyment of our members, as well as plan and execute various fundraisers to maintain our building, and positively impact the community in a variety of ways.
Ywca El Paso Del Norte Region:
YWCA El Paso del Norte Region is a nonprofit organization founded in 1909. IT is a member of YWCA USA, the oldest and largest multicultural organization in the world. The mission of YWCA El Paso del Norte Region is eliminating racism, empowering women, and promoting peace, justice, freedom, and dignity for all. More than 40,000 lives are touched by YWCA El Paso through our wide variety of services, including:
Center Against Sexual and Family Violence:
From a hotline that began in 1977 to opening an emergency shelter that has resided at its location since 1983, the Center Against Sexual and Family Violence has helped generations of people who have survived domestic violence and sexual assault cope with their trauma and find hope. Our mission is to advocate for safety and justice through intervention, education and community collaboration.
El Paso Villa Maria:
Villa Maria is a home where women who are homeless and whose children are not with them can transition from crisis to self-sufficiency while living within a safe, supportive, and spiritual community.
Junior League of El Paso Inc:
The Junior League of El Paso, Inc. is an organization of women committed to promoting voluntarism, developing the potential of women and improving the community through the effective action and leadership of trained volunteers. Its purpose is exclusively educational and charitable.
HerPantry:
Her Pantry is a ministry that serves all residents of West Texas and Southern New Mexico regardless of race, religion, gender, or ethnicity. We are the only dedicated diaper bank in El Paso County, providing children's diapers, wipes, infant formula, and period products to struggling families.
Chica Chat:
Chica Chat's community provides quarterly events as well as virtual spaces to show up & learn. Our mission is the advancement of women in the social, entrepreneurial, and wellness spaces.
El Paso Executive Women's Lion Club:
Lions Clubs International is the world's largest service club organization with more than 1.4 million members in approximately 46,000 clubs in more than 200 countries and geographical areas around the world.
Reynolds Home of El Paso:
Since the ultimate goal is not just to provide temporary emergency shelter, but to transition families from Reynolds Home into their own home, the women work with the staff around a three-pronged axis: financial stability, family cohesion and wellness.
2. SUPPORT A LOCAL INTERNATIONAL WOMEN'S DAY EVENT:
HAPPENING TODAY:
Women's Empowerment: A Conversation with Mija, Yes You Can and Chica Chat
Tuesday, March 8th
6 pm - 8:30 pm
Capri Coffee & Cocktails: 111 E Robinson Ave.
Celebrate International Women's Day with us! Join this engaging conversation with Iris Lopez, founder of Mija, Yes You can, and Zoe Gemoets, President of Chica Chat.
 In addition to the panel discussion, enjoy complimentary cocktails graciously provided by Makers Mark, a live performance from Hayley Lynch and Manny Lozano, and a networking hour open market. Learn more about the speakers below.
HAPPENING TOMORROW:
International Women's Day Sunset Hike
Tuesday, March 8, 2022

5:00 PM 6:00 PM

Knapp Land

8540 Mountain View DriveEl Paso, TX, 79904 United States 

(map)

Calling all women to join The Frontera Land Alliance for this International Women's Day / Día Internacional de la Mujer! Enjoy the mountain scenery, sunset, and beautiful city views.

RSVP to Outreach@FronteraLandAlliance.org
HAPPENING THIS WEEKEND: 
2ND ANNUAL MIJA MARKET:
Join The Mija Project as they celebrate their 2 year anniversary with their annual Mija Market featuring all women owned businesses.
The event is FREE and family friendly and will feature raffles, games for the kids, music and fun for the whole family!
To thank the community for supporting The Mija Project these past two years, the organization will be serving a FREE hot dog meal and birthday cake slice in exchange for a donation of feminine hygiene products. (Pads, tampons, feminine wipes, ect.)
🗓 Sunday, March 13th
⏰ 10 am - 3 pm
📍Chuco Relic Central 3750 Gateway Blvd E Ste B.
3. Remind a woman how strong, powerful and amazing she is: 
Believe it or not, a simple compliment or words of encouragement can go a long way.
So, to the woman reading this right now, YOU ARE AMAZING! (and you look GREAT in those pants!)
Women's History Month is happening throughout the whole month of March so if you have any other events or local non-profit organization's not featured here, let us know!
CHECK IT OUT: The Best Movie Character Names of the 1980s