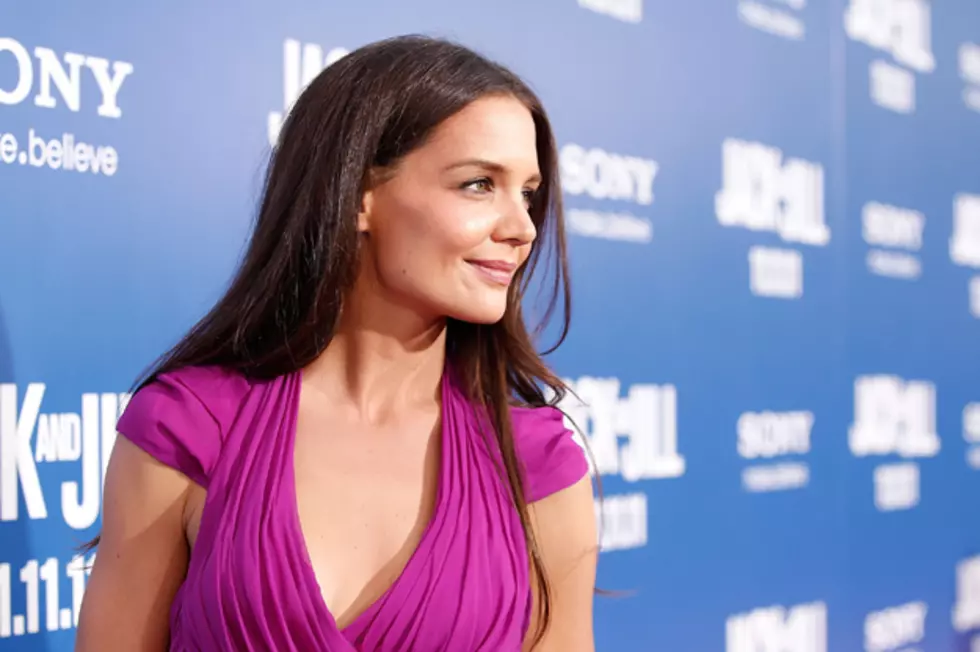 Hollywood Dirt: Tom and Katie Settle Custody & Other Issues + Is Adele Due in September? and More
Christopher Polk, Getty Images
TOM AND KATIE HAVE SETTLED THEIR DIVORCE: The dream is over, America. Tomkat is no more. TOM CRUISE and KATIE HOLMES have amicably settled their divorce and custody issues.
Just before Katie's attorney announced the settlement, Tom and Katie released a joint statement saying, quote, "We are committed to working together as parents to accomplishing what is in our daughter Suri's best interests. We want to keep matters affecting our family private and express our respect for each other's commitment to each of our respective beliefs and support each other's roles as parents." Consequently, no official details on the settlement were released.
RUMORS SURFACE REGARDING SETTLEMENT DETAILS: The decision to keep the settlement details private didn't stop the World Wide Web of Speculation, though.
RadarOnline claims that Suri is going to live with Katie in New York, while Tom receives, quote, "generous visitation rights" ... provided a nanny and bodyguards Katie recently hired accompany Suri whenever she's with Tom. Their insider claims, quote, "Suri isn't permitted to be exposed to anything Scientology related and this includes going to any Scientology churches, parties, etc."
But TMZ says the supposed provision that Katie's nanny and bodyguards have to be present at all times is, quote, "absolutely 100% false." They add that the agreement is not biased against Scientology, pointing out that there are restrictions governing what both Tom AND Katie can discuss with Suri when it comes to religion.
However there's no way to know if either report is true. Katie's lawyer issued a statement denying the so-called details that have come out. Quote, "There are numerous inaccuracies in the reports regarding the purported contents of the agreement reached between the parties." He then reiterated that the settlement is "confidential" and stressed that "its terms will not be disclosed."
WHY KATIE METICULOUSLY PLANNED EXIT - DIVORCE DIFFICULT FOR SCIENTOLOGISTS: It sounds like Katie Holmes had good reason to ambush Tom Cruise with her divorce filing. Actress Carmen Llywelyn, the ex-wife of 'My Name is Earl' star JASON LEE, told the New York Times the church of Scientology made it very difficult for them to divorce. Carmen joined the church after marrying Jason in 1995, but five years later things started going south.
She said to prevent divorce, the church recommends couples undergo martial counseling, at their own expense, involving auditing sessions with E-meters, which Scientologists say detect unexpressed thoughts. "They think that once you unload all these bad things, you're going to fall madly back in love with each other," she explained. It didn't work for Carmen and Jason, and they divorced in 2001.
She says the church also pressures couples into using in-house lawyers because "scientologists aren't allowed to sue each other."
COULD BE TRUE, COULD BE CRAP - ADELE BABY DUE IN TWO MONTHS???!!!: Although ALEDE announced in late June that boyfriend Simon Konecki had fetused her , London's rarely-reliabe Sun tabloid claims she's been hiding her pregnancy for seven months!!! Wait, what? That would mean the golden child will be here in ... let's see, 9 minus 7 equals ... TWO MONTHS!!!???
The tab quotes a source who says "Adele has barely left the house in recent months, so she could keep this to herself for as long as possible."
NO CONDOMS, NO PROBLEM FOR HUMPHRIES - MYLA TWEETS BUMP-FREE PIC: It sure sounds like KRIS HUMPHRIES can't be too sure he's not the father of alleged ex-girlfriend Myla Sinanaj's baby. Sources tell TMZ the two often had unprotected sex, and Kris didn't seem bothered if they didn't have protection.
But now it looks as though Kris may be off the hook. Yesterday, Myla tweeted a picture of herself, and denied the pregnancy rumors. Along with the pic she wrote, "look no baby bump!"
Meanwhile ... TMZ ran a story saying KIM KARDASHIAN has been, quote, "laughing over the whole thing. We're told she finds it funny that Kris wants an annulment because he's a good Christian boy, yet he knocked up some other girl while he's still married."
SNAPSHOT: Former supermodel JANICE DICKINSON obviously still thinks she looks good in a two-piece. Check out the 57-year-old rocking the bikini HERE and HERE. What do you think - Still pretty hot or Please cover up?
'BACHELORLETTE' RESULT LEAKED?: Last night's episode of "The Bachelorette" took viewers to Curacao to see Emily and her final three guys go on fantasy dates. And according to a fan site, that's where Emily gets engaged -- to Jef.
Reality Steve posted on his blog that it took him "six weeks to get it confirmed" and that "Emily and Jef left Curacao as an engaged couple and are still engaged today." On the last episode, by the way, Jef and Arie got roses. Sean got sent packing.
WATCH: During "X Factor" auditions in Greensboro, North Carolina the other day, BRITNEY SPEARS stood up and danced like a white girl while a contestant sang "Ice Ice Baby" ...
I love how she leaves SIMON COWELL hanging there at the end. LOL.