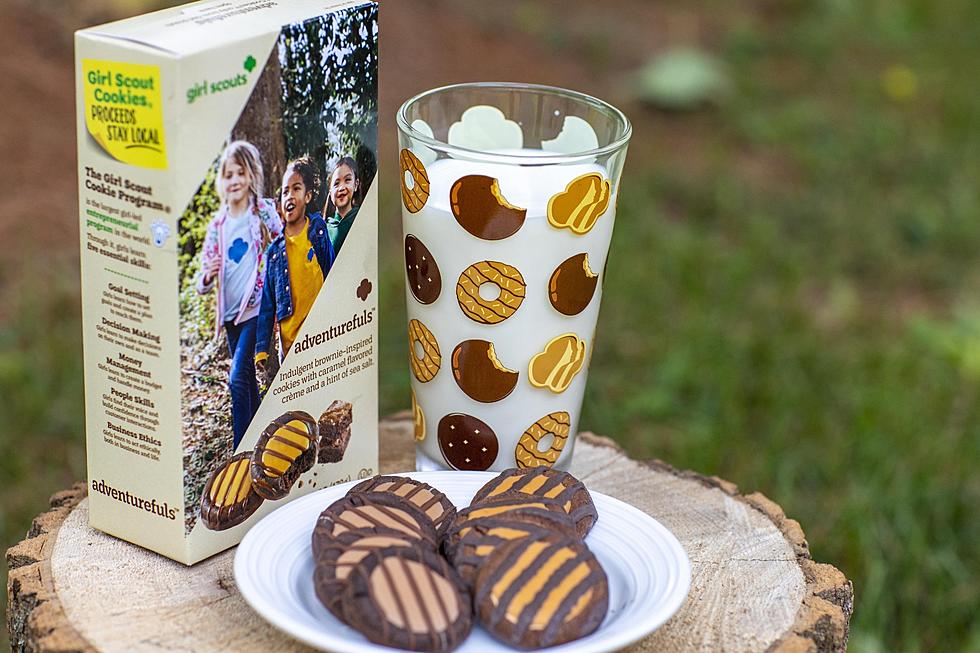 Girl Scouts Add New Brownie Inspired Cookie: Find Them In El Paso
Girl Scouts of The Southwest
A new brownie-inspired cookie has joined the Girl Scout cookie lineup, including a new way to locate a box of your favorite sweet treats right here in El Paso, TX. 
This month Girl Scouts of the Desert Southwest are back for season 2022 of Girl Scout Cookie Season in West Texas and Southern New Mexico.
Girl Scout Cookie season is here and with it comes along the new addition of Adventurfuls, a new "brownie-inspired cookie with caramel-flavored crème and a hint of sea salt, and an incredible taste of adventure in every bite," hence the name.  
Adventurefuls joins the whole portfolio of iconic Girl Scout Cookies, including all-time favorites such as: 
Thin Mints: Crisp, chocolate cookies dipped in a delicious mint chocolaty coating

 

Caramel deLites/Samoas: Crisp cookies with caramel, coconut, and chocolaty stripes 

 

Peanut Butter Patties/Tagalongs: Crispy cookies layered with peanut butter and covered with a chocolaty coating

 

Do-si-dos/Peanut Butter Sandwich: Crunchy oatmeal sandwich cookies with peanut butter filling

 

Lemonades/Lemon-Ups: Savory, refreshing shortbread cookies topped with a tangy lemon-flavored icing

 
So how can you get your hands on the new Adventurfuls cookies and the rest of the yummy bunch? 
This season, the Girl Scouts will continue selling cookies in a creative, socially distant, and contact-free way to keep themselves and their customers safe amidst the ongoing pandemic.  
Many entrepreneurial Girl Scouts will continue to host outdoor and drive-thru cookie booths around town or online.

Beginning Sunday, January 23, Girl Scouts, family, and friends will start selling cookies door-to-door.

 

If you already know of a registered Girl Scout, reach out to purchase cookies while supporting her and her troop.    

 

If you don't know a Girl Scout,

 text the word COOKIES to 59618*, or use the official Girl Scout Cookie Finder app for free (available for iOS or Android devices) to find socially distant or contact-free cookie booths in our area.

 

What's even more exciting is that starting Monday, January 31, anyone will be able to enter their zip code into the Girl Scout Cookie Finder at

gsdsw.org

to purchase from a local El Paso Girl Scout troop.

 
The Girls Scouts cookie drive has been impacting the lives of these young women for years. Every purchase throughout the season fuels local Girl Scouts' adventures, such as exploring their dreams, discovering their passions, and taking action on social issues.
From a week at resident camp to learning about automobile manufacturing, entrepreneurship, and learning smart fiscal habits, Girl Scouts learn to build a better future for themselves, their community, and the world at large, so support if you can.

Socorro's El Charlatan 12-Course Chef Curated Menu in Mouthwatering Pictures