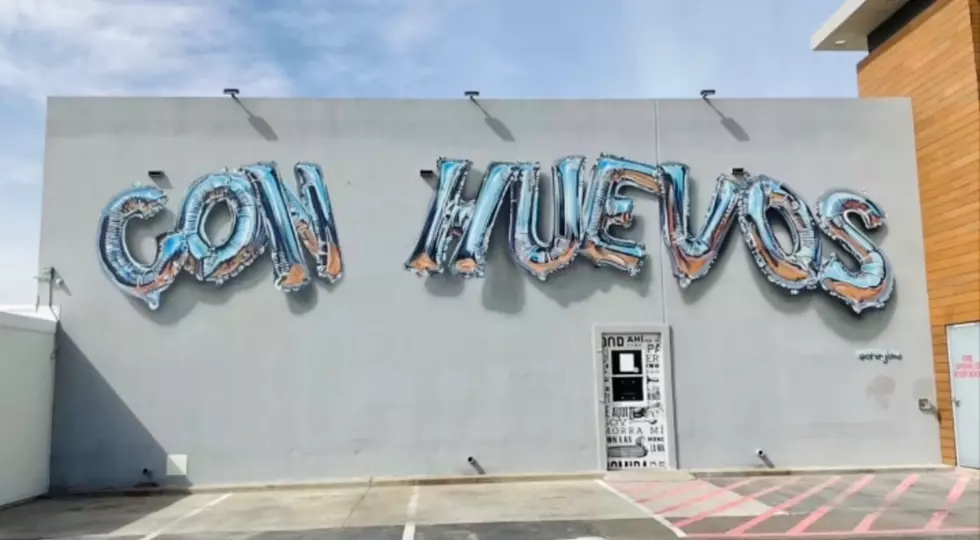 El Paso's Popular 3D Balloon Mural Series Grows To #12 Con Huevos
ma
Local artist Tino Ortega is back with a new mural as part of his 3D balloon mural series in East El Paso.
'Con Huevos' is the newest mural that local artist Tino Ortega created as part of his realistic 3D mylar mural series.
The phrase 'Con Huevos' literally translates into 'With Eggs,' but in Spanish, it can have multiple meanings and is much more fluid. Its definition can vary from someone who must be bold and brave to someone who finds inner courage.
Starting in 2020, El Paso's now most popular mural series began as a way to unite our community by Ortega, whose idea was to create 23 individual murals in honor of the twenty-three lives lost during the tragic August 3 Walmart shootings.
Since then, Ortega has worked with local businesses to create these lifelike and colorful balloon murals around the city.
Initially, the native artist was on track with 13 murals, but the 'I HEART ARTS DISTRICT' mural was only temporary and painted over downtown, bringing the total back down to 12. Thus far, Tino's 12 murals consist of the following themes.
CON HUEVOS
LOVE
YSLETA
WIGWAM
SEGUNDO BARRIO
I HEART ARTS DISTRICT
¡AY AY!
CHUCO
RAINBOW BALLOON BOUQUET
DON'T BE SELF CONCHAS
915
I HEART U
I HEART EP
View this post on Instagram
As part of Last Thursdays, in partnership with Visit El Paso, Tino Ortega has been hosting tours of his murals where he reveals the story behind each 3D balloon.
Thankfully all these murals have been made possible by local patrons and businesses donating wall space and the cost of materials, with Ortega offering his artistic services for free to bring these beautiful murals to life across the city.
On his quest to reach number mural #23, Ortega plans to expand his reach and hopes to branch out to other parts of the city, including Northeast El Paso.
Meanwhile, anyone who wants to reach out to Tino Ortega to offer wall space or assistance to reach his goal can contact him via Instagram or Facebook.
Mural Location
The new Con Huevos 3D balloon mural is located at Morra Mia at 11250 Montwood Dr, El Paso, TX 79936.
Here's Where To Find All Of El Paso's 3D Balloon Mural Series:
Discover El Paso's most famous mural series created to unite our community by local artist Tino Ortega.
Uvalde Healing Mural Art Project
Texas artists including El Paso muralist Tino Ortega joined the Healing Mural Art Project in Uvalde's Downtown District to honor the memory of the 21 victims of the Robb Elementary School shooting.
Another El Paso Hidden Gem: Artist & Sculpture Ho Baron
Discover the otherwordly art of Ho Baron, a local artist whose life-size sculptures can run anywhere from $25 to $25K, and can be seen around town, including locations in Las Cruces, Albuquerque, Round Rock, and Georgetown in Austin, Roswell, Silver City, and Baltimore.